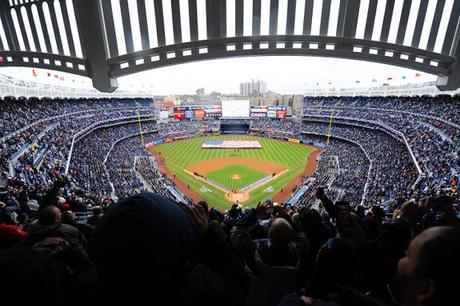 This was one hell of a weekend.A perfect mix of baseball, basketball, and March Madness.I would just like to point out how surprisingly awesome it really was: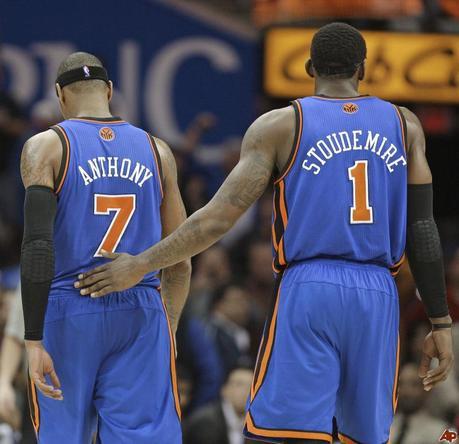 5.The Knicks made the playoffs: This is not all that shocking, since we sort of knew it was coming, but still – the Knicks are in the playoffs! The last time that it happened was back in 2004, when Carmelo Anthony was a rookie, Chauncey Billups was MVP of the NBA finals, Starbury was King of Manhattan, and I was a junior in college.God knows that a lot has changed since then.The Knicks beat the Cavs 123-107 last night to secure the seventh spot in the Eastern Conference playoffs.Considering that the lowly Cavs had not lost to the Knicks since December 2007 (that is disgusting), I guess the Knicks should be especially grateful.Behind Melo and Amar'e, the Knicks have New York buzzing again.Do I think they will dominate the playoffs? Hells no. I think they will be knocked out pretty early, but it is sort of incredible that they are even still playing. Clinching the playoffs came the same weekend that Carmelo dressed up in drag for SNL, so maybe he and La La should get a little kinky more often.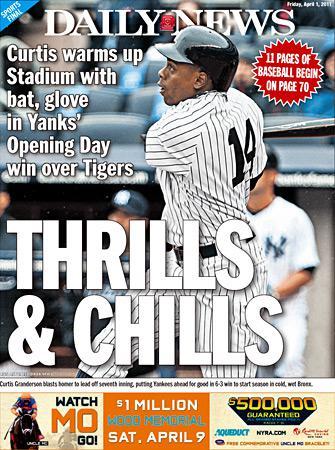 4. The Yankees dominated opening weekend:Other than Phil Hughes, the Yankees looked really sharp for their opening series against the Detroit Tigers, taking two of three games in the Bronx.The Yanks had 29 hits and scored 23 runs; their bullpen was mostly effective; Mark Teixeira hit homeruns in all three games, quelling any fears that he would start out horrifically slow like the last few seasons; Russell Martin looked like the next-coming of Thurman Munson; AJ Burnett was not terrible in his start; and Swish, Jorge, Robbie, and ARod all hit the crap out of the ball.I am going to cover the Yankees in more detail in a later post, but for now, they sit atop the American League East, half a game behind….wait, the Baltimore Orioles?! WTF? There are still 159 games of baseball left to play, but this weekend got me excited to see how it all unfolds over the season. I will be damned if we are ever the underdogs, but I think the Yankees are playing like they have something to prove.Which should scare the hell out of everyone else in the AL East.(I typed this paragraph smirking gleefully).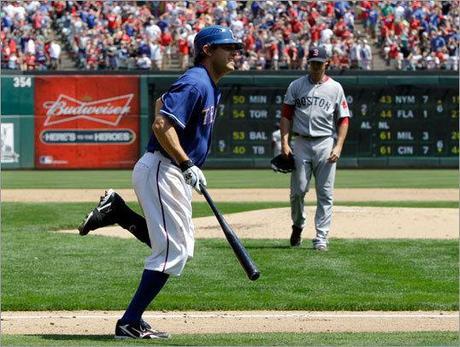 3. The Red Sox totally wet the bed, going 0-3:I know, I know. There is SO much baseball left to play.But you sort of have to love that "the best Red Sox team ever" got completely blown out by the Cliff Lee-less Texas Rangers.Their prolific lineup scored only 11 runs to Texas's 26.Carl Crawford got dropped to seventh in the batting order, because he was pressing so hard – striking out about 49 times in three days. Jon Lester sucked, John Lackey sucked, and Clay Buchholz sucked; their combined ERA was over 10! None of them could hold a lead or hold back the Rangers' offense.Gonzo smacked the ball around, and it still wasn't enough.It was a beautiful thing to watch. I love how Terry Francona – who is probably my favorite Red Sox other than Dustin Pedroia – rocks nervously in the dugout like a heroin addict, unable to stop the ongoing torture.And you know as well as I do that John Henry is crying in a corner somewhere and somehow blaming this on the Yankees.I. Love. It.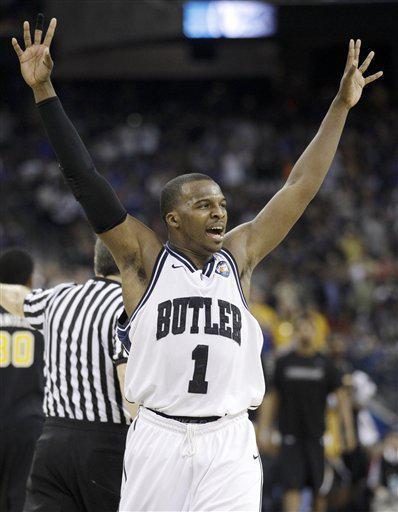 2.Butler is back! And this time they are going to win the national championship. It will be an all-out dog fight – quite literally. The Bulldogs are up against the third-seeded Connecticut Huskies, and they got here by beating some of the best teams in the country.VCU, who they played on Saturday night, was not one of the "best teams," but they came out of no where to make it all the way to the Final Four; so yay for Shaka Smart and company.Coach Smart is only 34-years-old and, if he proved anything this March, it is that he has an incredibly bright future ahead of him.But not nearly as bright as my bespectacled Brad Stevens, who has proven again that he is in a league of his own.He has created game plan and game plan to frustrate his opponents, and I have no doubt that he will have the Bulldogs ready for Kemba Walker.Butler also has Shelvin Mack and Matt Howard, both of whom have played like all-stars throughout the tourney.And, of course, Blue II will be barking them on from the sidelines.But the biggest advantage is that they have been here before.UConn may have more natural talent on their squad, but they do not have the chemistry or experience that Butler has.And that will be the difference here.The Bulldogs are experienced, poised, and ready to usher destiny through the door.This is going to be an incredibly tight game, but Butler will eke it out.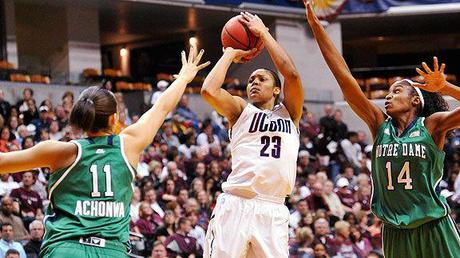 1. The UConn women are NOT in the championship: The only thing more surprising than Butler making it back to the title game is that the Connecticut women's team will not be there, too.They were shockingly beaten by Notre Dame last night, 72-63, even behind Maya Moore's 36 points. Moore was her usual phenomenal self; at the end of the game, with UConn down by 12, she scored 12 straight points.But Moore alone was not enough for the Huskies. Skylar Diggins, an awesomely-named non-porn star for Notre Dame, was on fire – matching Moore shot-for-shot on her way to scoring 28 points.At the beginning of the tournament, it seemed impossible that anyone could knock off Geno's Huskies.But Skylar Diggins said "anything you can do, I can do better," and the rest is history.Just not the kind of history that UConn was hoping for. I am probably not going to cry about it.
Butler takes on the Huskies tonight at 9:23 p.m. (where do they get these times?!) on CBS, while the women's championship is not until Tuesday at 8:30 p.m. on ESPN.Okay, I am off to court.Enjoy your Mondays, the Red Sox being winless, and hopefully Brad Stevens cutting down the nets in Houston!