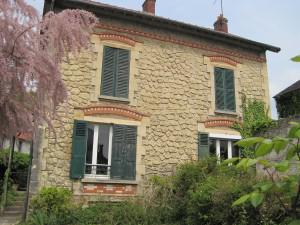 Auberge Ravoux, Van Gogh's house in Auvers-sur-Oise
At the end of his life, Vincent Van Gogh lived in a small hotel in Auvers-sur-Oise, about 45 minutes outside of Paris by train, making it a nice day trip in late spring or early fall.
Open to the public from April through October, the Van Gogh house is sparsely furnished (as it would have been in Van Gogh's lifetime), and offers insight into the artist's last days, from the time he cut off part of his ear in a supposed dispute with longtime friend Paul Gauguin until the day he committed suicide in this hotel. Nineteenth century superstitions prevented the room from being rented after his death, and now the room is fully restored and a Van Gogh painting is always on display.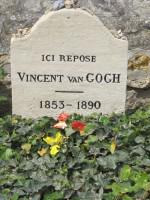 Van Gogh's final resting place in Auvers-sur-Oise.
After the brief visit to the Auberge Ravoux, you can take a walk in the nearby cemetery to visit Van Gogh's grave, visit the many area shops and restaurants that pay homage to the artist, and visit the church that Van Gogh famously painted, the Eglise d'Auvers sur Oise.
Van Gogh's house is a great day or afternoon trip from Paris, but be careful if you plan to go around lunchtime, or on Sundays or major holidays. While the house will be open for visitors (like most museums, it is closed on Mondays), the surrounding shops will most likely be closed for two hours at lunch and on all holidays. If you do choose to go on a Sunday or holiday, you'll still be able to walk around town, visit the ceremony, and see the church.
To get to Van Gogh's house: Take the RER D from Saint Lazare or Gare du Nord to Pontoise, then switch to the local train (direction Persan Beaumont) to Auvers. Van Gogh's house is a short walk from the Auvers station.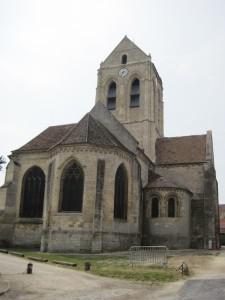 L'Eglise d'Auvers-sur-Oise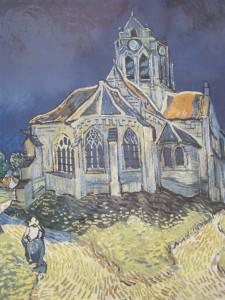 Van Gogh's painting
For more information: http://www.maisondevangogh.fr/uk/navigation.htm