On day while browsing in a guitar store, I went into the acoustic room to scout the new arrivals. When I entered, I discovered an older gentleman and two younger guys having a jam session. The older gentleman's finger-picking skills were phenomenal. It sounded as if he were playing with four hands instead of two..
I introduced myself and told him how much his playing impressed me.
"Well that just tickles me to death," he said with a loud laugh. "Why don't you grab one of those guitars and join us?" I told him that I'd rather watch and learn. He offered me a seat and continued jamming.
One of the younger men asked him how he developed his finger-picking skills. The gentleman leaned back and thought for a few minutes before speaking.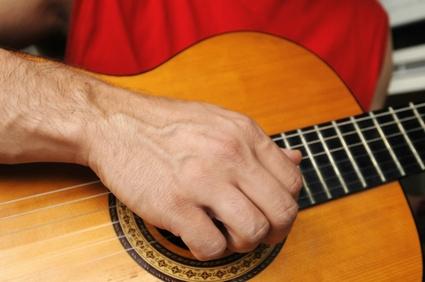 "In Vietnam, I was captured and held in a prison camp," he said. "While in captivity, the guards tortured us daily. One of their methods was sanding our fingertips with sandpaper. You can see that I don't have any fingerprints." He held up his rough hands for us to look at them.
"After I returned to the states," he continued. "I tried to play guitar with a pick but I kept dropping it because I had no feeling in my fingertips. For gigs, I would put Super Glue on my fingers to hold the pick in place. Of course, doing that caused more damage to my fingers so I stopped. I realized that I had to learn to play fingerstyle if I wanted to continue gigging."
I looked around the room and noticed that a few more people had wandering in and were enrapt by the story.
"I spent the next several years studying finger-picking from some great musicians in Southeast Texas," he said. "Eventually, I developed the skill and dexterity to play well enough to start a little country band. Those guys in Vietnam tried to break my spirit, but they couldn't do it. I owe them a debt of gratitude because I'm a much better guitar player now."
Everyone gave him a round of applause and the gentleman tipped his cowboy hat.
"Thank you for serving our country," I said as I extended my hand. "Your story really inspired me." He smiled and wrapped his huge, weathered hand around mine.
"Keep playing," he said and shook my hand with the rhythmic motion of a guitar strum. After a few seconds, he released my hand, lowered his head and played a delicate melody.
That day, I acquired much more than a new guitar. I learned valuable lessons in persistence, dedication, and forgiveness that I will cherish forever.