I'll be moving to La Rochelle, France on Friday and be in London on business next week, so this will be brief and the blog will recommence as soon as I'm able. As usual, you can click on the photos for larger versions.
I was recently in
Metz, France
, for a far too brief visit for a wedding. I wish I had know about this place sooner. This, by the way, is a snail I stepped on and later found crawling around without its shell: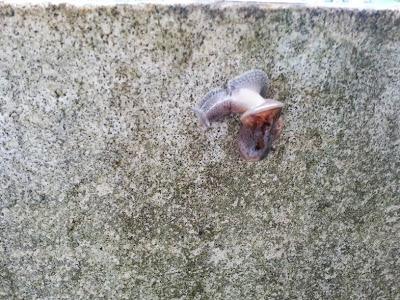 That snail was in our back garden in Paris. Here are more snails without their shells, in my pasta in Metz (
tagliatelle aux escargots aux cèpes)
. They were delicious.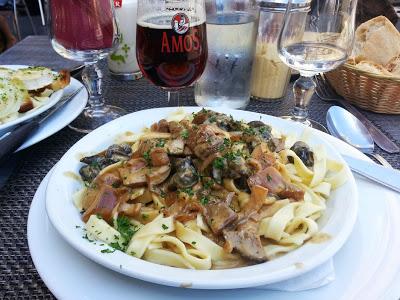 Though the bill was a bit larger than I was expecting. The waiter was offended when I protested, then he saw the bill. The
soft divers
 for €2,472.00 was my daughter's glass of milk.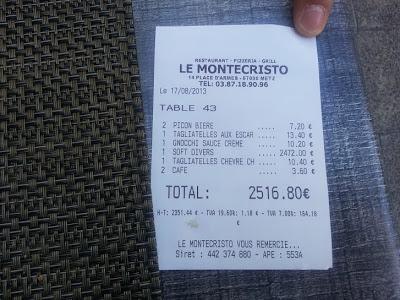 Oops.
And this is Loïc, the owner of the finger in the above photo and the man who was showing me around Metz. A thoroughly nice guy. I would recommend all of you travel to Metz just to meet him, but I suspect his girlfriend might be annoyed if I started handing out his address to the ladies reading this blog.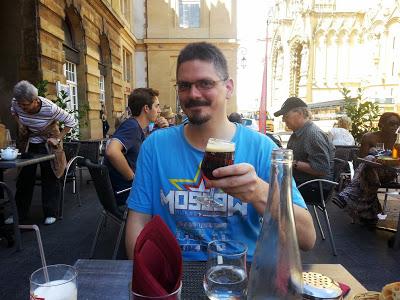 This, incidentally, was a tunnel leading from near Loïc's apartment to the city center. Even the tiny details of this town seem perfect.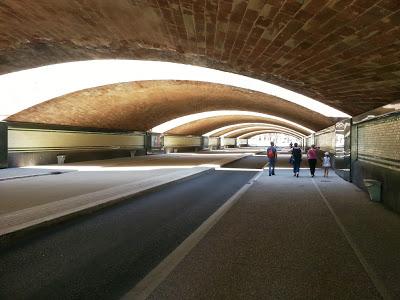 Ah, and the world-famous (not really, but it should be)
Metz Cathedral
. Work started in 1220 and ended in 1550.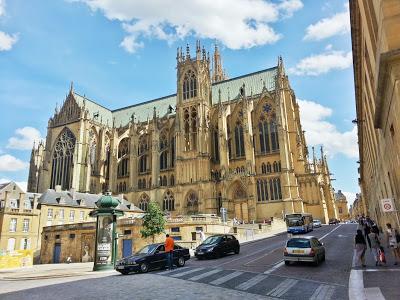 Saint-Étienne de Metz cathedral, Metz, France
Because it's built in a French Gothic style, it has plenty of beautiful detail on the outside.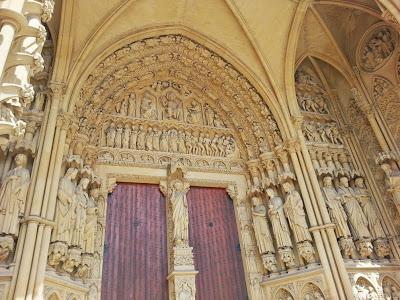 Including these shady characters.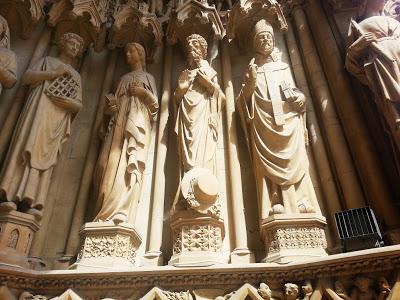 Heck, practically armies of carved people around the doors.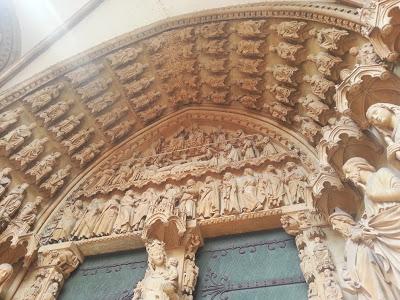 And the traditional mythical beasts and, for some reason, people carrying masks. Anyone with a background in iconography/medieval architecture able to explain?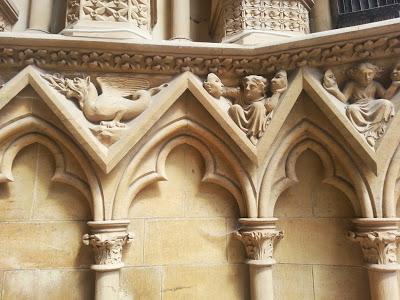 The inside, of course, was equally amazing.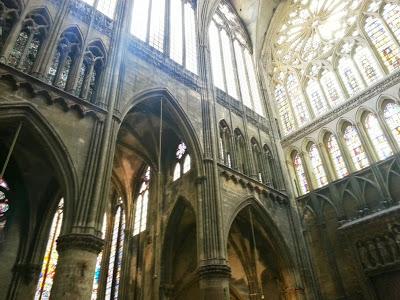 The light which filtered in from this
rose window
was incredible.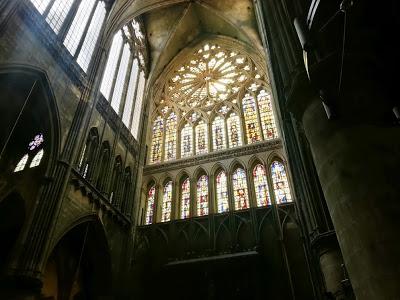 And reaching 41.41 meters (139.5 feet), the nave in the cathedral is the 11th highest in the world.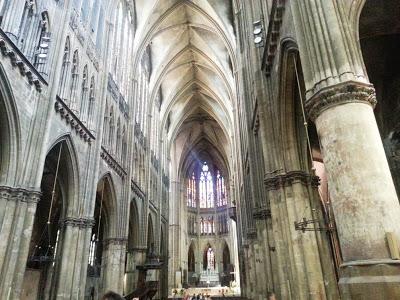 Metz also reminded me of the Spanish gentleman I once met in Portland, Oregon, who said he didn't care for Portland in part because the old town isn't old. As far as I can tell, Metz doesn't really have an "old town" because Metz itself has been continuously inhabited for
3,000 years
and maybe when you get to that age, having an old town just seems silly. Nonetheless, you still see many examples of old, medieval architecture, such as these shopfront arches in a square.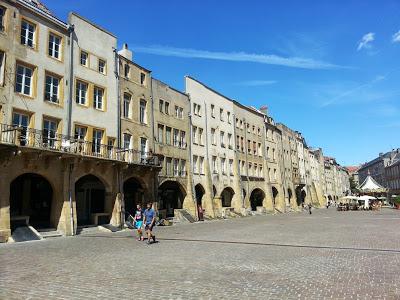 And the parks are heavenly, though perhaps a bit too manicured for some tastes.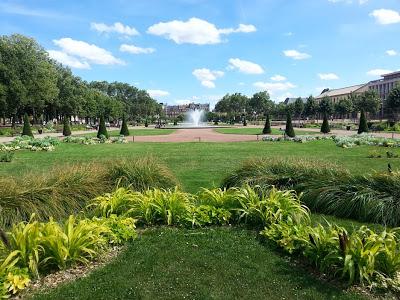 Ah, and
the Moselle river
, I wish I could have spent days exploring this amazing place.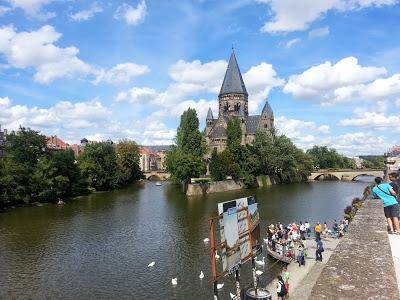 In the meantime, my wife and I will be in a hotel in La Rochelle tomorrow night and pick up the keys to our new flat on Saturday morning. Though I've seen the new flat and know it's large, I don't know its exact size. My wife tells me it's 178 square meters (~1,900 sq. ft.). It has three bedrooms and is smack-dab in the city center, about few minutes walk from the old port, the largest marina for pleasure boats in Europe. And it's only €90 more in rent than our tiny flat just outside Paris!
So Friday through Tuesday will involve moving, unpacking, and getting out daughter adjusted to our new home. Then I'll be flying to London for work on Wednesday and get back on Friday. Had we been staying in Paris, that trip would have been much easier. Later in the month I'll be flying to Copenhagen. The itinerary for that trip is an absolute nightmare. We've traded an expensive, yet practical city for a gorgeous, but out of the way village. Were I not traveling so much, that wouldn't be a problem, but I do and it is.
For our next move, we hope to be buying. Fortunately, house prices in La Rochelle are very reasonable.