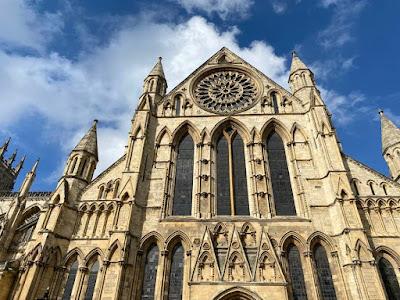 York Minster Cathedral, York, England

My daughter Jennifer, a professor at the University of North Carolina, recently went to England for a conference, but also had time to do a little sightseeing. I thank her for sharing a few of her thoughts and photos of her trip with the Intrepid Tourist.
I visited England September 5-11, 2022, for the Amlap ( Architectures and Mechanisms of Language Processing) conference in the city of York. My graduate student and I landed in London the morning of September 5 and took a train to York. After three days of the conference we came back to London on Saturday September 10, spent the afternoon sightseeing in London, and flew out on September 11.  While we were in England, Queen Elizabeth passed away on Thursday September 8. Below are pictures from both York and London.
YORK
York is a walled city in northeast England that was founded by the ancient Romans. Its huge 13th-century Gothic cathedral, York Minster, has medieval stained glass and 2 functioning bell towers. The City Walls form a walkway on both sides of the River Ouse. The Monk Bar gate houses an exhibition tracing the life of 15th-century Plantagenet King Richard III. ― Google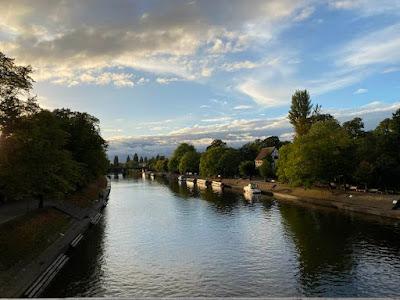 York is a delightful and scenic town, surrounded by walls. The river Ouse cuts through the city.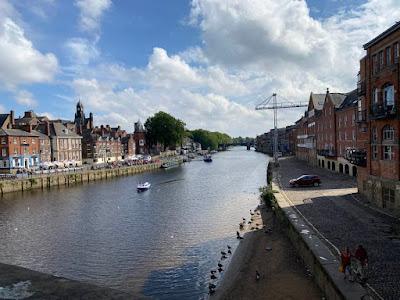 The weather was generally beautiful while we were there (just a little standard English rain), and I enjoyed walking and running on the paths by the river.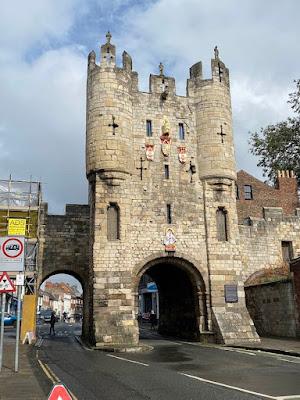 Here is one of the entrances to the center part of the city, which is surrounded by walls. 
Among the highlights of York is York Minster, a medieval cathedral.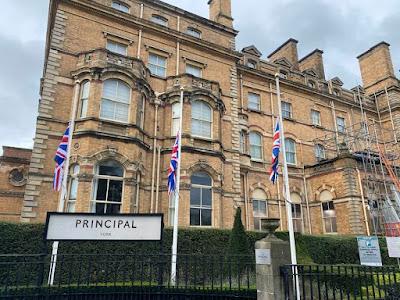 On September 10, after the passing of Queen Elizabeth, flags were at half-mast.
LONDON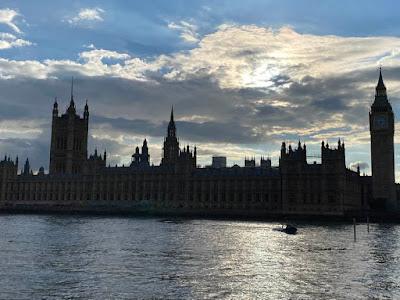 View of Big Ben and
Westminster Abbey
across the Thames. Unfortunately, Westminster Abbey was closed in honor of the queen, so we couldn't visit.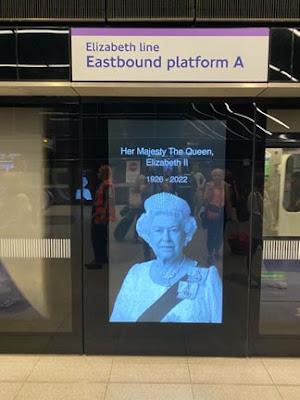 Across London there were numerous tributes to the queen. Her picture was projected on the Tube doors for the Elizabeth line.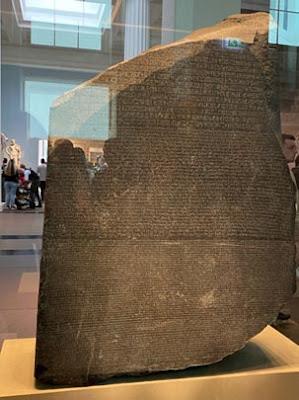 On our visit to the
British Museum
the
Rosetta stone
was a highlight (especially given that I and my student are language scientists).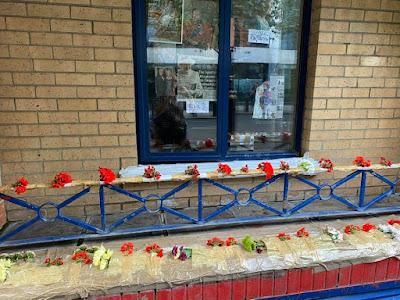 Around London there were numerous individual spontaneous tributes to the queen like this one outside a shop.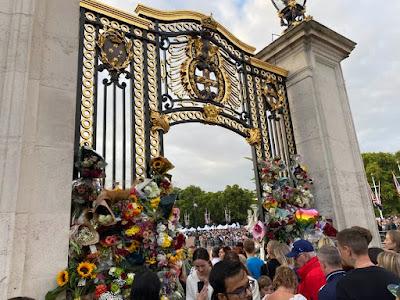 We walked past Buckingham palace on the afternoon of Saturday September 10, two days after the queen's passing. The place was mobbed with thousands of visitors.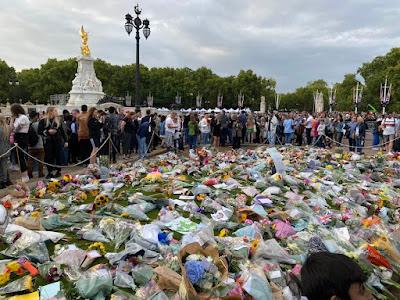 For those who were willing to wait in a long line, the guards were letting people through, a few at a time, to walk past the palace and pay respects. Everyone was being very calm and respectful. There were piles of flowers, home-made cards and stuffed animals filling the grass and decorating the outer gate.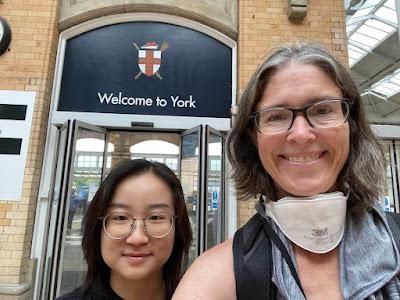 Jennifer Arnold (R) and her graduate student Elaine Ye (L) as they arrive in York.