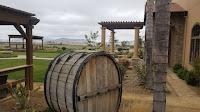 How often does a good experience result from rejection? During our spring
BevFluence Experience
, we planned an outing to visit wineries in nearby Livermore Valley. After the
Livermore Valley Winegrowers Association
flatly refused to assist us in designing an itinerary, an experienced wine industry friend recommended we contact
Page Mill Winery
and 
McGrail Vineyards and Winery
 directly.  And sure enough owner Dane Stark at Page Mill and winemaker Mark Clarin at McGrail quickly set time aside from their busy schedules to provide a tour and tasting at their respective facility.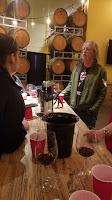 Regarding McGrail, we could have missed out on a unique horizontal tasting of their 2018 Cabernet Sauvignon aged in three different barrel types. In 1999, Jim and Ginger McGrail first planted a Cabernet Sauvignon vineyard where they originally sold the harvest to Steven Kent Winery. soon they started planning on opening a winery and tasting room which launched in April 2008. Late the following year they hired Mark Clarin as their winemaker and over a broad tasting of their wine, Mark described his career before McGrail. I strongly recommend subscribing to the
Swig & Ramble
podcast to hear this telling in his own words.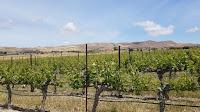 Since his hiring, Clarin has expanded the Cabernet Sauvignon program by again that wine in three sources of oak: French, American (Missouri), and Hungarian. To completely over-generalize and based on all toast levels, French oak barrels are made from a softer wood and tight grain and provide "a fruity, cinnamon/allspice character, along with custard/ crème brûlée, milk chocolate and campfire/ roasted coffee notes".   American oak barrels fall on the other side of the spectrum with denser grain, more porous, and provide vanilla, tobacco, dill, and baking spice character. Hungarian oak falls in between even though it's the same species as French oak and has "high perceived-vanillin content, with roasted coffee, bittersweet chocolate, and black pepper characters".  
A comparison of French, Hungarian, and American Oaks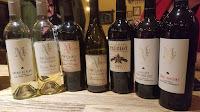 Each of the three wines is bottled and released separately and a portion of all three is blended together for their Cabernet Reserve.  According to McGrail, "the 2018 growing season was one of those "perfect" growing seasons with moderate temperatures in Spring and Summer, allowing for the wine to mature slowly and develop beautifully concentrated fruit flavors".  The wines were all made from grapes harvested from the McGrail Estate Vineyard. Conditions for an interesting comparative tasting. 
2018 Patriot Cabernet ($54)
The wine was aged in 100% new American oak from Missouri and after bottling aged an additional five months before release. The wine explodes with flavors and tannins with a large mouthfeel, cherry and vanilla, which transitions to a more earthy and tobacco character. This wine will be difficult to cellar since it's very drinkable now. 
2018 Good Life - A Jo Elet ($59)
This wine was aged for 32 months in new Hungarian Oak. This is a full-bodied and dense wine that even though has fresh fruit flavors, needs to pihenés for a number of years.  The juicy tannins envelop a plethora of spices and notes of vanilla, dark chocolate, leather, and some cinnamon and coffee, I will open my bottle on St. Stephen's Day 2025. 
2018 James Vincent ($79)
The James Vincent was barrel-aged for 35 months and then bottle-aged for 3 months before being released. This wine's quality and overall deliciousness substantiate the higher price. It is softer and more elegant with a fresh dark cherry aroma and flavor. It finishes with baking spices grappling with firm tannins for a long luscious tail. 
2018 Cabernet Reserve ($49)
This wine is an interesting blend of the three-barrel types which none taking center stage. It seems to have a darker fruit profile and the tannic structure falls closer to the Patriot. There are plenty of spices and earthy notes that compliment the mouthfeel and this one is drinking nicely right now. 
A special thanks to Mark Clarin for allocating time for us on such short notice and providing such a comprehensive tour of the wines, vineyard, and facility. And I apologize for not highlighting your phenomenal first release of Grenache Blanc. Cheers.