A stunning new garden, which pays tribute to the Canadian outdoors and picked up a Gold medal at the 2017 RHS Chelsea Flower Show, has opened at WWT Martin Mere Wetland Centre in Burscough.
The feature, which was funded by the Royal Bank of Canada, will give visitors to the center a flavor of the North American wilds.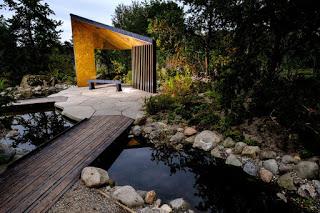 WWT Martin Mere Garden - © Ben Cherry
As Canada celebrates its 150th anniversary, the people of Lancaster will be able to immerse themselves in the garden, which draws inspiration from the vast and ecologically vital boreal forest and freshwater lakes.
Centre Manager, Nick Brooks, said: 
"The garden has been relocated within Martin Mere's new Wooded Wetlands development which opened in August 2016. Wooded Wetlands showcases species and habitat found in the boreal and we were thrilled 
to receive the opportunity to give visitors a taste of the great Canadian wilderness right here in Lancashire. It really is an awe inspiring garden and is going to be very popular with our visitors– we are very grateful to Royal Bank of Canada for continuing their longstanding support of WWT's wetland conservation through their Blue Water Project".
To recreate a slice of Canada, designer Charlotte Harris has included mature pines, glacial boulders and a copper lined, burnt larch wood canopy reminiscent of wooden shelters created by hunters and travellers exploring the riverside.
The world's largest land-based biome and one of the planet's largest sources of unfrozen fresh water, the boreal is a huge area of forested natural habitat. It stretches across the far northern latitudes, from Siberia to Scandinavia and right across Canada, where a third of the entire biome is found. As well as providing a diverse habitat for thousands of species of flora and fauna, the boreal also plays an important global role in the reduction of carbon dioxide.
Dave Thomas, CEO, RBC Capital Markets, Europe said:
"This year's Royal Bank of Canada Garden celebrates our Canadian heritage and once again reinforces our longstanding commitment to water preservation. Congratulations to Charlotte and the team at Wildfowl & Wetlands Trust who were able to recreate the Garden so quickly, providing an inspiring space for visitors for years to come."
WWT Martin Mere is open every day from 9.30am to 6pm and parking is free of charge. Situated off the A59, it is signposted from the M61, M58 and M6.  The Centre is also accessible via the Southport to Manchester and the Liverpool to Preston line by train from Burscough Rail Stations.  Visit the web site
http://www.wwt.org.uk/martinmere/
 to find out what's on all year round at Martin Mere and the other eight centres.