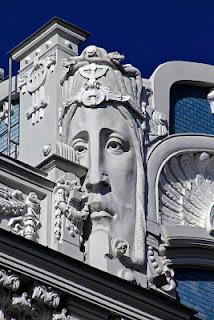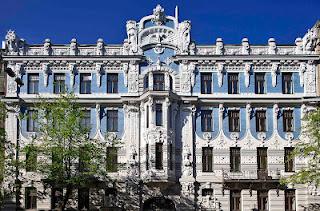 Eisenstein's dreamy apartment building (built in 1902) at 10 Elizabetes Street. Photo by Imants Predelis.
The summer issue of Modernism Magazine features an article of mine on the glorious city of Riga, the capital of Latvia. Recognized by UNESCO in 1997 for its abundance of Art Nouveau architecture, this gem of a city is no less important than Paris and Brussels, those other Art Nouveau centers, where one can see relics of this style that made its mark on architecture, fashion, and the decorative arts in the beginning of the 20th century.
What sets Riga apart is that these buildings are not concentrated in one area but spread out throughout the city. Although if one is passing through Riga on a short detour, like I did one summer, and wants to see the most impressive buildings at once, they do not have to go farther then Elizabetes Street and Alberta Street. These two streets, located in close proximity of one another, are the pride of the city and have the highest concentration of buildings designed by Mikhail Eisenstein, the most famous of all architects who worked in Riga at the turn of the century. Realizing what a draw these buildings are for tourists, the city is working very hard at restoring them as quickly as possible which is good news for all.
In April 2009, the Riga Art Nouveau Centre Museum opened at 12 Alberta Street. This building was home to the most well-known Latvian painter of the Art Nouveau period, Janis Rozentāls and his fifth floor apartment is now open to the public. However the museum takes up several floors and each is filled with furniture, lighting, ceramics and glass.
To preview the article, visit the Modernism Magazine site but to read the complete article, and see the amazing photos taken by Imants Predelis, pick-up the issue out on newsstands now.
 
For more information on the Riga Art Nouveau Centre Museum visit their website which also includes a map of all of the city's Art Nouveau buildings.