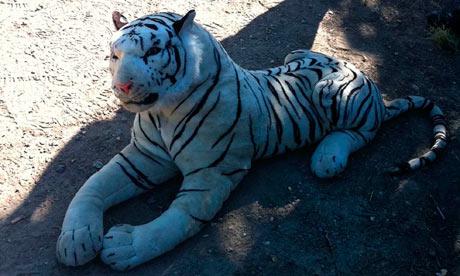 With tigers popping up in Sumatra and Cambodia it comes as little surprise that Hedge End near Southampton would be the next region to boast a tiger population…well for a few hours on Saturday afternoon at least.
Police were contacted by several members of the public reporting a sighting of a tiger in a field. An officer was dispatched to the field immediately and did confirm that a tiger was present. The local zoo was contacted and a tranquilizer dart was prepared. More police officers were called to the scene as well as air support.
The nearby golf course was closed and preparations were made to shut down the M27 in case the tiger escaped. With the net closing in an officer realised that the animal was neither moving nor giving off a heat signature according to the cameras in the police choppers. It was the gust of wind that blew the life-sized toy onto its side that brought the operation to an end though.
"Police are keen to reiterate that they have a duty to protect the public and therefore take calls of this nature very seriously as any other calls reporting potential dangers to members of the public. There is no further information on this incident available as police continue to focus on more urgent matters." Said the police statement.
Are you from the Hedge End area? Did your brush with wildlife make you want to go overseas and interact with more incredible creatures in their natural habitats? Why not take a look at some of our wildlife conservation projects.