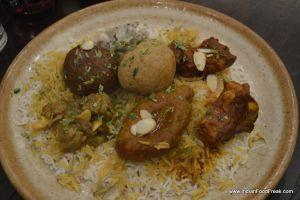 Marryam H Reshii, the well-known food critic, travel writer and author has curated a specially crafted menu expounding the rich flavours and traditional tastes of Kashmiri cuisine at Hotel Le Meridien, Gurgaon. Under the supervision of Waza Rashid who has delighted many a VIP taste buds in the capital and beyond, the fare is available to the general public for lunch and buffet or as a special set menu till 19th Feb'16.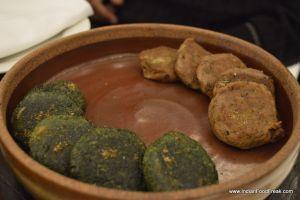 While the menu was varied on the evening of the tasting table, we were able to taste the Tabak Maaz, the twice cooked fried lamb ribs, wafer thin and crispy; the Waza Chicken, boned pieces in a superb marinade and grilled to perfection; the fragrant Mutton Seekh; Nadru ki tikki, (Lotus Stem) and Haaq ki Tikki (Kashmiri greens), the texturized lotus stem and the smooth greens making for nice savouries.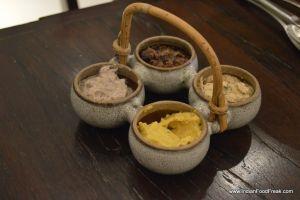 Having polished off the starters, we were then served the traditional Tarami, an oversized plate heaped with different meat preparations resting on a bed of saffron and coconut flavoured rice. The tarami being a dish meant for sharing, sharing is what we did. Rista and Goshtaba the latter a curd based gravy dish was meant to be had last, while the lively saffron flavoured Rista beat an exuberant rhythm at the beginning of the main course. The mutton meatballs, meant to be hand pounded to a smooth consistency along with spices and served floating in their respective gravies went well with the pulav. The four chutneys served were great palate cleansers- the smooth pumpkin, the sweet-spicy berry based Zereskh, the texturized walnut and the sharp and chilli hot Mooli.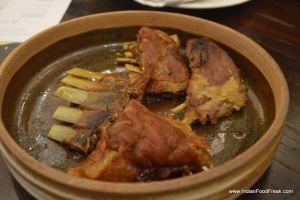 I once again lunched at Latest Recipe, the 24 hour restaurant of the hotel the following weekend and tasted the excellent Pulav with rista; Haaq Sarvan,  a lamb based dish served with rich Kashmiri greens; the extraordinary Chicken Alubukhara, that won me over with its sweet and tangy flavours; Kabargah, excellent marinated Fried Lamb (despite being a bit dry, left on the heating plate of the buffettable) Lahabi Kebab, flavoured skewered mutton kebab.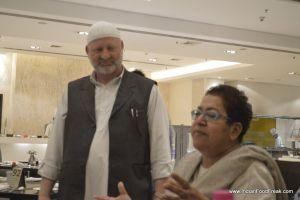 The flavoured Kashmiri tea, Kahwa that went missing the evening of the tasting session, (it was eventually served long after coffee and tea was served) was pleasantly abundant at the lunch buffet, served from its specially crafted, spouted Kashmiri jug. A good way to beat the blues if one is from the region and misses its food. To others, a guided tour on the culinary path by an able maestro.
Special Kashmiri Food Promotion, Restaurant Latest Recipe, Le Meridien, Gurgaon | Phone: +91 124 4992008 
Timings: Restaurant: 12.30 pm-03.30 pm; 07.00 pm -11.00 pm
Buffet lunch Rs. 1899/++ | Buffet Dinner Rs. 1999/++ | Set Menu Rs. 2000/++
(Disclosure: This review was done after an invited tasting session followed by an anonymous visit to the restaurant with food paid for by the reviewer in full.)