I am going to skip the 1st and the best.
Not cos I am crazy, but cos I already reviewed it here
So thats Marula Oil out of my way.
I still have 8 left.
So lets start from left to right as per the picture.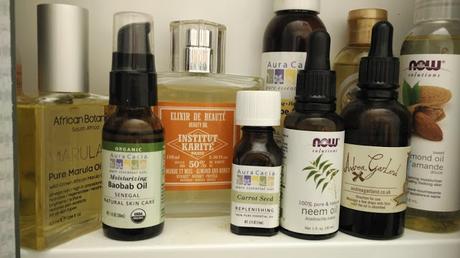 Note: I am only going to briefly touch on the claims of the oil (cos you can just google them better than me saying all about it) and explain more about what benefit I personally got from using them. 
Baobab Oil:
Claims - moisturizing, useful for extreme dry skin and hair
My experience -> I find that this oil is easily absorbed into skin and good for sensitive skin like the one around my lips after an exfoliation. I am not sure what the natural fragrance of these oils are, but the Aura Cacia one I use is pretty okay for me. I find this oil both useful for day and night time use.
I haven't used it on hair and probably wouldn't.
Repurchase or Not? I am not sure. I may. I haven't seen any magic happening with this one like my experience with Marula. But then this is good for lightweight hydration. I haven't experienced any brightening effect with this. Cant comment on anti-aging effects as I am only on the early 30s.
Elixir De Beaute from Institut Karite
Claims - Beauty Oil
My Experience -> I bought this on a sale from UO and since most of the websites with review or info on this product was in French, I honestly didn't expect much from this oil. From usage, I find this to be a very general purpose facial oil for hydration and some nice fragrance. This is more of a body oil for me than a facial oil as I couldnt find much difference in skin tone from using this.
Because of its light weight texture, I use this for mixing with my foundation or as a prep for face before makeup.
Its best suited for day wear.
Repurchase or Not? Nah. I use this and TBS's moringa beauty oil for the same purpose and TBS's oil is much cheaper.
Carrot Seed Oil
Claims  - helps balance both oily and dry complexions, heals damaged skin, and helps aged skin

My Experience -> You need a weak nose to use this one. I am pretty tolerant of fragrances and I cant stand this one. Only the thought that this has helped me with my severe pigmentation and sun damage has sustained me so far! The medicinal almost bitter smell that this oil emits cannot easily be countered even by mixing with some beauty oils like the Institut Karite one.
This is best suited to be used at night, but cos of the smell, I would suggest using this after sun set as this oil helps with sun damage.
I have found that using this oil after a day in the beach helps reduce the pigmentation on my face.
Repurchase or Not? Definitely. But I will also be purchasing some nice-scented beauty oil I can mix this one with.

Neem Oil
Claims  -So Many! Anti-oxidant, disinfectant, healing etc etc
My Experience -> When I was younger and in the throes of the teen-acne pain, I used to apply a paste of neem leaves on my face overnight and it worked superbly well. I also used to wash my hair in water boiled and cooled with neem leaves in it, to treat dandruff.
So neem oil is no stranger to me.
I use it on a 'need-to-only' basis - when I have a stubborn pimple or when I have a case of scaly scalp.
Because of its medicinal smell, this oil is not something I want to use daily. It doesn't have any significant hydration or de-pigmentation benefits.
Repurchase or Not? Definitely.This is like a healing oil that I use on my face in case of breakouts, wounds etc, so this is like First Aid for Face for me.
Andrea Garland Violet Hydrating Facial Oil with Seabuckthorn
Claims - p

romote natural cellular regeneration, help reduce the appearance of fine lines and balance moisture levels to restore skin's healthy radiance


My Experience -> I am on the fence with this one. I've used it in sprints of 2 weeks for 2-3 times. Each time I get different results. Sometimes I can see a serious difference in how my skin looks and feels. Sometimes its Meh.
The only consistent result has been the good hydration it provides.
The oil is thicker than a usual facial oil like the TBS one, so I'd recommend using this at night. 
Because of the thicker consistency, I don't recommend mixing this with foundation or cream.
Repurchase or Not? I cannot recommend it nor can I not recommend it. Its confusing. So my suggestion is if you like vintage packaging and want to take a chance, you may want to try this to see if any effect.
Grape Seed Oil and Almond Oil
Claims - Antioxidant, emollient and prevents sun damage
My Experience -> I use both these oils for:
- as carrier oils for essential oils like Neem or Tea Tree oil.
- Makeup removal including eye makeup (works fantastically well)
- Mixing with foundation to get a more 'dewy' effect
  
Repurchase or Not? Oh yeah!
The Body Shop Moringa Oil
Claims - gives instant hydration and a shimmering finish.
My Experience - One of the rare instances when the benefits actually match the claims. This is a lightweight floral scented daytime oil, perfect for a quick prep of face before makeup. This gives a nice dewy finish and a sheen to the skin. On days when my skin looks pretty good, I just apply this and my sunscreen.
Repurchase or Not? I like this but I may also try a variant of TBS's oil.
OVERALL:
Marula Oil still rules!
BONUS point:
I've been using oil all my life for facial skin care. I started with coconut oil (both pure & medicated versions) moved on to olive, castor, sesame and saffron oil and later to the essential oils.
After my trial and errors, this is what I found:
- For Hydration (all skin types): Coconut oil is the best. I suggest using coconut half an hour before bath so the more oily feel can be washed away. At night, massage in the oil and apply a warm wet-wash cloth over face for 5-10mins so the oil is absorbed.
Olive oil is the next best option.
- For Brightening effect: Marula oil has worked best for me. Another option is a medicated mix of Coconut oil and Turmeric (if you want me to explain this in a post, comment/message and let me know)
- For day-time sheen/shimmer/fragrance use: TBS's Beauty Oils.
- For mixing with foundation/creams: I suggest Grapeseed or Almond oil. Coconut oil would also work as well.
- Best Multipurpose Facial oil: You guessed it, Coconut Oil!