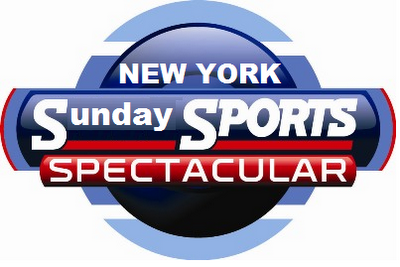 Knicks. Yankees. Rangers.  RIGHT THIS SECOND. But holy crap, its 8:18 p.m., I apparently passed out on my couch, and the Yanks are taking on the Rangers in the Bronx AND the opening game of the Knicks-Celtics playoff series is kicking off tonight.  I do not know what happened, but it is shameful that I fell asleep (I really think that back-to-back days at the Stadium last week kicked my ass), but the Knicks are miraculously winning 51-39 at half-time, behind a sloppy Boston defense, while the Yankees are down 2-0 in the bottom of the first. Oh my god, I think the Rangers are playing the Capitals tonight, too. They are, it is tied! It is a crazy sports night for the Big Apple!  No time for small talk, let's pick things up right here:
11:50 Third Quarter: Ray Allen sort of dances in front of everyone for an easy bucket. Maybe I should stop watching. The Knicks seemed to be doing fine without me.  Anthony tries to take a three-pointer from Guam, he is way off.  But a Boston turnover gives it right back to the Knicks.  That is the Celtics 11th turnover overall. 51-41, Knicks.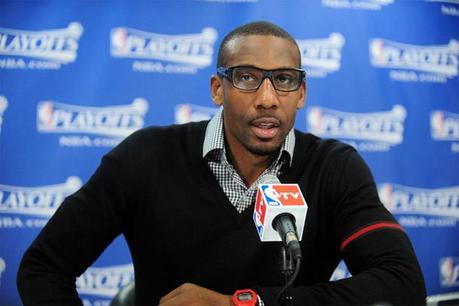 10:30:  Amar'e draws the foul. I should mention here that the Score Whisperer thinks that he is one of the best dressers in professional sports. I just genuinely love his ego.  He is one of the few people I would say that about, because he puts it to good use. The Knicks needed someone like him, because no one else would have believed he could resurrect this team. He did believe. And then he went out and did it.  Allen misses, but Garnett cleans it up.  The Knicks need to keep up their defense, that will be the key here. 53-43, Knicks. 
9:34: Rondo draws the foul on Billups, his second. Something about Rondo is a bit disturbing to me. He is just so little and punkish.  He misses both, wow, but the ball is out on the Knicks, so the Celtics get it back.  Turiaf stole the ball out of a darting Rondo's hands, passed ahead to Billups, who misses a three, but Anthony follows with a nice put back. The role players on the Knicks, like Turiaf, have been incredible so far. The Knicks cannot win without them, and so far, they are working their asses off selflessly.  55-43, Knicks.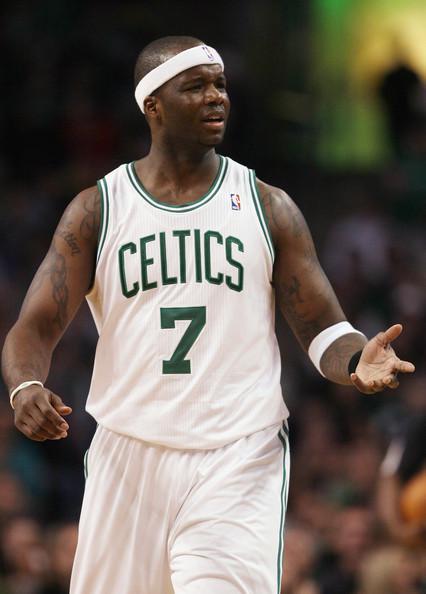 8:53: I heard the announcer say the name "O'Neal" and got all excited that Shaq had decided to grace us with his presence, but it is just Jermaine, the "other" O'Neal. He hits a bucket. Lame.  And then he hits ANOTHER one. Dude, wtf?  Knicks need to get their shit together and realize that Jermaine O'Neal hasn't been good since like middle school. 55-47, Knicks. 
Timeout/Yankees Update:  Over in the Bronx, all of the cameras are all on Granderson in the dugout, the score is now 2-1, and I have deduced that he just hit a homerun.  Now Swisher is up, who I kind of adore. But he pops it up, a mile high, to Elvis Andrus. I just love that his name is Elvis.  I used to have a stuffed Manatee and I named him Elvis, I loved the name so much. 2-1 Texas, bottom of the second.
6:24: I come back to the Knicks to find Jermaine O'Neal hitting another bucket. I do not know the last time he hit this many shots in a row, but it is sort of blowing my mind.  I am glad the Knicks built this little cushion, because they are going to need it.  I am a bit nervous. Carmelo just picked up his third foul, Garnett hit both of his shots at the line.  57-51, Knicks.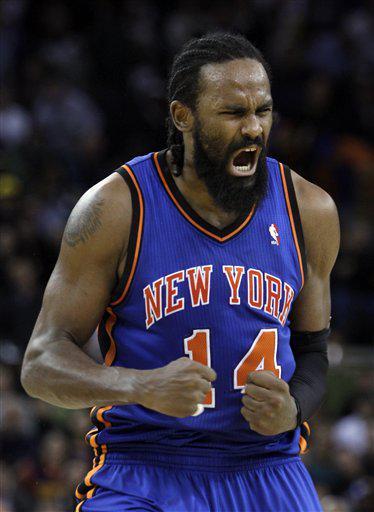 5:48: It is getting much more physical, which is not favoring the Knicks. They have also gone seemingly cold.  Amar'e has a HUGE block from behind, the notoriously whiny Boston crowd thinks it was a foul. Turiaf hits a high bank shot. Ronny Turiaf sort of looks like he just got released from prison, but I think that is just my preconceived biases against dreadlocks.  59-51, Knicks. 
4:30:  Allen drains a long, pretty three that hits nothing but net.  Toney Douglas misses and then Ray Allen makes a nice scoop play. The huge lead has been cut to three, so this sort of sucks. Ray Allen is heating up, the Celtics defense is forcing misses and turnovers, which is then creating easy shots. 59-56, Knicks.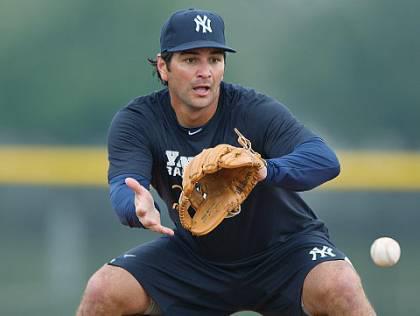 Timeout/Yankees Update: It is the top of the third, the Rangers are still up 2-1.  But a ball is fired at Eric Chavez, who is filling in for ARod, and he turns the quick double-play. This Chavez fellow, who I make fun of like Jermaine O'Neal for being relevant like 100 years ago, has been sort of delightful for the Yankees so far.  He has hit a handful of doubles, gotten some RBIs, and made some nice plays in the field.  I am a fan. He also has nice hair, which is a thing for me.  I should find the hockey game, but there is just too much TV going on right now.  It is going to have to wait until the end of the basketball game. 
3:46: 14-4 run for the Celtics, which basically began when I started watching.  The Celts' defense has tightened up, and the Knicks have tightened up too – like totally, in a bad way.  They can't hit anything.  Whenever I see Doc Rivers, I remind myself that I should get behind him because I think Austin Rivers is going to be a stud at Duke.  November 2006 was the last time the Knicks won in Boston, which is a somewhat horrifying stat.   59-57, Knicks.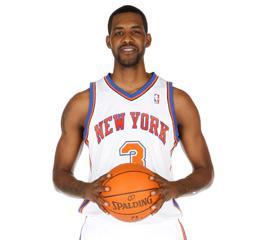 2:50: The Knicks force a turnover near half-court and push the ball ahead to Melo, who misses, but thankfully Shawne Williams (the "e" at the end still kills me) cleans it up. We needed that! Good defense by the Knicks, the best defensive sequence I have seen since I turned on the game, and they force Rondo to take a long three as the shot clock expires, which he misses.  Okay, we need to close out this quarter strong, because the dreaded fourth quarter is coming.  The Knicks and the fourth quarter go together like… Marshmallows and vinegar.  Herpes and a condom.  Sarah Palin and logic.  Kevin Garnett and hair.  Um, they do not go together at all. I am failing at this analogy game. 61-57, Knicks.
1:33: Pierce drives all the way to the basket, making our defense look positively silly in the process.  But Shawne drains a much-needed three, huge.  The Knicks are hanging around. End of the third quarter, so let's go check out the Yankees. 64-59, Knicks.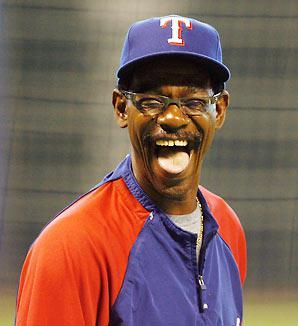 Timeout/Yankees Update: Still 2-1, now the bottom of the third. The Baseball Jesus is up, who has looked a bit better at the plate lately. He still looks old as fuck, don't get me wrong.  But better than he did two weeks ago.  Ron Washington is rocking back and forth, but that is probably from all of the cocaine that he just did.  Jeter grounds out to first, just to prove that he is, in fact, still ancient and incapable of hitting the ball out of the infield, to end the inning. 
11:51 Fourth Quarter:  This is it, Knicks. Let's win a playoff game for the first time in…forever. We start off with a block of Delonte West, who may or may not be hooking up with your mom.  But then Ray Allen nails a three. Arghhhh.  64-62, Knicks.
10:19:  Amar'e is fouled as he goes to the rim, which was nice, because he created something from nothing.  But then he misses the first shot.  And the second?!?! In the fourth, come on. That cannot happen.  Delonte ties the game at 64, with a shot from the baseline.  I would like to point out that the Knicks scored 51 points in the first 24 minutes, and have scored 13 points on the last 14 minutes – or since I started watching.  64-64.
9:18:  And the Celtics take the lead. This is their first lead since early in the second quarter. They have fought for it. The Knicks are sucking ass.  ARGH.  66-64, Celtics. 
Timeout/Yankees Update:  Oh that is a fail, because they are also on a commercial.  So let's nervously wait for the Knicks, fun.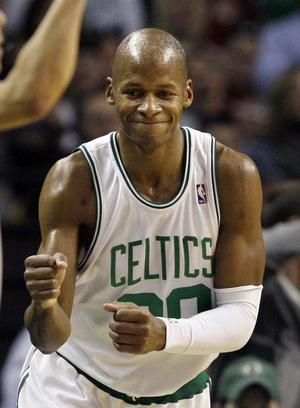 8:51: Amar'e hits a long two. Whew, we needed that. We cannot let Boston build a lead.  Allen hits a ridiculously tough shot as he is double-teamed. That was incredible. And so obnoxiously good.  Amar'e gets another lay-up after an offensive rebound.  Celtics turn it over, so the Knicks get it back. We need POINTS.  68-68.
7:30: Amare turns it right back over.  So that was the opposite of points.  But the Celtics miss, so maybe we can get something going. LIKE THAT. Great inside pass from Carmelo to Amar'e who slams it home and twists on the rim childishly, like only he can.  I love him.  The rim is shaking.  But Garnett ties it back up.  It seems we are working so hard for our shots, when they are making easy ones. Annoying. 70-70.
6:17: Amar'e over Garnett, a long shot! Amar'e is stepping it up. For real. And this is why New York has endeared itself to him so quickly. He cares and he plays like he cares.  Even if he is not the purest talent, I would take him over LeBron in a heartbeat. Melo picks up his fourth foul as Paul Pierce was taking a three-point shot, which was dumb.  Three free throws when we get back from the timeout. 72-70, Knicks.
Timeout/Yankees Update:  Bottom of the fourth, Rangers are up 3-1.  I click over just as Robbie Cano flies out to end the inning.  And once again, they immediately go to commercial. This double-update thing is not working! Back to the Knicks!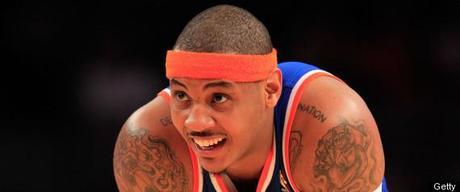 5:55:  Pierce hits all three, putting the Knicks down by 1.  Crunch time, bitches, and I would be lying if I said I wasn't more-or-less wetting myself.  We need to pick up at least one of these first two games in Boston, before heading home to the real Garden.  Ronnie Turiaf hits another two, giving him nine for the game.  And then he forces a bad shot, and runs down the court to set a screen for Melo, who is fouled. A+, Dreadlocks. He misses the first shot, our third free throw miss in a row. That is always a great sign in the fourth quarter. And really, if we lose by less than three, I am blaming these stupid free throws.  75-73, Knicks.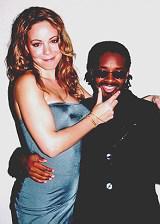 4:51: Pierce hits a rainbow shot from the free throw line to tie the game. Then Billups hits a huge three! Huge! Mr. Big Shot from the top of the arc!  And then an offensive foul on the Celtics, Jermaine O'Neal's fifth. I have also realized that he reminds me of Jermaine Dupri, Mariah Carey's baby daddy. That may also be why I am so amused by him.  Okay, come on, we need another bucket! 78-75, Knicks.
3:59:  WOW. Amar'e hits a spin move, incredible magical shot.  But then Ray Allen gets the bucket and one.  Annoying.  They answered Amar'e magic.  Two-point game.  Melo misses a long three, and then the Celtics turn it over.  My heart is pounding. That was super sloppy by the Celtics. Can we make something of it? 80-78, Knicks.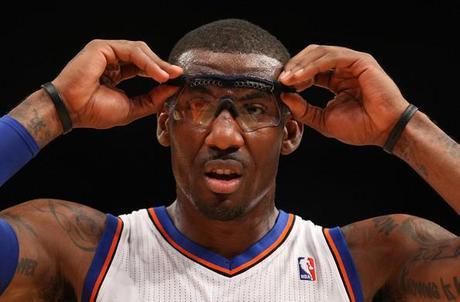 2:54:  YES WE CAN. Amar'e basically takes on the whole Celtics team and somehow slams the ball home. I do not know how he did that, but Amar'e is taking over this game. Holy shit that was awesome.  The power of the goggles.  He is 6 of 7 in the fourth. Allen is blocked, Knicks get the ball back! Offensive foul on Amar'e as Douglas hits a three, so it doesn't count. That sucked. But we still have the lead going into a timeout. 82-78, Knicks.
1:43: Celtics get a quick two. Turiaf misses a shot right under the basket.  The Knicks get the ball back, but Melo is stripped.  Pierce misses a three, but then the Celtics put it right back. Jermaine O'Neal again! My nemesis. Tie game!!! 82-82. 
1:09: Oh no, oh no, Billups is down. He is not getting up. The play is continuing. The Knicks keep missing. Get up. Get up. He does not.  What is going on?! The Celtics have it, all by themselves. But they throw it away! And time finally stops. But Billups is hurt.  He is being helped off the floor. This is terrible for the Knicks. It looks like Chauncey went down funny on his knee? His ankle? I cannot tell. He is leaving the game. I am sad.  82-82.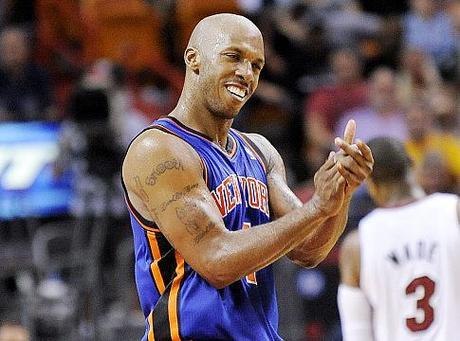 50 seconds:  Douglas takes the ball up the court, with Chauncey out. I miss him already. But Toney hits a HUGE three!!!! Wow! I would normally say that was a terrible shot, taken much too quickly. But like? No complaints here.  Celtics timeout. 85-82, Knicks.
Timeout/Yankees Update:  I flip over just to see Russell Martin hit a homerun!!! Perfect timing! All tied up in the Bronx, 3-3.  Bottom of the fifth! But I cannot spend too long here, we will be back soon.
37 seconds: The Celtics get a quick two and then the Knicks are called for…an offensive foul?! What?! On Melo! His fifth. Boston gets it back with 21 seconds left.  That was a weak fucking call.  I mean, I get it, but really, really weak with less than 30 seconds to go in a one-point game. Lame sauce. Another timeout.  85-84, Knicks.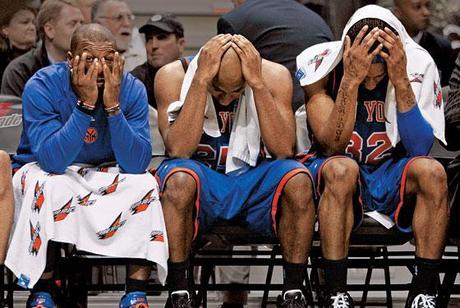 21 seconds: Knicks have no timeouts left, Boston has one.  And they take it, because they cannot get it inbounds.  No timeouts anywhere, both teams have one foul to give.  The last time the Knicks won a playoff game was on April 28, 2001. I had not yet graduated from high school.  OH MY GOD, let's go.  Ray Allen hits a huge three. Like huge. WOW. That was awful, wow.  The Knicks miss. And miss.  COME ON.  No, nothing.  Wow. We lose. Wow.  I shouldn't be shocked, but I am. We deserved to win that one.  Super disappointing. They just could not hang on in the fourth quarter.  Final score: 87-85, Celtics. 
Top of the Sixth: The Rangers are winning again, CC has thrown 92 through six, and I am a bit depressed about the Knicks. Or just stunned.  They had the game…except for the one last shot, the only one that mattered.  So frustrating.  They should have stolen game one, which would have changed momentum for the entire series.  Now they go into Game 2 with a lot more pressure. I have a bad taste in my mouth after seeing the wheels slowly come off.  Now David Murphy is up, who walks.  The Yankees get out of it, and with CC over 100 pitches, I would guess that is the last we will see of him. 4-3, Rangers.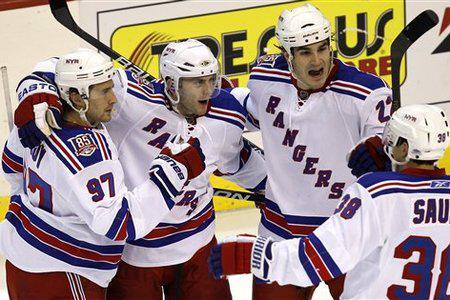 New York Rangers Update: They won, 3-2! On a scramble-in-front-of-the-net goal with 1:39 left in the game.  Crazytown, USA! The New York Rangers remind me, primarily, of fifth grade, when I was obsessed with them. I think the later hockey strikes of the 90s really derailed my fandom.  I have not followed them closely in…god, years.  It is sort of crazy when I think about it.  Because in fifth grade, I was positively infatuated with all things Rangers. Particularly Adam Graves and Mike Richter.  So yay for winning a playoff game and for the trip down memory lane, boys.  And A+ for being the only New York team to win tonight…so far.
Bottom of the Sixth: Derek Jeter, an infatuation that replaced both Adam Graves and Mike Richter and has remained one ever since (that is true staying power), leads things off with a slicing single to right field.  Woooo for hitting the ball out of the infield!  Now Curtis Granderson is up.  And he HITS ONE OUT.  A towering shot inside the right-field foul pole! The Yankees retake the lead!  They have apparently scored all five of their runs tonight on three homeruns.  Interesting, although not overly surprising.  Tex hits a weak popup to short that a middle-school girl could have hit.  And Swish grounds out. But who cares? Winning! 5-4, Yankees.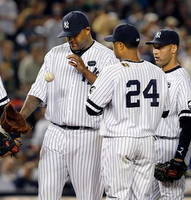 Top of the Seventh: CC is now out of the game and Joba is in. He proceeds to pitch four straight balls for a walk. Welcome to the game, Obese Whalecow.  Oh yaaaaay. A strike. That is nice.  WOW. Crazy play! Fatso pitches the ball to Elvis, who hits like a swinging bunt that rolls near the mound; Russell Martin has to haul ass to the ball and whips it to first for the out. Except it seemed like Elvis beat him by a hair.  The Rangers first base coach, Gary Pettis, is flipping out. I am waiting for a replay. Oh he is thrown out of the game! He bumped the ump and is all up in his grill.  This is fun.  Oh, the replay is inconclusive. That was a super close play, wow.  UGH. A ground-rule double to deep right scores the run.  CC will not get the win – again. And this is all Joba's fault. He sucks, seriously.  Adrian Beltre is a triple away from the cycle, and as much as I love when someone hits for the cycle, I would prefer it not be right now.  Thanks.  He grounds weakly to the Whalecow, inning over, but tied game.  5-5.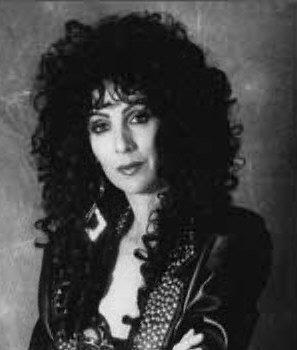 Bottom of the Seventh: Chavez grounds out to short, Jorge walks, R.Mart is up.  Liner to left by Thurmon Munson 2.0; seriously, he has been such a great pick-up.  Gardner is being pulled for Andruw Jones, who is facing Rhodes.  Spelling Andruw with a "u" is almost worse than spelling Shawn with an "e."  Unnecessary extra vowels are not sexy.  Jones flies out on the first pitch. Lame.  Captain Clutch is up! If I could turn back time, if I could find a wayyyy….(in a terrible Cher voice).  Nope, he grounds out weakly to end the inning. Cher magic fail. It is still 5-5. 
Top of the Eighth: Battle of the bullpens, people! Rafael, everyone's least favorite Ninja Turtle, is on the mound, while Nelson Cruz leads things off.  But he strikes out on three pitches, wow. That was pretty. I don't even care that he is on Joe Girardi's Braces. Mike Napoli flies out and then David Murphy lines a ball to left-center. But the Yankees get out of it on a fly ball.  5-5.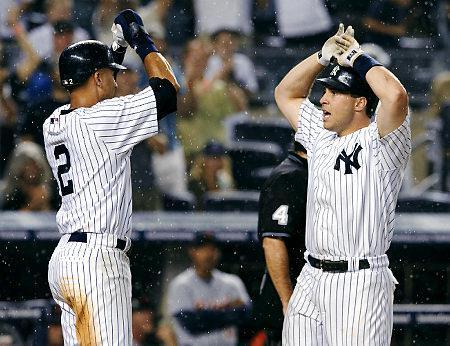 Bottom of the Eighth: Grandy flies out. Oh they just showed Derek. When did he become so…bald? I am very disturbed by this. Like extremely disturbed.  Tex, I just need a homer. That is it. Come on.  He walks, I'll take it.  The Future AL MVP can do this.  You can't spell CAN without Cano.  Oh, so close. He hits it to the warning track for the second out.  Swish? Do it for our fake high school romance.  Into right field for a base hit! That was so sweet. I would totally leave a note for him in his locker and put out under the bleachers after class.  Okay, first and second, two outs, for Eric Chavez, owner of the surprisingly nice hair.  LINER UP THE MIDDLE!!! Chavez comes through again! 6 for 12 when he starts! Tex scores, hauling ass from second.  Yankees take the lead!  They are intentionally walking Jorge to pitch to R.Mart. Interesting. Bases loaded. I hope Rusty Marty makes them pay for these shenanigans.  Sigh, he grounds out. Inning over, but we have the lead. 6-5, Yankees.
Top of the Ninth: Enter Sandman, MoBot 3000X is in. One quick out, popup to shallow right.  Kinsler is seriously battling up there, I give him props.  But he is frozen on a gorgeous 90-mph fastball that breaks over the inside corner.  Two outs. It is all up to Elvis.  Who weakly grounds to third.  And that is IT. Game over.  6-5, Yankees. 
Theeee Yankees win, theeeeeee Yankeeeees WIN! So do the Rangers! The Knicks, on the other hand, wet the bed in the fourth quarter. Again. Two out of three ain't bad, but idealistically, if I had to choose one victory out of the three, I wanted the Knicks to pull it out. So we will call tonight a draw. Have a good Monday everyone, and check back later!