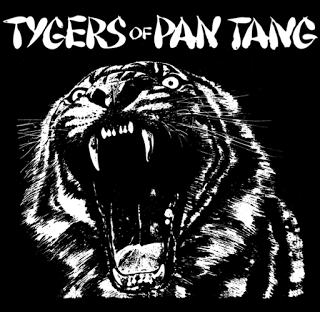 When I was a kid, growing up in a house with Cat Stevens, Neil Diamond, and Simon and Garfunkel, the first time I ever heard Kiss's "Detroit Rock City," it was a moment of musical epiphany. It was just so vicious, aggressive and mean. It changed the way I listened to music. I've had a few minor epiphanies' since then, when you come across a band that just brings something new and revolutionary to your ears.
What have been your musical epiphany moments?
Hi Todd pleased to talk with you and answer your questions for all your readers. I have had many 'Special,' musical moments. Listening to early Black Sabbath, Rush, Uriah Heep and Status Quo for a start. Then going to shows and experiencing the whole 'live' vibe thing was very important and interesting for me. I used to marvel at the size of the backline, how loud the band was, what type of guitars they played, even what stage clothes they wore!
Talk to us about the song-writing process for you. What comes first, the idea? The riff? The lyrics? How does it all fall into place?
Well for me I never set out to write a song. If I did I don't think I could come up with anything! I take myself off to my studio just with the aim of exercising my fingers. I call it 'Having a play!' I always play plugged through my studio so if I play anything I like I can record it and come back to it the next day. If I think it's 'Tygers' I develop it further by laying down the drums then the bass, another guitar part and maybe a solo. I mix it and send it out to the boys for their consideration. If it's a thumbs up we jam it at rehearsal and develop it further. Its then recorded on a Mac and sent to Jack in Italy for his input. Craig and Jack then develop the lyrics and it's all put together. But we all write in this way so at rehearsals anyone of us could be sharing ideas.
Who has influenced you the most?
Wow, that's a BIG question! I've tried to develop my own style but there are certain players that I like. Eddie Van Halen, Mick Box, Robin Trower, Bernie Marsden and Glenn Tipton. I'm not really a big guitar hero fan, but all these players play quality guitar lines that just sit nice, if you get my drift? My eldest son, Steve is a massive hard rock music fan and he says he knows if it's me playing a solo in a song because of my style. I guess that's a good thing?
Let's talk about the great days of the NWOBHM -- That term wasn't coined until later.  At the time, did you realize you were a major part of a major Renaissance in heavy music?
To be honest, No! The Tygers were young musicians full of musical testosterone wanting to prove their worth to the music world! We had been playing the circuit for a couple of years before Geoff Barton from the Sounds newspaper wrote that famous article about this new hard rock movement that was happening in the UK. Geoff coined the phrase, NWOBHM.
(New Wave Of British Heavy Metal.) Of course it was fantastic to be included in that movement and scene!
You were the third single released by the ground breaking Neat Records based near Newcastle.  Seems that Neat mined their own sound and scene, I've even heard the Newcastle NWOBHM referred to as a separate sub-genre.   Was there a specific Neat or Newcastle sound?
I think that the Tygers helped shape Neat records sound. We were the first NWOBHM band to record there and I hope started something great? Many bands followed in our footsteps, Raven, Venom and I think the Tygers brought the first notoriety to the Neat records label.
What were those early days of the NWOBHM like?
Fantastic, magical. To be honest you really had to be there to experience it. The friendship between the bands, we went to Iron Maiden and Def Leppard gigs and Saxon shows and they came to ours. It was all positive and good. I had a fantastic time, indeed a time I will never forget.
Who were some of your favorite bands at the time that we most likely never heard of?
I only really knew of bands that everybody has heard of! Some of my favourites were (and still are) Blackfoot, Ratt, Molly Hatchet, XYZ, Winger and so many more.
Wildcat was a seminal work of heavy metal, and still stands the test of time.  Any stories from the making of that album, and the early days of the band?
Hell, where do I start? I was a bit of a bad boy back then, always looking to play a joke on fellow band mates or crew or managers! I've tried to blow them up, turned fire hoses on people, actually parked a car on a crew member's foot so he couldn't move and left him while we (the band) went into the pub for a beer! While we were recording WILDCAT, Chris Tsangarides, our producer keep blowing up the studio speakers because he played back the backing tracks too loud!

  
One of the things I love about the early NWOBHM was the rawness and punk DIY attitude.  But of course that began to change.  Why was the decision made to bring in John Sykes and Jon Deverill?
We had a meeting with our agent at the time, Rod MacSween from ITB (International Talent Booking.) Rod told us in his opinion we should add another guitar player to our line up to make our live sound much bigger. We agreed and auditioned some 40 guitar players of which John Sykes was chosen. Then after the Wildcat tour in September 1980, Jess left the band as he wanted to go 'solo.' So we advertised again and picked Jon Deverill out of 120 vocalists!
Spellbound is also an amazing album, but a very different sound from Wildcat -- was this an intentional change in direction?
No not really, I think it was just the style of writing when the two John's joined. John Sykes and I wrote all the music for spellbound and Jon Deverill wrote most of the lyrics. Rocky and Brian of course had their own musical input and our manager Tom always had the final say as to which songs were to be taken forward to be fully developed and recorded.
Where'd the band name come from?
From a Michael Moorcock book. In the 70's Michael was a big Sci-Fi writer and in one of his books, 'Stormbringer,' the Emperor had some attack Tygers who guarded the cliffs of Pan Tang which were the entrance to his kingdom. Rocky at the time was a big Sci-Fi reader and when we were trying to come up with names for our band he suggested Tygers of Pan Tang!
You have one chance, what movie are you going to write the soundtrack for?
The Ambush! Of course it hasn't been made yet because it's in my head! But it's about a superhero called 'Tygerman' who saves animals who are abused by humans. Could work....what do you think?
You now write for a music publication (The Ripple Effect?).  You're going to write a 1,000 word essay on one song. Which would it be and why?
'Never Satisfied,' from the 'Crazy Nights,' album. Why? Well it's a story of a lady who could never be satisfied...We'll leave it there!
Come on; share with us a couple of your great, Spinal Tap, rock and roll moments?
Just a couple? Well there was the time we caught a ferry from Sweden and as it pulled out of the dock we were all standing on the rear deck just gazing back at the port when we saw a person waving his hands frantically at us? A voice from the back calmly said, 'Isn't that Jon Deverill?' Jon had only missed the sailing and there wasn't another one for four hours! And, we had a show in six hours! Or the time one of our band members was with a girl who was a bit worse the wear if you know what I mean? He 'popped' over the hotel landing to get another member to surprise her and as the new member got close to her she came too and broke his nose with one clean punch! He had to play the rest of the tour with his nose bandaged up, it was hilarious!
Tell us about playing live and the live experience for you and for your fans? 
Live is the best! There is nothing quite like it. When the intro goes on and you are waiting in the wings ready to run on and go crazy. It's a rush far, far beyond anything you can imagine. Seeing the fans going mental to songs you have written is a rush in itself. And afterwards when we get a chance to say 'Hi,' to everyone that makes my night complete.
What piece of your music are particularly proud of?
Do you know, every song I write that it makes it onto an album, I'm proud of. I just love writing songs.
Who today, writes great songs? Who just kicks your ass? Why?
Can I be honest? I don't pay much attention to song writers. I'm quite difficult to please!
But I did think Bon Scott wrote some fantastic lyrics.
Whiskey or beer?  And defend your choice
Jack Daniels every time. But as we speak the Box Social Brewery Company, here in Newcastle-upon-Tyne are brewing us our very own beer to be sold worldwide. It's going to be called, 'Tygers Blood,' and it's red in colour! The can will have the new album cover printed on it and it will be available from October the21st, which is the release date of the new album.
Tygers are still active and playing.  How did the reformation come about and how's it going?
After coming out of retirement in 1999 to headline the Wacken festival near Hamburg in front of 22,000 people, I got bitten well and truly by the rock 'n roll bug again and something inside me said you got to do this Tyger thing again. So I did!
What's next for the band?
Festivals in, Italy, Spain, Holland and Belgium. A UK tour in October and the release of our new album through Target Records on the 21st of October. A New video to accompany the first single off the album, 'Only the Brave.' And to finish off our year a festival appearance at the Winter Storm festival in Scotland on the 25th of November.
Any final comments or thoughts you'd like to share with our readers, the Waveriders?
Thank you for taking the time to read this interview. I know you will like the new album, trust me it's a MONSTER! Keep supporting live bands in your area by going to their shows, and most important of all KEEP BLOODY ROCKIN'
Love you all....
Robb.