A Star Is Born is getting all kinds of buzz and praise for its performances on screen, and on the soundtrack. And all of that love and positivity is earned and deserved.
If you had told me at the start of 2018 that in October I'd be watching a film with Lady Gaga, Sam Elliot, Dave Chapelle, Andrew Dice Clay, and the voice of Rocket the Racoon, and it would hit me like a ton of bricks, I'd have laughed you out of the room.
But here we are.
At 2 hours and 16 minutes, A Star Is Born doesn't drag, it doesn't outstay it's welcome, and it didn't at any point make me stop wanting to know what was going to happen to these characters. Hell, I'd have taken another 25 minutes in the film to explore just a little more of Noodles (Chapelle), Ramon (Anthony Ramos), and even just the tiniest bit more about the relationship between Jackson and Bobby back in the day.
As director and leading man, Bradley Cooper wore two hats admirably. Considering this represents Cooper's directorial debut, the award buzz and appreciation this film is already getting is all the more impressive. And, as a musical performer on the soundtrack and throughout the film, he surprised the hell out of me. Learning that he put the work in to be a stronger singer so he could make this the best work possible is admirable.
I was also surprised (or maybe not surprised, just impressed?) by Lady Gaga's on-screen performance as Ally. As a singer/songwriter we've always known that Gaga has the ability to connect, to be vulnerable, and to amaze. And in A Star Is Born, she used all of those qualities as an actress. When paired with her performances on the soundtrack, there is no doubt that she was the right choice for this role.
"Music is essentially 12 notes between any octave - 12 notes and the octave repeats. It's the same story told over and over, forever. All any artist can offer this world is how they see those 12 notes. That's it." - Bobby Maine
Lukas Nelson, seen on screen as Jackson Maine's guitar player, also deserves some love for the success and strength of the film. Cooper worked with the son of the legendary Willie Nelson to learn how to play the guitar well enough to be believable as a star. The Promise Of The Real musician also wrote songs for the film with credits on seven tracks: Black Eyes, Out Of Time, Alibi, Music To My Eyes, Look What I Found, I Don't Know What Love Is, and Too Far Gone. It's a job well done by a talented dude.
In an effort not to spoil A Star Is Born for anyone that hasn't yet had the chance to see it, we won't get into details.
But we will tell you that this movie is deep, it hits, it gets dirty and real. It's uncomfortable at times when it's dealing with the raw, hurtful, sad pieces of life that come with addiction and mental health issues and the dark sides of life. Uncomfortable not in a way that makes you want to run (although I'm sure this will hit close to home for some unfortunate folks who have lived it) but in a way that forces you to look at this darkness and accept that it is real. That even though these are characters in a movie, the story is real. And we're stuck feeling helpless.
We can also tell you that the chemistry between Bradley Cooper as Jack and Lady Gaga as Ally is everything it needs to be to make the story work. There's a moment, early in the film, when their eyes meet for the first time, and you know, you know that this is going somewhere and you want to follow it. Heck, given the context, "Can I tell you a secret? I think you might be a songwriter." might be one of the most romantic lines I've ever heard in a film.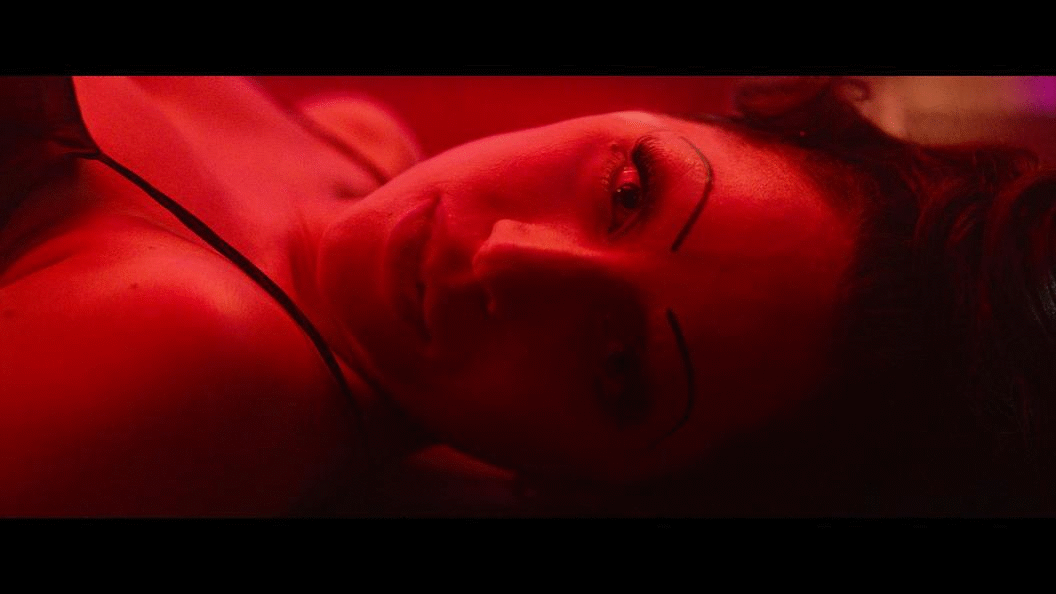 The A Star Is Born soundtrack is a collection of 18 songs (with two versions of I'll Never Love Again) that have listening power all on their own.
Yes, the songs are tied to the movie and listening to them after watching the film will add layers and depth to the experience. But, songs like Black Eyes, Alibi, Shallow, and Always Remember Us This Way are strong all on their own. The writing, singing, and musicianship are top notch. And, by virtue of the performances coming from Cooper, Gaga, or the two of them on duets, they all have a flow and connection to each other that makes this feel more like the soundtrack to a musical than a film with music.
The mix of Americana, rock, and pop on the soundtrack keeps anything from feeling repetitive or simplistic. That mix also shows off the talent of the singers and songwriters on this album, especially Lady Gaga and Lukas Nelson.
Note: I may have had goosebumps during Cooper and Gaga's first duet scene in the movie.
Fair warning, without spoilers, listening to I'll Never Love Again is hard after the movie is over.
A Star Is Born has been made four times before (1937 original film, 1954 musical, 1976 rock musical and 2013 Bollywood film) but that doesn't take a single thing away from this film or its music.
Bradley Cooper and Lady Gaga stand tall in their leading roles, offering vulnerability, emotion, struggle and hope in varying moments of their characters lives. And with support from performances from Sam Elliot, Anthony Ramos, Rafi Gavron, and more, A Star Is Born is a hit.
It is my recommendation that you see this movie. But go in ready for real feelings.
Enjoy!
A Star Is Born Soundtrack Track Listing
1. Black Eyes (Bradley Cooper)
2. La Vie En Rose (Lady Gaga)
3. Maybe It's Time (Bradley Cooper)
4. Out Of Time (Bradley Cooper)
5. Alibi (Bradley Cooper)
6. Shallow (Lady Gaga & Bradley Cooper)
7. Music To My Eyes (Lady Gaga & Bradley Cooper)
8. Diggin' My Grave (Lady Gaga & Bradley Cooper)
9. Always Remember Us This Way (Lady Gaga)
10. Look What I Found (Lady Gaga)
11. Heal Me (Lady Gaga)
12. I Don't Know What Love Is (Lady Gaga & Bradley Cooper)
13. Is That Alright? (Lady Gaga)
14. Why Did You Do That? (Lady Gaga)
15. Hair Body Face (Lady Gaga)
16. Before I Cry (Lady Gaga)
17. Too Far Gone (Bradley Cooper)
18. I'll Never Love Again - Film Version (Lady Gaga)
19. I'll Never Love Again - Radio Version (Lady Gaga)