Actor Jon Hamm finally got his long overdue Emmy for his performance in the drama show "Mad Men". But what happened in the category "Best Drama Series"? Why is "Game Of Thrones", a show which's "drama" only gets created by violence and sex, favored over an intelligent show like "Mad Men"? An analysis.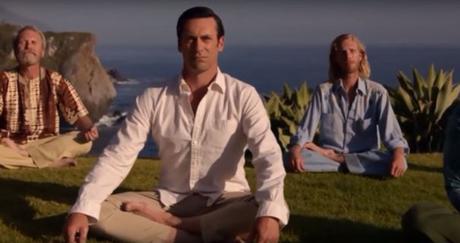 A Song Of Boobs And Fire 
This year's Emmy Awards disappointed a lot of viewers. Mostly because the Emmy of the category "Best Drama Series" went to "Game Of Thrones", although "Mad Men" had its last and best season, whereas "Game Of Thrones´" last season was the worst so far. For me this decision only reflects the trend where our society is going right now.
Now there are more blockbuster productions than ever in the cinemas, for example superhero movies like "The Avengers" or "Iron Man", but also in TV there are more superficial programs like "The Flash". These productions just want to entertain and stop there. There is no depth and no intelligent or complex storytelling and this is where exactly "Game Of Thrones" fits in. In the series the drama only gets created by the twists of "who tortures who" or "which character do we see naked next". A show of real greatness shouldn't need to step down to such primitive levels, just to make the audience scream "uh" and "ah", like monkeys who get to see a banana.
Truly Mad Men 
The people who voted for "Game Of Thrones" obviously just voted for the most popular show on television, that is mostly seen by teenagers, which is wrong. Because "Mad Men" had over the last years much more influence on this Golden Age Of Television that we live in and got much better reviews, especially from film critics and movie researchers. If only "Mad Men" had more rape scenes, dragons and abandoned storylines, it could have beaten "Game Of Thrones".
Or maybe the Emmy Awards mostly consist of truly mad men. If we look at Hollywood's women problem, we can also find an answer to this win there. Whereas "Mad Men" has strong female characters such as Peggy Olson (played by the fabulous Elisabeth Moss who didn't win an Emmy either), the women in "Game Of Thrones" only appear strong after their traumas of being raped like Daenerys Targaryen or Sansa Stark. Did a woman in that show actually get where she is without sex? Think about it. Margaery Tyrell only got power by sleeping with Tommen Baratheon and manipulating him. Daenerys Targaryen got only accepted as Khaleesi after she accepted the violence of her husband. Yes, "Game Of Thrones" is a fantasy series but when female characters are only interesting after they suffered sexual violence, where does that lead us to?
If the Emmy Awards now just let shows win that have the most sensations, why aren't the Kardashians nominated for "Best Drama Series"? Like the Twitter user Optigrab said best: "Fuck the Emmys. Never watching again. Mad Men had heart. The only thing that Game of Thrones has is boners and boobs."