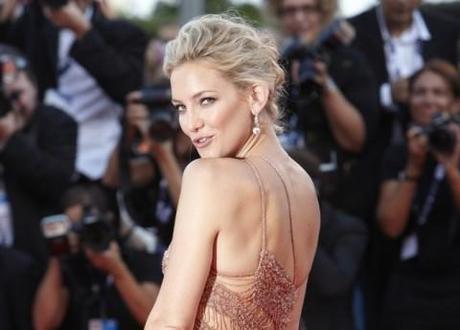 Kate Hudson at the Venice Film Festival premiere of her filme, The Reluctant Fundamentalist, 29 August 2012. andersphoto / Shutterstock.com
The background
The Venice Film Festival, the oldest in the world, opened Wednesday night – but this year's festival promises to be a slimmer affair, with a reduced programme and a distinct decrease in A-list red carpet walkers. George Clooney, a Venice regular, is among the many heavyweight stars staying away this year, kept away, some observers claim, by the high cost of showing a film in Venice.
What we can expect from the 11-day festival is a sleeker and more critically selective line up; there are 60 films being presented, and only 18 are in competition for the top prize, the Golden Lion. Top directors such as Brian De Palma, Terence Malick and Paul Thomas Anderson are all premiering their latest cinematic output at the festival, many of which are not without the odd A-lister or two.
A freshening up
This year is the first festival in eight years without Marco Mueller as Artistic Director. Alberto Barbara has taken the helm for 2012 and has defended his sleeker vision for the festival. He told The Guardian, "The festival is like a grand old lady, a refined lady, but one in need of being freshened up. I believe a festival should take responsibility for its choice, and not to simply select dozens and dozens of titles."
Can Venice afford to lose the big names?
Quality over quantity is all very well, but since the economic downturn of 2008, can festivals really afford to take creative choices over financially lucrative ones? Big names bring in big sponsors and Venice is a festival in dire need of funding. Meanwhile, The Observer's Jason Solomans told BBC News that the cost of staying in Venice is off putting for big stars and top films. "A few years ago, Joe Wright's Atonement had its world premiere at Venice," he said. "Now he's made Anna Karenina, again starring Keira Knightley. It's a period film all about decadence and decay, and it belongs in Venice. It should be here. But they can't afford to launch it here now."
The critics' choice?
Not everyone is unhappy with the more selective line-up. Variety's Jay Weissburg  told SKY News that "the festival looks very strong at the moment particularly from a critic's point of view; I think we are in for a very interesting week and a half." The sleeker festival promises an array of critically engaging films this year, opening Wednesday with the world premiere of Mira Nair's cinematic adaptation of The Reluctant Fundamentalist, starring Kate Hudson and Four Lions star Riz Ahmed; The Independent called it "a well-crafted and thoughtful thriller." Terence Malick's follow up to his Palme D'Or winning Tree of Life, To The Wonder, starring Ben Affleck, Rachel McAdams and Javier Bardem, will also premiere at the festival. Paul Thomas Anderson will also be courting controversy with The Master, a film about an enigmatic cult leader partly inspired by L. Ron Hubbard, founder of the Church of Scientology, starring Joaquin Phoenix and Philip Seymour Hoffman.
Let's hear it for the ladies
Where Venice does seem to have got it right is with its inclusion of female directors. Seventeen are within the selection and four are in competition for the Golden Lion. The Guardian's Agnes Poirier praised the inclusion, and warned the critics to keep at bay: "If a female director wins Venice's Golden Lion next week, like Sofia Coppola did for Somewhere in 2010, let us hope there won't be furious allegations that she won simply because she is the daughter of a famous male director (Francis Ford Coppola) and the ex-girlfriend of the head of the jury (Quentin Tarantino)."