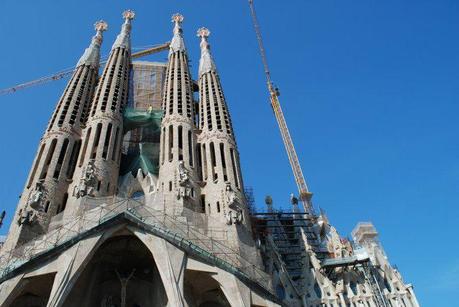 On our recent visit to Barcelona, there was one attraction I had no interest in seeing.  In fact, you could say that I was dreading going but knew that as a thorough travel writer I would have to eventually.  That attraction was Gaudi's La Sagrada Familia cathedral, and I am happy to report that everything I had ever thought about the still-being-built church was dead wrong.  That horribly ugly looking building is actually quite a beautiful sight indeed.
A Misunderstood Lack of Desire
To be fair, my knowledge of La Sagrada Familia was pretty limited prior to arriving in Barcelona.  The most I knew about the church was that it is still in construction well over 100 years after the first stone was laid.  In fact, completion of the church is not even anticipated for at least another 20 years.  As an engineer and someone who lives and breathes efficient designs everyday, I can only just think of "get on with it" when hearing about it.  In this day and age, there should be no reason why a church cannot be completed in only a few years pending any major financing issues (and after seeing the prices they charge to enter and line to get in, this should be their last concern).
Then there is the facade.  Seriously? When all I ever saw was small photos on the internet of a building that looks like a sand castle surrounded by a dozen cranes.  The only thing I ever thought to myself was that it was one of the ugliest looking churches I've ever seen in my life.  That is, until I actually saw it in real life!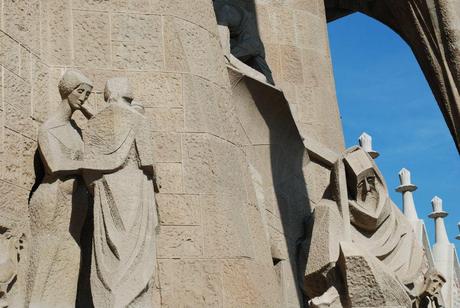 The World's Most Beautiful Church?
Approaching the cathedral from the streets presents a view much like the hundreds of photos everyone has seen on the internet.  "Oh boy, here goes" I thought.  But as we approached and the building's size became apparent, all negative thoughts were washed away.  That sand castle looking design is actually very detailed.  In fact, it is all detail.  Every inch of the facade has a very specific design, statute, or carving that rivals most of Europe's oldest and most popular cathedrals.  And then you go inside!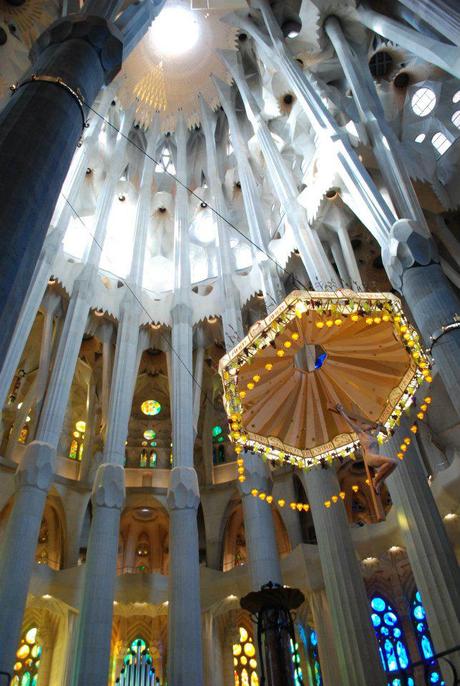 The inside of La Sagrada Familia is unlike anything you've ever seen before in a church.  Sure, there are tall columns, vaulted ceilings, beautiful organs, and stained glass everywhere like all other cathedrals; but these are new!  Surprising that this is the highlight?  Well, we were too!  When all other churches in Europe are up to 1,000 years old or more, everything inside La Sagrada Familia is new!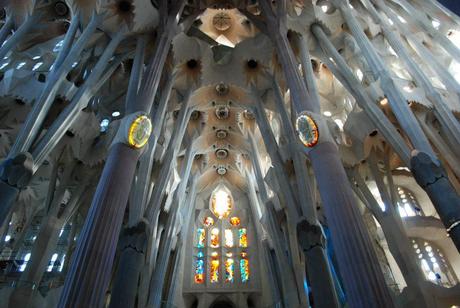 Our personal highlight on the inside of La Sagrada Familia was the stained glass windows.  Simple compared to the beautiful designs that Gaudi put together, but something I've never seen before - new stained glass in a church!  Bright, vibrant, and very colorful; these stained glass panes are absolutely astounding.  A few are so new that massive window is completely full of stained glass, and the next one is still empty; presumably waiting for its installation.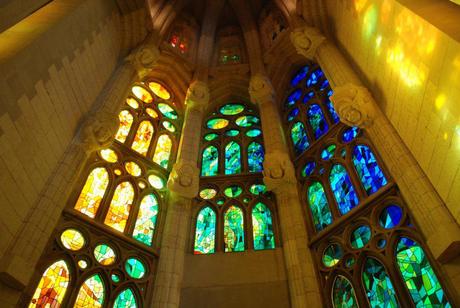 Still, some of the art pieces in the cathedral are a bit over the top, but they seem to fit into the overall plan quite nicely.  For that, I must give my heartfelt apology to La Sagrada Familia.  I had you completely mistaken, and for that I am sorry.  If you ever do get completed, you can rest assured we will be there on opening day waiting to hear the thousands of organ pipes and choir in full glory!
-----------------------------------------
...and about that entrance cost:
The biggest downside to the La Sagrada Familia experience was the entrance cost.  Adult ticket costs start at 13 Euro and student discounts start at 11 Euro.   For an additional 3 Euro you can take a timed ticket up one of the spiral towers for a great view of Barcelona and one of the scariest climbs down you'll ever have. Yes, that is down the spire.   Worth every penny!  But with prices like that we still wonder why the darn thing isn't completed yet!