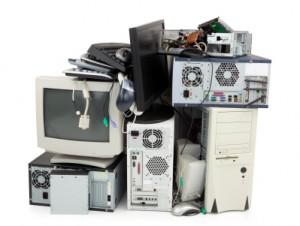 In 2007 a new set of rules and regulations were put in place in the UK to try and ensure a standardised and widespread practise of correct recycling and disposal of electronic equipment techniques. The initiative, known as the Waste Electrical and Electronic Equipment (WEEE) directive, was aimed at ensuring that the amount of untreated electrical and electronic waste going to landfill was greatly reduced and, instead, collected separately and dealt with in a different fashion to every day waste. The questions are – "Why recycle electronic goods any way?" and, perhaps more pressingly, "How?"
Why recycle?
The reason electronic goods such as computers or mobile phones should be recycled is that, if not disposed of in a correct fashion, they are potentially hazardous to the earth and the environment. In each and every electronic item are a number of chemicals which, if left untreated, can cause damage to the earth. An example of this is the lead toxins found in many electric goods; when released into soil and earth these toxins can cause contamination which, in turn, can prove potentially devastating to nature and the surrounding environment. Because of this it is important to find ways in which to either properly dispose of these items in a safe fashion or to redeploy them elsewhere. In fact most of the electrical equipment that is thrown away each year could easily be repaired or are still usable. It is due to these facts that the WEEE initiative came into play in the first place; with standards and practices it is possible to make certain that goods can either be redeployed or discarded of safely.
Which WEEE products can I recycle?
It is easy to detect which new products can be recycled as they should all feature a "crossed out wheelie bin" symbol on them to denote that they should not be disposed of in the fashion of usual household waste. However, older pre-WEEE directive electronics will likely not feature this symbol. This does not mean they should be exempt from WEEE directive measures though; just because a piece of equipment may be lacking the wheelie bin symbol does not mean it is illegible for modern recycling measures. More often than not any product that needs electric to power it, either via battery or through a plug, should not be disposed of in a usual manner.
What to do with WEEE equipment?
Disposing of electronic equipment is usually as simple as making a quick phone call. Many electronic equipment providers will gladly take these items away for either a small or negligible fee. Alternatively, local councils and governmental bodies provide similar facilities. Local civil amenities who provide this facility are easy to come by; usually a quick internet search or a flick through a local phone directory should do the trick.
Finally one area of electronic equipment that could and should be recycled, somewhat surprisingly, are batteries. In the United Kingdom special recycling bins are provided in branches of Currys, Currys digital and PCWorld stores amongst other places for the public to safely place their unwanted batteries. Due to the amount of chemicals contained within them, batteries should by no means be placed alongside normal waste. The same rules apply to mobile phones; their plastic casing is not biodegradable and they house many lethal chemicals. They are, however, as easy to recycle as batteries and there are many disposal points situated in supermarkets and the like which will dispose of the equipment for you in a safe manner.
Kieron Casey is a BA (Hons) Journalism graduate who blogs regularly on IT solutions, networking, technology and recycling. He is writing on behalf of Equanet.