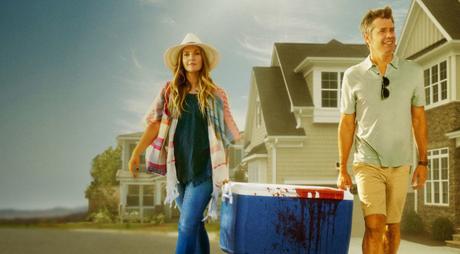 Netflix drops another binge-watch-worthy Drew Barrymore-starred sitcom, Santa Clarita Diet, a while ago. The premise is kinda offbeat: mixing "zombie" story with family sitcom set in a Californian town with 'diet' in the title. One thing to keep in mind is: it is not your kind of diet.
If you're thinking of zom-bombastic actioners like The Walking Dead or gory-zombie bonanzas, you'd better save your thought. You won't find no 'real zombie' in this 10-episode half-hour series. What you will find is a couple of married realtors (Drew Barrymore and Timothy Olyphant), who after a gut-spilling accident in the first episode, must deal with the fact that Sheila - the wife - is undergoing her turning into an undead.
The irony is: a few hours after 'the turning,' Sheila suddenly turns aggressive, sex-crazed and starving, as she states that she's never felt so alive before. The couple deals with this situation by supplying edible meats, which turns out unable to satisfy Sheila's craving, 'cause she's only hungry for... human meat.
Santa Clarita Diet moves slowly from the first few revelations in the first episode to tune in into Sheila's new diet. The couple spends the next few episodes to supply human meat for Sheila. Plans are made, but most of them go south before bringing specific impacts. At the same time, the couple must deal with their teenage daughter, Abby (Liv Hewler), in the mid of her rebellious phase; and annoying neighbors with a Reddit enthusiast son, Eric (Skyler Gisondo).
The show's pace is basically Netflix pace as it barely moves forward for an episode (sometimes two) with each episode is filled with cringe-worthy flubdubs or occasional atrocities. The series pattern moves on, surprisingly, fluidly as the family works out with the revelation internally, then with closest neighbors, and moves on into a more mystery-seeking ride upon reaching the end. What works best with Santa Clarita Diet is its inept protagonist, especially Timothy Olyphant as the husband, Joel, who keeps trying to find ways out, but instead creating more troubles. Olyphant works perfectly fine with Barrymore's comic roles as a bored mother turned into a super-exciting undead.
The jokes and comedic moments are mostly hit-or-miss; and it seems that the creator is not comfortable to play loose on the genre blend. Well, there's some allusion that Santa Clarita Diet is a take to marriage in general - an injection of adrenaline rush to a marriage that has turned sour and boring. There's also an interesting take about neglected juvenile by the time the parent getting busy with themselves. However, Santa Clarita Diet cannot address those issues into a compelling satire. They could have done that if they wanted to, but the show really wanted to have fun.
In the end, I keep wondering why I keep chewing Santa Clarita Diet until the end, although I know it's not my kind of diet. The absurd premise, the hit-and-miss jokes, the superb performances and some underlying issues I caught add some flavor to the raw meat; and, by the time, it hits the finale, I realize Santa Clarita Diet really is your cheating meal.
Santa Clarita Diet (2017) - Season 1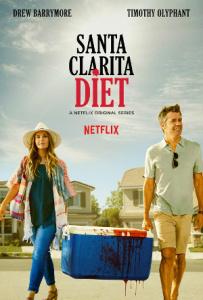 IMDb
Comedy, Mystery, Horror Created by: Victor Fresco Starred by: Drew Barrymore, Timothy Olyphant , Liv Hewson Network: Netflix No. of Episodes: 10 Runtime: 29 mins