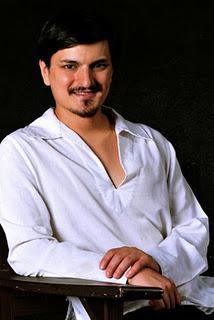 Spanish-Filipino actor and singer Kuya Manzano counts the national hero Jose Rizal as his great grand uncle Jose Rizal. It seems destiny, then, for him to end up portraying Ibarra, the lead character in "Noli me Tangere: The Opera," Dulaang UP's staging of the classic Felipe De Leon work, with libretto by Guillermo Tolentino based on Rizal's immortal novel.
"Noli Me Tangere: The Opera" runs November 16-December 4, 2011 (Wednesday to Friday, 7 p.m.; Saturday and Sunday, 10 a.m. and 3 p.m.) at the Wilfrido Ma. Guerrero Theater, Palma Hall, University of the Philippines Diliman, and is directed by Alexander Cortez.
Manzano arrived from Spain five months ago to begin rehearsals for "Noli." In the last 13 years, he's been performing in musical theater, zarzuela, opera, spoken theater, TV and films in Spain, Portugal, Netherlands and China.
Arman Ferrer alternates as Ibarra. The cast also includes Elainne Vibal and Myramae Meneses as Maria Clara, Jonathan Velasco and Michael Dominic Santos as Padre Damaso, and Onyl Torres as Padre Salvi. Cynthia Guico and Aissa Inumerable play Tia Isabel; Jean Judith Javier, Joy Abalon-Tamayo, Rica Nepomuceno alternate as Sisa; and Frederick Hipol is Elias.
Camille Lopez Molina and Pablo Mariano Molina provide vocal coaching and musical supervision, with pianist Noel de la Rosa as accompanist.
Production designer Gino Gonzales uses Philippine indigenous materials for the sets, and the inabel cloth from the Ilocos region for the costumes. The creative team also includes lighting designer Jon Jon Villareal, sound designer Jethro Joaquin, choreographer Dexter Santos and videographer Winter David. Special props are designed and executed by John Gaerlan, with Pow Santillan rendering the graphics design and photos by Jojit Lorenzo.
For sponsorship and ticket inquiries, please contact Cherry Bong Edralin 0917-7500107, or the Dulaang UP Office 9261349, 9818500 local 2449 or 4337840.