Booze Review
Before we get to our reviews of two Japanese whiskies from the Ohishi Distillery, let's find out more about the fine folks that make it and how they make it. Under normal circumstances, this is where we cut and paste information taken directly from the distillery's website, but since the site is Japanese language only with no option for an English translation (where's Google Translate when you need it?), we had to reference another source. Here is what we were able to find out about Ohishi on the Skurnik Wines website:
Founded in 1872, Ohishi has been a family business for five generations, primarily known for its sake & shochu production.
Located in the Southwest of Japan, near the tiny village of Mizukami.
The closest distillery to the source of the Kuma River.
Ohishi Whisky is distilled entirely from rice and aged in either Brandy or Sherry Casks.
The mash bill utilizes 30% estate grown grain for distillation (varieties of estate-grown rice include Hino hikari, Mori no kuma-san, Yamada Nishiki, Gohyakumanishi (5 million stones) and Gin no Sato), with the remaining 70% of rice (Mochi) coming from the surrounding Kumamoto prefecture.
Weeds in the estate's rice paddies are controlled by the employment of koi fish to swim about the grass and nibble the invasive plants.
Distillation occurs in a pot still made from stainless steel.
While we're definitely not as geeky as many of our booze blogging colleagues out there, the fact that this whisky is made from rice (as opposed to malted barley, rye, wheat, corn, etc) and distilled in a stainless steel (as opposed to a copper still) is all the information that we need to justify calling what Ohishi is making "unusual". While some would turn their noses up at the idea of trying a whisky made from rice, we like different, especially if it's actually good, and based upon what we've been reading about Ohishi on the interwebz (particularly their Sherry cask expression), the word on the street is that this stuff is really really good. Don't believe us? See for yourself...
The Whisky Jug says, "Holy crap this Ohishi Whisky Sherry Cask 1257 is freaking awesome."
The Casks says, "Very nice, at once expected and straightforward, and subtle and exotic."
Drinkhacker says, "All told, it's really engaging stuff that takes what we've come to expect from a heavily sherried profile and totally makes it its own."
Jonny McCormick (Whisky Advocate) says, "This should rock the boat for those who love a huge sherried-style whisky."
Now that we have the back story and the interwebz buzz out of the way, let's get down to business. Here are our impressions of these whiskies...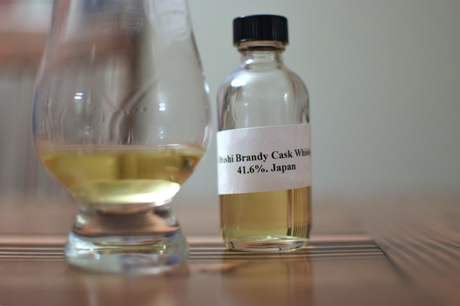 Appearance: Pale golden yellow color.
ABV: 41.6%
The Verdict
Limpd: The Brandy cask influence is a little too prevalent in the taste. Not a whisky for novices or the weak of heart. I can appreciate the craftiness, but this just wasn't my kind of whisky.
G-LO: This was definitely different with a lot to like, but also with some slightly overpowering Brandy notes that take away from what I liked about it. Glad I tried it, but doubtful that I'd ever buy it. Overall, this was just ok with some room for improvement.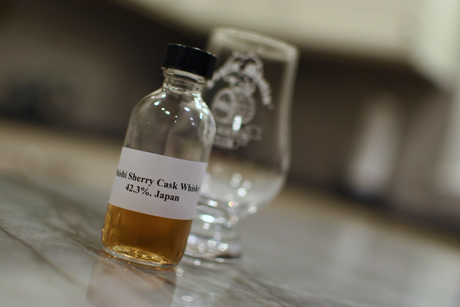 Appearance: Deep amber color
ABV: 42.3%
The Verdict
Limpd: This one is much more to my liking as I am a big fan of Sherry cask matured whisky. This wasn't a standout Sherry cask matured whisky, but it was way above average. If they remove that off note that I picked up in the aftertaste and up the octane, then they'll really be on to something with this whisky!
G-LO: In case you couldn't tell from my tasting notes, I really enjoyed this. The Sherry cask influence is strong, but it never goes overboard. The Ohishi Sherry Cask has a delicious balance of sweet and spice along with a good bit of depth. In a word, YUM!
_________________________________________________
Many thanks to JVS Imports for providing us with these very generous samples!
Categories: Booze Review, Ohishi Whisky
Tagged as: Drinkwire, Japanese Whisky, Ohishi Brandy Cask, Ohishi Sherry Cask, Ohishi Whisky, Review, Reviews, single malt whiskey, Whiskey, Whisky