BLURB:
Jaredand Bekka are two people with a huge conflict. He's FBI. She's theprosecuting attorney. He's high class suits with attitude to match.She's always a bit uptight and she's a virgin to boot. When these twoget together, the sparks fly all the way from the office to thebedroom as these two go head to head, flesh to flesh.

 REVIEW: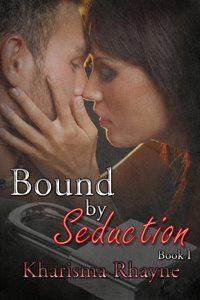 Bound By Seduction:  Book 1 ~  By Kharisma Rhayne 
Iflosing my virginity had been this wonderful and intense, I would havedone it twice! 
When I read erotica, I look for different things than I do whenreading other types of fiction.  Besides a good story which Iexpect whether it is erotica or not, I expect great characters andintense sex. I expect to be turned on, and if it is a short piece,then it needs to be done quickly, but well.  After all what iserotica for if not to turn on the reader?
Bound bySeduction: Book 1 is a short story about Jared and Bekka.  Bekkais about to have her first sexual encounter with Jared.  Nervousand unsure, Bekka is about to discover that sex does not have to bestandard missionary sex. 
The characters were right on themoney for me. Jared, the older experienced man, knows what he wantsand also knows how to please a woman. Bekka was a believable virginwith the nervousness most of us had during that crucial period oftime.    
I really loved this story.  As I read, Ifound my breath quickening in anticipation as if I were Bekka. Thisshort piece had everything I needed: great characters, great storyand awesome sex.   
5 of 5 stars I can't wait to read more from this author.

You can pick upthis wonderful book at:   
http://www.amazon.com/Bound-by-Seduction-ebook/dp/B0067MBNTM/ref=sr_1_1?ie=UTF8&qid=1328214139&sr=8-1 
Tenyears ago, Kharisma traded in snow, ice and tornadoes for sun, heat,sand and mountains. She now lives in beautiful Arizona with herhusband, 4 kids & 5 rescue dogs. Her love for nature and animalsis well known and she gets to indulge it in her new home with wolves,coyotes, snakes, and various other creatures as her nearestneighbors. Living in the middle of nowhere is something she wouldn'tchange for the world.
Dabblingin writing through Junior High and High School, Kharisma officiallygot her start writing LGBT, BDSM and erotica. Never one to slow down,she started writing several additional genres including crime,medical, historical and paranormal. Her latest adventure is a darkhorror.
Whenyou pick up one of her books, she wants you to walk away turned onand inspired! Come take a stroll into Kharisma's worlds of ecstasy,love, adventure and fear. 
Website ishere: http://www.kharismarhayne.com/

Facebookis here: https://www.facebook.com/KharismaRhayne

Twitteris here: https://twitter.com/#!/KharismaRhayne