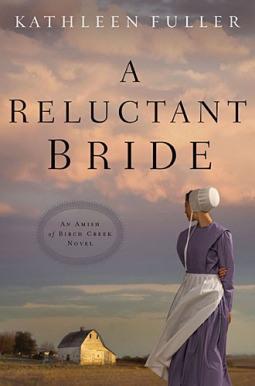 A Reluctant Bride by Kathleen Fuller
Published by Thomas Nelson Inc on September 8th 2015
Genres: Amish & Mennonite, Christian, Contemporary, Fiction, Romance
Pages: 320
Goodreads


She never wanted to marry. He hopes to make amends for past wrongs. Can love find a way to heal both of their hearts? Sadie Schrock swore she would never marry. All of her other Amish friends could court and marry—she was content to manage the family business and eventually take it over when her parents are ready to retire. But all of that changes when a reckless driver kills both of her parents and seriously injures her younger sister. With mounting hospital bills adding to the pile of debt her parents left behind, Sadie is left with no choice: she must marry. And not just any man—the man who saw her at her weakest and walked away. Aden knows what his brother did to Sadie years ago was inexcusable. And every day since that incident, Aden has lived with the guilt for not intervening sooner. When he is faced with the chance to protect Sadie once again, he can't let her down—even if it means living with the scorn of the woman he loves for the rest of his life. Working alongside Aden at the store, Sadie realizes he isn't the same boy who once betrayed her. Just when Sadie starts to let her guard down and perhaps develop feelings for her new husband, dangerous secrets are revealed. Now everything Sadie has worked so hard to protect is threatened, and she must find a way to save her family—and herself.
Let me start out by telling you this: my mother LOVES Amish stories. I'm not sure why – perhaps it's our Ohio upbringing, or perhaps it reminds her of more simple times. We had a conversation about it just this week and we just aren't quite sure why. Regardless of the "why" of it, when I saw the book, A Reluctant Bride by Kathleen Fuller available for review, What better way to involve my mom in my blog but to have her actually read a book and provide her review?!? 
I'll start out by sharing a conversation I had with my mom while she was actually reading the book:
Mom: "Is this Kathleen Fuller's first book? I've never heard of her."
Me: "Me either but let me Google her (while googling her). Oh wow, Mom, she has already written like 30 books!"
Mom: "Are they all Amish stories?"
Me: "A lot of them are."
Mom: "I'm going to have to read some of her other books then. I had never heard of her before though. I didn't even go to bed until about 3am because I had to finish this book, it kept me awake reading."
So now below, here's mother, Gloria's review of A Reluctant Bride by Kathleen Fuller:
A Reluctant Bride shares the story of two Amish families whose lives have collided through tragedy. This book is a romance with lots of secrets and mystery throughout, while the characters struggle with their faith and their need for revenge.
The main character, Sadie Schrock, told everyone that she would never get married as she was happy to manage the family store, Schrock Grocery and Tools. She even looked forward of taking over the family store when her parents were to retire. In an instant, however, everything in Sadie's life changed when her parents were taken from her as a result of a reckless driver.  Her parents were killed and her younger sister was left with serious injuries.
Sadie was then faced with piles of debt that her parents left behind, along with the ever-growing mound of bills for her medical sister's care. Sadly, Sadie realized then that she had no choice – that she must marry to save her family.
Bishop Troyer chose his son Aden Troyer for Sadie's husband and even planned her wedding. Aden knows what his brother, Solomon, did to Sadie years ago, and has lived with guilt every day since that incident for not intervening sooner. (No spoiler here.)
Their marriage began with many challenges added to the fact that Sadie did not love Aden. Their future dealt with guilt, lies, secrets, hidden mystery and financial problems. In time Sadie realized Aden isn't the same boy who had betrayed her in the past and she began to develop feelings for her new husband, while at the same time dangerous secrets are revealed.  Sadie is threatened and she must find a way to protect her family including herself.
This story is about pain, loss, faith, trust, love, and finally, through God, complete forgiveness. This story will touch you very deeply. Perhaps, it will even soften your heart or even convict you of something you need to make right, or someone you need to go to and ask for forgiveness.
Another thing I got out of this book was, the importance of accountability. We should not only be accountable to the community/church that we serve but to God.
I highly recommend this book. I warn you though, once you start reading it, you will want to continue reading until the last page is read.
To find out more about Kathleen Fuller, be sure to head over to her website===>HERE!
I received a complimentary copy of this book from the publishers and Fiction Guild in exchange for this post as part of the Fiction Guild Amish Team Challenge, which is my honest review and unbiased opinion. 
~ ~ ~ ~ ~ ~ ~ ~ ~ ~ ~ ~ ~ ~ ~ ~ ~ ~

It would be great if you would stay connected with me!! You can follow me on Twitter @DebiL1611, like me on Facebook at 2014 and Beyond, circle me on Google+, follow me on Tumblr, Instagram and Bloglovin', subscribe on YouTube, or connect with me on LinkedIn and Pinterest.

Please make sure to visit my homepage and subscribe to my blog for more great posts on running, fitness and lifestyle topics as well as food, product, music and book reviews, and more!