8:30p – We're live with host Doogie Howser who is wearing a dashing tux. He welcomes us to the 87th Oscars and makes a joke about how white Hollywood is. This is followed immediately by a musical number because Neil Patrick Harris' life is a walking Tony Award winning musical.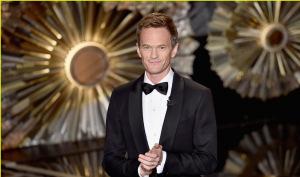 8:33p – Neil is joined on stage for the number by Anna Kendrick who I heard recently on NPR's Fresh Air lament that she was going to be typecast as "Sally Musical". I'm sure this will help with that whole thing Anna.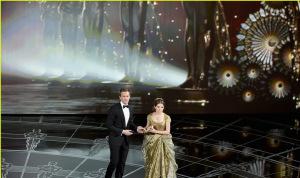 8:34p – Jack Black interrupts and turns the song into a weird Meatloaf rock-n-roll inspired piece about how Hollywood is dying because of cell phones before Anna tells him to get the hell out.
8:36p – The song ends with a recap of the Best Picture nominees and the audience applauds appropriately as the number was extremely well done but a little long.
8:37p – Harris makes an Oprah joke that sorta bombs and David Letterman finally has his revenge.
8:38p – Our first Smurfs 2 apology from Harris. I expect many more of those buddy.
8:39p – Last year's Best Supporting Actress winner Lupita Nyong'o is introduced to present Best Supporting Actor. Robert Duvall, Ethan Hawke, Edward Norton, Mark Ruffalo, and J.K. Simmons are the nominees. Nyong'o flubs by saying "the actor goes to" instead of "the Oscar goes to" but J.K. Simmons wins the award nonetheless. Simmons' speech is very nice and he tells everyone to call our parents if we're lucky enough to still have them to call. Sorry orphans. You can keep your cell phones off.
8:44p – Neil Patrick Harris is back and he makes a joke about how in addition to having just won an Oscar, J.K. Simmons is also in in a series of annoying Farmers Insurance commercials. Harris moves on to tell us about how awesome he is at predicting and moves on to a bit where he has locked his predictions in a brief case and he is forcing Oscar winner Octavia Spencer to watch the case to make sure the integrity of his choices is unquestioned. There is even a freakin' live feed of the case on ABC.com.
8:46p – Liam Neeson comes out to threateningly introduce clips of two of the Best Picture Nominees, The Grand Budapest Hotel and American Sniper
8:49p – Harris is back to introduce Dakota Johnson from Fifty Shade of Grey. Johnson throws it to our first musical performance which is Maroon Five and their song Lost Stars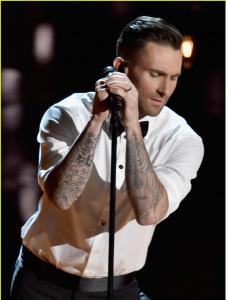 8:52p – Commercials
8:56p – Harris welcomes us back and throws it to Jennifer Lopez and new Captain Kirk who are ironically presenting Best Costume Design. It is ironic because someone forgot to design the front of Lopez's gown as her boobs are, well in HD, they're in my face. Damn girl. The Grand Budapest Hotel wins giving Milena Canonero her fourth Oscar in this category.
9:00p – Reese Witherspoon comes out to present Best Makeup & Hairstyling which goes to The Grand Budapest Hotel makeup artists Frances Hannon and Mark Couiller. They thank Bill Murray. Damn right you thank Bill Murray. And call your mom too.
9:03p – Channing Tatum is back to announce the winners of the third annual Team Oscar search. They did this shit last year and it made no sense. Tatum sort of explains it better this time around but I still don't understand why I should give a damn about these people. Is Team Oscar Hollywood's version of The Voice? I don't get it. Who did you piss off to have to do this every year Channing?
9:05p – Commercials
9:09p – Harris welcomes us back and introduces Chiwetel Ejiofor and Nicole Kidman. They are presenting Best Foreign Film. Poland wins for the film Ida. The film's director accepts and is amazingly charming. He is so charming they play him off the stage. He give zero fucks and out talks the music, it ends as he thanks his dead wife. The man is a rock star.
9:13p – Shirley McClaine comes out dressed in a huge black sequin. She is here to introduce the clips of three more Best Picture nominees; Boyhood, The Theory of Everything, and Birdman
9:16p – Neil Patrick Harris is in the audience and is pointing out all the seat fillers. He does a bit where Steve Carrell pretends to be a seat filler. They break during the bit but it's still funny
9:17p – Marion Cotillard who had the worst death scene in film history in The Dark Knight Rises then appears to introduce Tegan and Sara with The Lonely Island who perform Everything is Awesome from The Lego Movie. There are a thousand people on stage and they pass out Lego Oscars to the crowd. Quest Love is there on drums and Mark Mothersbaugh is on keyboards. Will Arnett dressed as Batman also makes an appearance. It is in a word, Awesome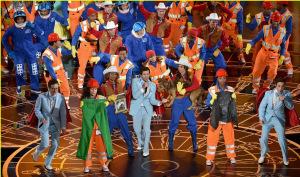 9:20p – Commercials
9:24p – Kerry Washington and Jason Bateman are out to present Best Live Action Short Film. The Phone Call wins and the two directors have to run to the stage because they were seated in the back. They make a bad joke about now being eligible for free donuts and then thank their mums who work at crisis centers. They are played off while thanking people who volunteer at suicide prevention hotlines. I assume when they get back stage someone in the band also dick punches them. But the hits keep coming as Bateman and Washington present Best Documentary Short Subject which goes to Crisis Hotline: Veterans Press 1. The two ladies in charge of the production are also played off stage while talking about suicide prevention.
9:31p – Viola Davis is out to talk about the Governor's Awards which happened back in November and we get a clip from the ceremony and the four winners, actress Maureen O'Hara, animator Hayao Miyazaki, screenwriter Jean-Claude Carriere, and actor/musician/activist Harry Belafonte
9:33p – Harris is back in the crowd and is talking about the number of British actors up for awards. He makes David Oyelowo from Selma read a joke in his native accent and it bombs. Maybe next time grab Eddie Izzard for that sort of thing.
9:35p – Gwyneth Paltrow introduces Tim McGraw who is singing I'm Not Gonna Miss You from the Glen Campbell documentary I'll Be Me.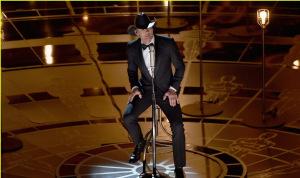 9:38p – Commercials
9:42p – We're back with a fake bit about Neil Patrick Harris being locked out of his dressing room and having to walk around backstage in his tighty-whities ala Michael Keaton in Birdman.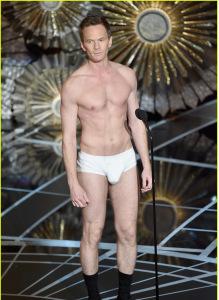 Neil stands in his underwear and introduces Miles Teller and Margot Robbie who talk about the Scientific and Technical Awards also known as the Nerd Oscars. It's boring. Next.
9:45p – Sienna Miller and Captain America come out on cue to present Best Sound Mixing. Whiplash a movie about jazz bands wins. Three guys come up on stage and there is no way they aren't getting played off. They ramble on like weirdoes but luckily they don't try to talk about suicide prevention so they aren't played off. They are sort of awkwardly told to get the hell off stage by ushers. Miller and Cap then present Best Sound Editing which goes to American Sniper.
9:51p – Jared Leto still looks like Jesus and is out to present Best Actress in a Supporting Role. He makes a joke about how it is California state law that Meryl Streep must be nominated in this category. The other nominees are Patricia Arquette, Laura Dern, Keira Knightly, and Emma Stone. Patricia Arquette wins for Boyhood and drops a curse word that has to be dumped out of live. She pulls out her speech and thanks a ton of people then suddenly goes on a rant about wage equality for women and HOT DAMN that was an awesome thing to do. The room full of liberals erupts in applause. The camera does not pan to Clint Eastwood. Instead we get Meryl Streep and Jennifer Lopez going nuts.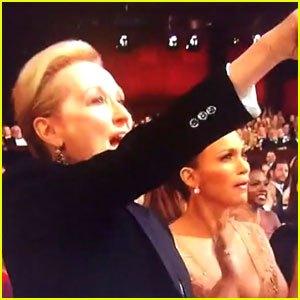 9:56p – Commercials
9:59p – We are back and Harris has to throw lip service to his bit from earlier about his Oscar predictions. He asks Robert Duvall to keep an eye on Octavia Spencer who is keeping an eye on the briefcase and Duvall ignores him.
10:00p – Josh Hutcherson from The Hunger Games introduces Rita Ora who performs Grateful. She does a great job.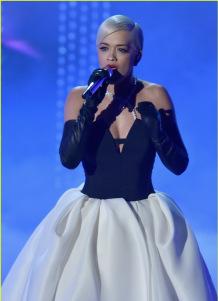 10:02p – Ansel Elgort and Chloe Grace Moretz are next to present Best Visual Effects. Interstellar wins and four dapper gents walk on stage, one of whom is writing something down on what looks like a copy of the L.A. Times. They are played off stage.
10:06p – Kevin Hart walks out with Anna Kendrick and they make fun of themselves since they are presenting Best Animated Short and both of them are only four feet tall. Feast wins. If you saw Big Hero Six, you saw Feast since it played in front of it in theaters.
10:09p – Zoe Saldana and Dwayne Johnson come out to present Best Animated Feature which without The Lego Movie being nominated is considered one of the biggest snub categories this year. Big Hero Six wins. If you saw Best Animated Short winner Feast, then you saw Big Hero Six since it played after it in theaters.
10:13p – Commercials
10:17p – The President of the Academy of Motion Pictures and Sciences, Cheryl Boone Isaacs comes out to give the yearly Academy self-stroke job that happens every year at this thing. This year however, she uses it to basically call out North Korea for being all wacky and shit. Oooooooooooo, burn!
10:18p – Harris checks in again with Octavia Spencer before throwing it over to Star Lord and Felicity Jones. They are presenting Best Production Design. The Grand Budapest Hotel wins.
10:21p – Idris Elba and Jessica Chastain are next to present Best Cinematography. Birdman wins giving Emmanuel Lubezki his second win in a row after winning last year for Gravity.
10:26p – Commercials
10:30p – Meryl Streep is out to intro the In Memoriam montage. Her speech is very moving. I bet she wins an Emmy for this later.
10:36p – Following the dead people montage, Jennifer Hudson comes out and sings.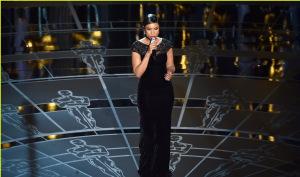 10:39p – Commercials
10:43p- Benedryl Cummerbund and Naomi Watts are out after the break to present Best Film Editing. Whiplash wins another Oscar.
10:46p – Terrance Howard comes next to intro the clips for another set of best picture nominees. He is extremely emotional about it for some reason. He talks about Whiplash, The Imitation Game, and Selma as if he himself has bled and sacrificed his own children to make all three.
10:49p – Jennifer Aniston and David Oyelowo appear next to present Best Documentary Feature. Citizenfour wins and it's a political piece so I'm sure the speech will be Michael Moore level. Yep.
10:53p – Neil Patrick Harris is wandering around the aisles again and I have to say so far this year he has been really tame and I kinda miss Ellen. She was ordering pizzas and taking selfies and doing meth and all sorts of stuff. So far Neil has locked up a briefcase and walked around in his Fruit of the Looms. Meh. Anway, Barney Stinson tosses it to commercials.
10:57p – We come back to Neil's briefcase bit but because Octavia Spencer has to present, there is a seat filler watching the briefcase. Octavia comes out to introduce John Legend and Common who are going to perform Glory from Selma. It is amazing. Standing ovation.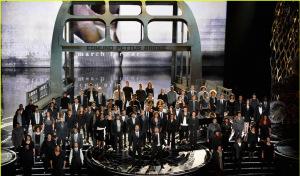 11:03p – Neil Patrick follows up that awesome performance by showing us the band who has been playing people off stage. He then makes a Travolta joke before Idina Menzel comes out. Menzel then also makes a Travolta joke before John Travolta himself comes out and the two of them awkwardly embrace and then hand out Best Song which goes to Glory. John Legend and Common walk back onto the stage they just left. They deliver a very powerful speech. Go check it out of you missed it. Good, good stuff.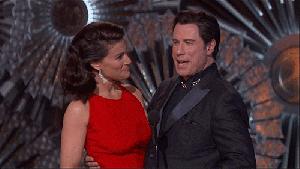 11:09p – Commercials
11:12p – Scarlett Johansson brings us back to talk about The Sound of Music. We get a clip montage of the movie and then for some reason Lady Gaga comes out and sings a melody from the original score. She is apparently embracing her role as the new Liza Minnelli. Anyway, it's not that impressive and maybe should've been done before Common and John Legend ripped the theater down with their powerful and amazing performance 20 minutes ago.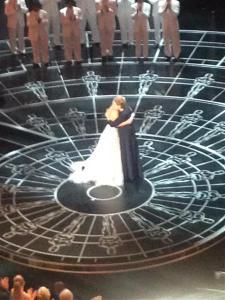 11:20p – Julie Andrews comes out and gives Gaga a "nice try kid hug" and then presents the award for Best Original Score. The Grand Budapest Hotel continues its big night with another win.
11:25p – Commercials
11:29p – We're back and we're officially running long as the telecast was supposed to end at 11:30pm. Eddie Murphy comes out and is there to awkwardly talk about Saturday Night Live. Oh wait, he already did that last week. Instead he gives out the award for Best Original Screenplay which goes to Birdman.
11:33p – Orpah Winfrey is out next to talk about her book club and give the award for Best Adapted Screenplay. The Imitation Game wins and a very fabulously small sweaty man accepts and talks about how his sexuality made him uncomfortable early on to the point of almost ending it all but he found a place to belong and now he has an Oscar – so all those out there who feel the same way that he did once shouldn't lose hope. It's a great moment, it's a great speech, it's a great message, I just wish the dude had worn Degree or something.
11:37p – Commercials
11:41p – Ben Affleck is back after the break to present Best Director. He doesn't smile or seem happy to be there at all. He must be mad that Will Arnett was in the Batman suit earlier.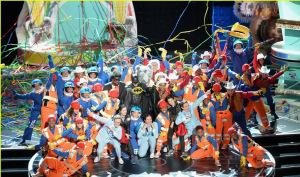 Alejandro Gonzalez Inarritu wins for Birdman and admits that he is wearing Michael Keaton's underwear. Everyone laughs but Ben Affleck.
11:45p – Commercials
11:48p – Cate Blanchett is out to present Best Actor. Eddie Redmayne wins for his portrayal of Stephen Hawking in The Theory of Everything. He gives an excited speech that is fun and doesn't make him seem like an 8 year old on Christmas morning getting a Nintendo 64 at all.
11:54p – Matthew McConaughey comes out to present Best Actress. He says "good evening" to the crowd and when met with a warm response answers with a trademark, "alright". Julianne Moore wins for Still Alice. This was her fifth time being nominated and her first win.
12:00m – Neil Patrick Harris is back and he is actually still going on about this briefcase thing. We are 31 minutes over and he's really wasting time on this gag. Anyway, he's going to read his predictions which are actually just a long list of jokes that I kinda already made here. You owe me money Harris!
12:03a – Sean Penn is out now to present Best Picture. He opens the envelope, stares at it, bumps into the microphone and then says a horribly racist thing about green cards while announcing that the winner is Birdman. WTF Sean Penn?
12:08a – Doogie bids us farewell and a very boring and way too long Oscars comes to an end. The musical performances this year were top notch and the highlight. Some very good speeches coupled with social issues in there as well this year. Anyway, we'll see everyone back here next year for Meryl Streep's 127th nomination.