Alright! It's time for the 72nd Annual Golden Globe Awards! The Golden Globes are bestowed by the 93 members of the Hollywood Foreign Press Association, recognizing excellence in film and television. There are 389 separate categories and all of them are for sale! Seriously, a Golden Globe is easier to buy than the host site for the World Cup. As a matter of fact, the Hollywood Foreign Press Association might actually be a subdivision of FIFA. For instance, Pia Zadora was given the Golden Globe in 1982 for "New Star of the Year in a Motion Picture" for Butterfly (which was financed by her multimillionaire husband) a mere 17 years after she debuted in the epic film masterpiece, Santa Claus Conquers the Martians. Zadora also won the 1982 Razzie Award for worst actress but no one accused her husband of buying that one for her.
The Golden Globes are also so prestigious that the FCC banned the broadcast of the ceremony from 1968 to 1974 because the way they were awarded was so corrupt they felt they had to protect the American public for watching people receive a gold statute. Since then NBC has turned the ceremony into an immensely watchable evening of television by feeding the celebrity attendees all of the booze in Southern California. I am not making that up. After tonight, L.A. is a dry town until the next Grey Goose trucks roll down the 101. Anyway, speaking of drunks, here are our hosts Tina Fey and Amy Poehler!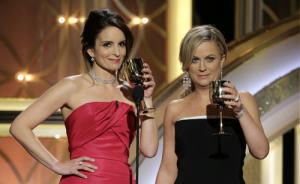 8:00p – We are live from the "star filled" international ballroom of the whatever hotel! Tina Fey comes out in a prom dress and Amy is wearing her T-Rex tooth necklace.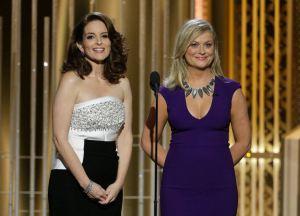 8:01p – First North Korea joke. It's a good one and leads into several knocks about how The Interview wasn't really all that.
8:02p – We are now walking around the room mocking the nominees. Reese Witherspoon and J.K. Simmons get knocked down as do Joaquin Phoenix and Steve Carrell who deadpans that he is not amused at Amy and Tina's frivolity.
8:04p – Amy admits to us that Frances McDormand is the only person in the room she would save in a fire. Sorry Tina.
8:05p – Tina tell Julia Louis-Dreyfus to stop stalking her.
8:06p – Our first jab at George Clooney. They talk about how his new wife is an amazing human rights attorney with a resume that the Nobel committee would drool over, so it's totally awesome that Clooney is getting a lifetime achievement award, right?
8:07p – Tina and Amy launch into a game of "who would you rather". The winner is Chris Pine.
8:08p – Amy and Tina are going faster thanthe University of Oregon's offense. It's breakneck speed with these two and they are now recapping the best picture nominees.
8:09p – Ouch, Amy does a Bill Cosby joke and again it's rather ouch. It is followed by an even more ouchy joke from Tina.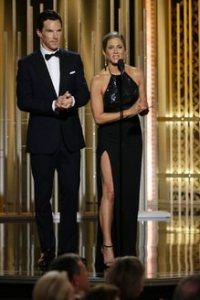 8:10p – Amy and Tina ask people to raise their hands and volunteer so Jennifer Anniston has someone with her to present the award for Best Supporting Actor in a Motion Picture. Benadryl Cummerbund raise his hand the fastest and is quickly on stage with Rachel from Friends. The winner is J.K. Simmons who played J. Jonah Jameson in Spiderman and the leader of the Nazis on Oz now wins for the movie Whiplash which is about a psychotic jazz teacher. Poor guy is being typecast since those are all essentially the same role. You may also recognize him from the Farmers Insurance commercials.
8:14p – Dakota Johnson and Jamie Dornan are quickly introduced to present the award for Best Supporting Actress in a TV Series, mini-series or TV Movie.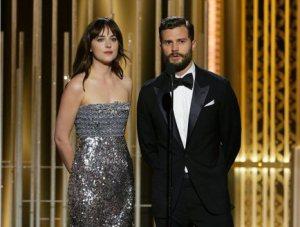 Joanne Froggatt wins for Downton Abbey. She has to walk to the stage from about eight tables away. You can kinda tell that no one in the audience really watches Downton Abbey because they look rather meh during her acceptance speech.
8:18p – Commercials
8:21p – We're back with Jennifer Lopez and Hawkeye. Jennifer Lopez has brought her cleavage with her tonight. Wow.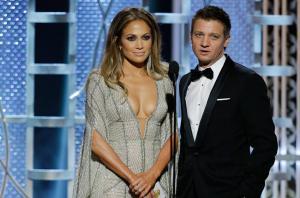 Anyway, they are presenting Best Mini-series or TV Movie. Hawkeye appears to be our first hammered celeb and is trying really hard not to stare at his co-presenter's chest. Fargo wins beating out some stiff competition.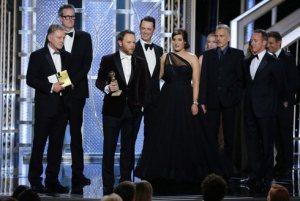 The acceptance speech from someone in a purple velvet tux is a bit rambling but it's over quickly and Jenny from the block and Hawkeye stay onstage to present Best Actor in a mini-series or TV Movie. Hawkeye finally makes a remark about Lopez's chest because DAMN. Anyway, Billy Bob Thornton wins for Fargo and no one cares because boobies.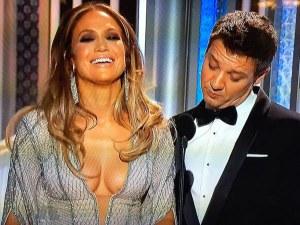 8:26p – Naomi Watts is out next to talk about the clip for Best Motion Picture, comedy or musical nominee Birdman. Yawn. By the way; that's not a yawn for Birdman, but a yawn for this whole "let's introduce a clip of a nominee" thing.
8:27p – Commercials
8:32p – Tina is talking about the Hollywood Foreign Press which leads us to Margaret Cho dressed as a North Korean general asking for Meryl Streep to be in a photo with her. Beetlejuice takes the picture. After that weirdness, Head Golden Globes guy Theo Keema comes out and this is usually when they inform us that the Golden Globes are not a sham, even though there have been multiple bribery scandals surrounding the awards for decades. Go Golden Globes! Instead he takes a moment to tell us that the Golden Globes are not happy that North Korea and some terrorists in France have pooped on the party. Applause.
8:35p – Colin Firth is introduced and speaks really loudly into his microphone. He introduces the clip for The Imitation Game. More yawn.
8:37p – Kerry Washington and Bryan Cranston come out to present two awards. The first is Best Actress in a Comedy or musical. Gina Rodriguez wins for a show I have never heard of called Jane the Virgin which I assume is about a girl named Jane who is a virgin. Gina has to do a lap around the auditorium in order to get to the stage and is out of breath by the time she gets there. She breaks down during her speech because emotions. Kerry and Bryan then present Best TV Series Comedy or Musical. Transparent wins and the series creator is wearing quite outfit. She looks like a Batman villain.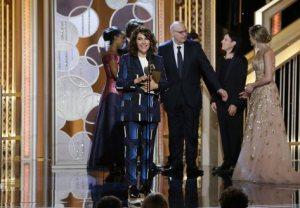 8:42p – Commercials
8:46p – Melissa McCarthy is out to introduce the clip for her movie St. Vincent. Yawn.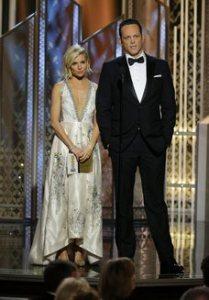 8:48p – Vince Vaughan and Sienna Miller are out now to present the award for Best Original Score. OH BOY, OH BOY, OH BOY! I'm on the edge of my seat! Some Iceland guy wins for The Theory of Everything. Everyone falls asleep.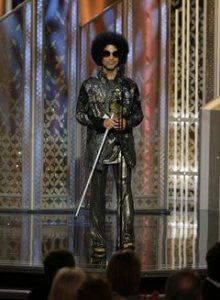 8:50p – HOLY SHIT! Motherfucking PRINCE comes on stage and that is so fucking cool that I am going to curse all throughout this segment! Shit! That's awesome! Everyone perks the fuck up after that boring Iceland dude, because PRINCE! Goddamn Purple Rain himself is presenting for Best original song. John Legend and Common win for their song Glory from the film Selma.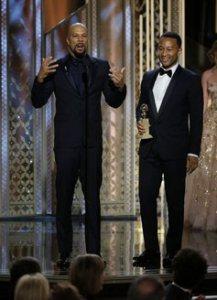 Even Oprah does a "fuck yeah" right from her seat. Common thanks God and the Hollywood Foreign Press because Pope Francis is a member? John thanks some people too but who cares! PRINCE!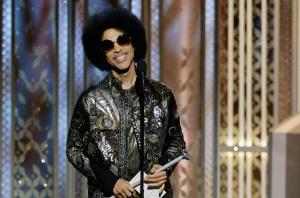 8:54p – Commercials
8:58p – Katie Holmes and Seth Myers are out to tell us that non-winners get a gift certificate for the breakfast buffet at the Beverly Hilton. Only non-winners get the certificate and it is not redeemable on weekends or holidays. Besides Amy and Tina they are the only funny thing that has happened on stage tonight. They then present the award for Best Supporting Actor in a TV Series, mini-series or TV Movie. Matt Bomer wins for the HBO movie The Normal Heart.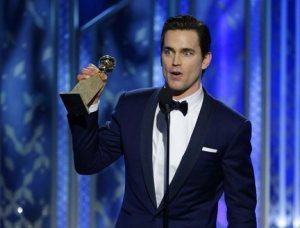 9:02p – Clive Owen is introduced and comes out to talk about the clip for The Theory of Everything. I like me some Clive Owen and next to Liam Neeson he is last person I want to threaten me over the phone. Anyway even he can't make these clip things interesting. Yawn.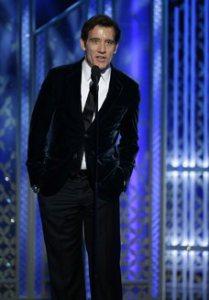 9:03p – Ricky Gervais comes out with huge glass of wine. He alludes that celebrities are kinda full of themselves which would be funnier if he wasn't one of them too. Everyone expected him to be a dick and he was, but in a subtle way. That's good 'cause it's starting to wear thin Ricky. He is presenting the award for Best Actress in a Motion picture comedy or musical. Amy Adams beats out Meryl Streep in a big upset!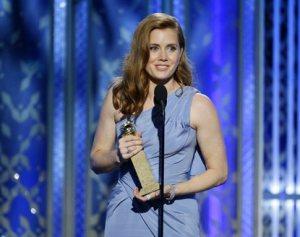 9:07p – Commercials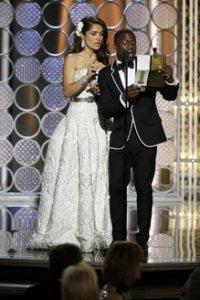 9:12p – Kevin Hart and Salma Hayek are out to introduce Frasier's daughter who is Miss Golden Globe or something. Yay. Clap, clap. Anyway, Kevin and Salma then present for Best Animated Movie which goes to How to Train Your Dragon 2. The award acceptors get played off the stage so Kate Hudson can come out and intro the clip for Into the Woods. Yawn.
9:17p – Jared Leto who is still looking like Jesus Christ comes out and speaks French to show support for the victims of the terrorist attack in Paris. Jared can never present an award without bringing up some heavy mood killing topic or cause. He is the living epitome of the SNL skit Debbie Downer. Anyway, Jared presents for Best Supporting Actress in a motion picture. Patricia Arquette wins for Boyhood. She thanks her dead parents and Ethan Hawke.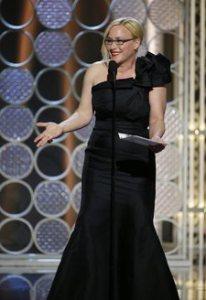 9:21p – Commercials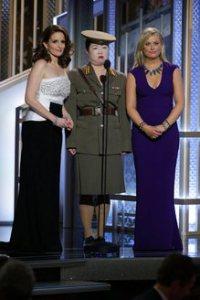 9:26p – Tina Fey and Amy Poehler are back for the first time in like an hour. This time they have brought North Korean General Margaret Cho on stage with them who complains that Dennis Rodman is not there and that Orange is the New Black should really be in the Drama and not the Comedy category. Eh… Kinda funny.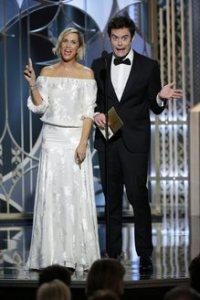 9:27p – Kristen Wiig and Bill Hader are out to present Best Screenplay. These two are incredibly funny, but not tonight. Bomb city. Their bit about mangling famous movie lines goes on for too long. After they are done, Birdman wins the Golden Globe.
9:32p – Jack Black is introduced and walks out to intro the clip for Boyhood. He claims the movie really only took 12 weeks to make and not 12 years. Are these done yet?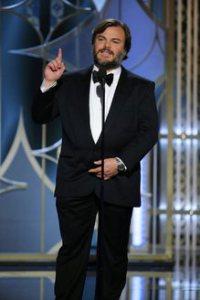 9:34p – Lily Tomlin and Jane Fonda walk out and talk about the amount of drugs they did while filming 9 to 5 over thirty years ago. After that they present the award for Best Actor in a TV series comedy or musical.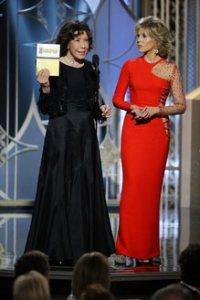 Jeffrey Tabor who I remember from bit parts on Three's Company now wins a Golden Globe for his role on the series Transparent.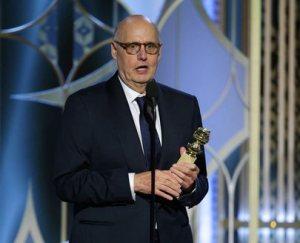 9:38p – Commercials
9:43p – Colin Farrell and Lupita Nyong'o come out to present Best Foreign Film. I wonder what the Hollywood Foreign Press considers to be a foreign film? Apparently it's Russia because some movie called Leviathan wins. The poor Golden Globes announcer butchers the names of the movie's producers who are accepting the award. They are played off stage because of the mess that Russia has caused in the Ukraine.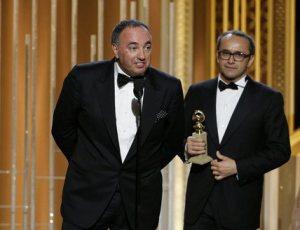 9:45p – Vampire Queen Kate Beckingsale and crazy person Adrian Brody come out to present Best Actress in a mini-series or TV Movie. Maggie Gyllenhaal wins for The Honorable Woman which is a movie about a woman who has lots of honor.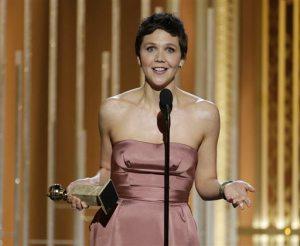 9:48p – Commercials
9:53p – Paul Rudd and Adam Levine are out to present the award for Best TV Series Drama. They don't seem to want to be there. The Affair wins and that's awesome for a show I have never heard of and know nothing about. Congrats The Affair! 130 people walk on stage including Dominic West from The Wire and Victor Williams from The King of Queens. I hope those two are not having The Affair. Anyway the woman giving the acceptance speech is played off stage and gets very upset about it because she had not thanked her husband yet.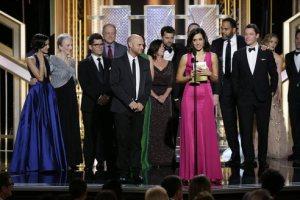 9:57p – Catherine Zeta Jones intros the clip for Pride because this clip thing is not done. Sigh.
9:58p – David Fox Mulder Duchovny and Katherine Heigl come out to present for Best Actor in a TV Series Drama. Heigl tries to make a joke and old Red Shoes Diaries gives absolutely zero fucks.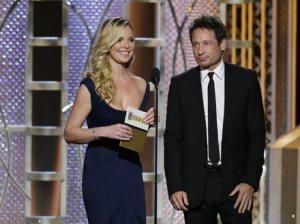 Kevin Spacey wins for House of Cards and walks on stage in character and holding a scotch. Spacey curses and we get a seven second dump out. Good catch director's booth! They do not play him off even though he went on longer than the poor woman from The Affair.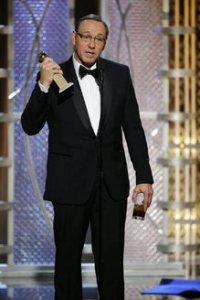 10:02p – Commercials
10:06p – Juliana Marguiles and War Machine are next to present the Cecil B. DeMille Award to George Clooney.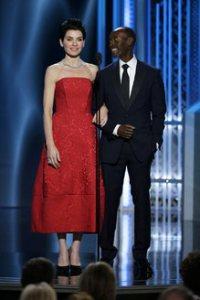 They argue over who is a better friend of George Clooney. They list their resume achievements revolving around Clooney. Fun fact: George Clooney spent his childhood growing up in my hometown of Columbus, Ohio and my dad watched his dad as an anchor on our local NBC affiliate so I have just as much right to be his friend as those two! Regardless, we get a montage of all the Clooney movies ever made but none of his TV stints on ER, or the other E/R, or Roseanne, or The Facts of Life. Clooney walks on stage to the theme of Ocean's 11 while Brad Pitt, Elliot Gould, Casey Affleck, and Matt Damon steal everyone's wallets without them knowing it.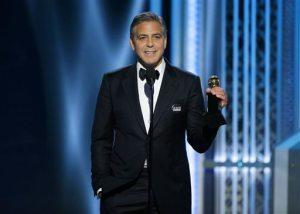 10:17p – Commercials
10:21p – Owen Wilson is out to intro the clip for Grand Budapest Hotel because there are way too many movies nominated for this award.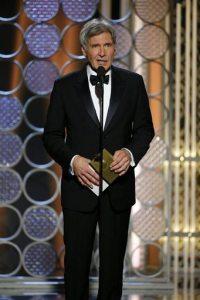 10:23p – Han Solo comes out to present Best Director – Motion Picture and Richard Linklater wins for Boyhood which took twelve years to film or twelve weeks if you believe one half of Tenacious D. Seriously, this dude filmed this thing over a decade and had to hang out with Ethan Hawke almost the whole time! Yes, give him an award!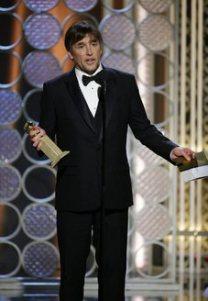 10:25p – Anna Faris and Star Lord are out now to present Best Actress – TV Series Drama. They make a funny joke about how they are in a mixed marriage. She is CBS and he is NBC, but they are going to raise their child HBO. It's funny and those two are awesome. Anyway, Ruth Wilson wins for The Affair and she talks about how she was nominated for a Golden Globe way back during a writer's strike and she lost that time and then tells Dominic West that he has a nice ass. They play her off stage. Ok, then.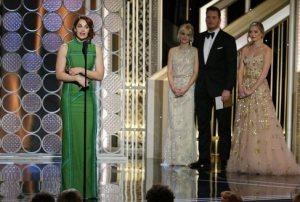 10:28p – Commercials
10:32p – Amy Adams is out to present Best Actor in a Motion Picture Comedy or Musical. We have to go fast now because they are running out of time. Beetlejuice wins for Birdman and cries and give air quotes during his acceptance speech which are two things he said he wasn't going to do during his acceptance speech.
10:37p – Tina and Amy come back out to personally introduce Oprah who then intros the clip for Selma.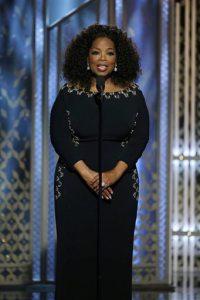 They'd be running 20 minutes ahead of schedule if they had skipped these clip intro things.
10:39p – Commercials
10:43p – Channing Tatum walks out to intro a clip for Foxcatcher. Really? How many of these goddamn things are there and why are we still watching them with 15 minutes left in the show?
10:44p – Iron Man comes out and we get to watch a few clips of some of the movies we've already seen clips from because he is presenting Best Picture – Comedy or Musical. The Grand Budapest Hotel wins and director Wes Anderson walks on stage and begins to thank the members of the Hollywood Foreign Press individually but is played off. Earlier in their monolog Amy and Tina had a funny joke about how Anderson rode to the ceremony on a bicycle made entirely from old tuba parts. At least, I thought they were joking.
10:47p – Commercials
10:51p – Amy and Tina introduce Matthew McConaughey who says we are running long so he simply reads off the list of nominees for Best Actress – Motion Picture Drama and Julianne Moore wins for Still Alice and gets an awkward kiss for Matt as she walks on stage to accept her award. She is not played off stage.
10:53p – Gwyneth Paltrow comes out and again we don't have time for anything anymore so she speed reads the list of nominees for Best Actor – Motion Picture Drama and Eddie Redmayne wins for The Theory of Everything. They do play him off stage.
10:56p – Commercials? Wow, they really are running long! Sorry local news, yous gots to wait!
11:00p – Meryl Streep is out to tell us before she presents that we are going to miss Amy and Tina as hosts. I'm not because last year they were funny and always out on stage and this year they've barely been there at all. Streep presents the award for Best Motion Picture – Drama to Boyhood. It's after 11pm so they play the big winner of the night off stage.
11:01p – Amy and Tina finally reappear with General Margaret Cho who tells us that the show is over and she will be hosting next year.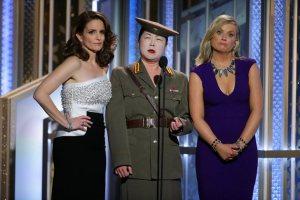 Meh, sadly what usually is a drunken debacle of craziness was super tame this time around. Congrats to all the winners; but really, there are no losers in Hollywood. Except for you Mel Gibson.
.