The 2014 ESPYS! Parts of this will be difficult to make fun of since the whole premise behind this awards show is not only a self congratulatory love fest for ESPN, but it's also about raising money for cancer research. So, if you don't know the story about Coach Jim Valvano, go Google him and check out his speech from the first ESPY awards in 1993. Pretty intense stuff. Still, as a comedy blogger I will do my best to mock the parts of this show that deserve it. There will be plenty I'm sure, Drake is hosting for pete's sake.
8:58pm: Oh my God, they did a red carpet pre-awards show.
9:00pm: The ESPYS begin with a montage of sports highlights, Brazilian soccer fans crying, NASCAR, and Michael Sam kissing his boyfriend. It is waaaaaaaaay too long
9:04pm: Hey we're starting! The ESPYS are hosted by Drake who in addition to be a recording artist, also watches sports – making him super qualified to host this show. He is introduced and then comes out and does some dancing. I think he's doing The Urkel.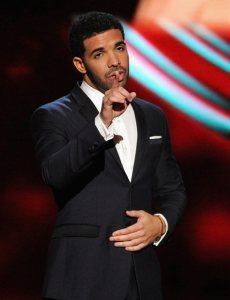 9:06pm: First LeBron James going back to Cleveland reference. It turns into a Cleveland sucks joke. Ha, it's funny because it's true.
9:07pm: Drake does not know how to pronounce Johnny Manziel's last name
9:08pm: Drake has to force the audience to clap for the L.A. Kings.
9:09pm: A Donald Sterling is racist joke falls flat, but a quick shot of Blake Griffin gets a loud laugh from the audience. Remember that; racism is unfunny but the guy who plays for a racist is funny
9:09pm: Drake tells Tim Howard the goalie for the U.S. Soccer team to wear a condom. WTF?
9:10pm: A member of the Seattle Seahawks is wearing a camouflage tuxedo, I shit you not.
9:11pm: Drake's the Washington Redskins is a racist name joke fails because racism isn't really funny.
9:13pm: Now Drake is making fun of Prince Fielder's weight because the racism jokes and birth control puns weren't classy enough so we have to throw in fat jokes.
9:15pm: Drake is now blowing into the ear of Indiana Pacers Lance Stephenson. At least he is no longer speaking. His jokes were barely batting .200. That was awful.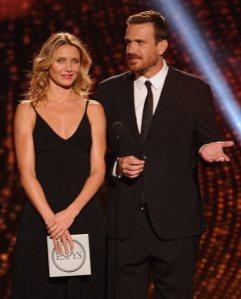 9:16pm: Cameron Diaz and Jason Segal come out to plug their new movie Sex Tape (in theaters now) and also to present the award for Best Breakthrough Athlete. Richard Sherman of the Seattle Seahawks wins. His acceptance speech uses the word appreciate 12 times. He even appreciates Drake.
9:20pm: first commercial break
9:24pm: We are now in a pre-recorded sketch featuring Blake Griffin and Drake being petty about their names above the title of a fake movie they fake did together. Blake and Drake or Drake and Blake? They proceed to fake drag their names through the mud. Parts of it are actually funny which means whoever wrote it had nothing to do with Drake's monologue.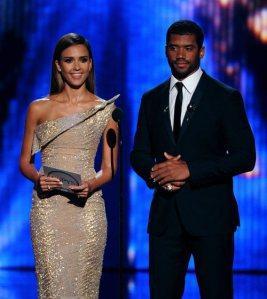 9:28pm: We now cut to Blake Griffin and Chris Brown who have tied up Drake backstage. They introduce Jessica Alba and Russell Wilson who are here to present Best Moment. Team USA beating Team Ghana in the World Cup is declared the winner of Best Moment. Now we're just kicking the nation of Ghana while it's down man. All of Team USA walks on stage except for Tim Howard who is off somewhere having unsafe sex.
9:33pm: Jeff Bridges appears and begins talking about Pat Tillman who left professional football to serve in the army where he was killed in Afghanistan. We are now awarding the first ever Pat Tillman Award for Service. Para-Olympian and former Marine Josh Sweeny is the recipient.
9:38pm: Commercials
9:42pm: Drake is back and he has put on a Raiders jersey. Drake tips his cap (which he is not wearing) to Derek Jeter and then goes through an unfunny production to announce boxer Floyd Mayweather. Drake does it in a fake British accent while Mayweather's entrouge sets up a podium and rolls out a red carpet. It is not funny. Floyd comes out with tennis star Maria Sharapova who is three feet taller than Mayweather and that is funny. Anyway, they are presenting the award for Best Game. The college football game between Auburn and Alabama wins. Members of the Auburn team accept and then are immediately suspended by the NCAA for receiving an improper benefit. Maria Sharapova is taller than all of them!
9:49pm: A montage of Peyton Manning highlights naturally is the perfect way to introduce the star of Ace Ventura: Pet Detective, Dan Marino. Dapper Dan begins by telling us that Peyton has broken most of his records (including most TV commercials ever appeared in during a single season). Another Peyton Manning highlight montage follows and NBA player Kevin Durant comes out to also slobber all over how awesome Peyton Manning is before our third montage of highlights. Dan and Kevin are now holding an award and continue to talk about how Peyton Manning is the greatest human being on the planet, how everyone loves him, and how he is actually a modern Jesus Christ wrapped in the skin of Gandhi. They then give him an award that apparently no one else was nominated for: because when you go up against Peyton Manning you're always going to lose – UNLESS IT'S THE SUPER BOWL! BAM!
9:55pm Commercials
10:00pm: Drake is now wearing his beach comber outfit including loafers without socks and then starts to sing about all the people who come in second place. He basically sings a song insulting most of the audience. We also get to see Brazilian soccer fans crying again. Oh God, he's singing another one. Make it end. Now Brian McKnight is on stage to make this more excruciating. Someone kill me, he's going to do another one and this one is all about Donald Sterling. It's absolutely horrible and I am truly embarrassed to be watching this now.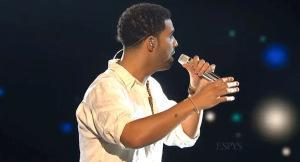 10:09pm: Commercials
10:13pm: Dwayne Johnson is introduced to present the Arthur Ashe Courage Award. We then get to watch a very well done twelve minute movie about Michael Sam the first openly gay player drafted by the NFL. Sam gives an impassioned and respectful speech that will hopefully shut up a lot of bigots.
10:33pm: Commercials
10:37pm: NBA player Damian Lilliard is introduced and makes a joke about celebrating the anniversary of Shaquille O'Neal's rap album that is hysterical. Sadly it segues into another unfunny Drake prerecorded segment that not even Gary Cole can save.
10:41pm: Big Bang Theory's Jim Parsons and New York Giant wide reciever Victor Cruz are here to present the award for Best Play. Chris Davis' missed FG return for a touchdown in the Auburn game against Alabama wins.
10:45pm: Commercials
10:49pm: Drake is now wearing a Notre Dame basketball jersey and then insults the WNBA by feigning that he can't remember any teams from the league. He then reads a poem about stalking Skylar Diggins. He is confronted by his victim who he then asks for a kiss because this isn't creepy at all.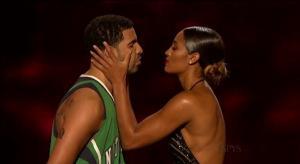 10:53pm: Supermodel Christy Teigen who is wearing a blazer with no blouse or bra and San Francisco 49er quarterback Colin Kaepernick present the award for Best Female Athlete. Rhonda Rousey wins but she's not there because she had surgery. Christy steals the award.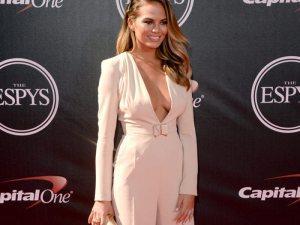 10:55pm: Jordana Brewster and New York Ranger Henrik Lundqvist present the award for Best Comeback Athlete. NBA player Russell Westbrook wins. He is wearing his best horse jockey silks and a pair of Dockers.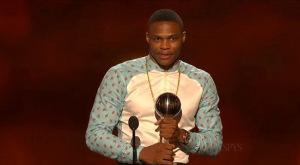 10:59pm: Chris Bergman is introduced to present the in memorium segment. He starts off with high praise for MLB Hall of Famer Tony Gwynn. We then get the montage which is cut off oddly for a commercial break.
11:02pm: Commercials
11:06pm: Kiefer Sutherland is on now to present the Jim Valvano Perseverance Award to ESPN's Stuart Scott who has himself been battling cancer for seven years. Scott's speech is deeply personal and it's probably the most important TMI share ever shown on TV.
11:22pm: Commercials
11:25pm: Drake is on now wearing the worst outfit ever conceived, because that's how you follow up a speech about battling cancer.
11:26pm: Taye Diggs and Danica Patrick are on the present the award for Best Male Athlete. Kevin Durant wins and is kinda heckled. It's odd.
11:30pm: Commercials
11:34pm: Robin Roberts is on stage to give people information about donating to the V Foundation for cancer research. If you missed it, here is a link.
11:37pm: NBA legend Dr. J and New York Knick Carmelo Anthony are on to present the award for Best Team. The winners are the Seattle Seahawks who accept the award even though two of them are wearing camo tuxes and one guy is in a tux with shorts.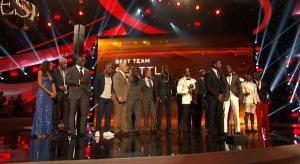 11:41pm: Drake comes out and thanks Jamie Foxx as a mentor thereby making me now hate Jamie Foxx for convincing Drake that he's funny. Drake wishes us a goodnight and we're off to Sportscenter. Wow, Drake was awful. Thank God it's over.
—–
MORE PLACES TO FIND LONG AWKWARD PAUSE:
Facebook: Long Awkward Pause
Twitter: @LongAwkPause
Tumblr: Long Awkward Pause Mag
Podcast: iTunes or PodOmatic
Would you like to see a topic discussed on LAP?  Click HERE.
*