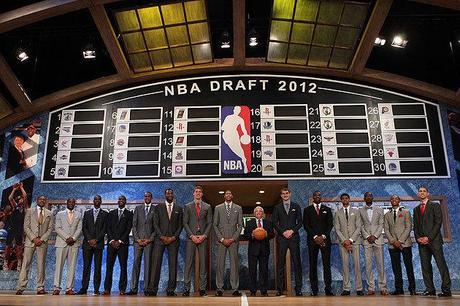 Photo: Getty Images
- Adam Parker
The 2012 NBA Draft is now in the books and what a spectacle it was.
Sure, we weren't simultaneously overwhelmed with envy and jealousy like last year while watching the Washington Wizards' first-round pick Jan Vesely burst into a full-on make out session with his stunning blonde Czech girlfriend, Eva Kodouskova, upon being drafted.
Plenty of other interesting things occurred, like ESPN's Heather Cox trying to sell Thomas Robinson's little sister on moving to Sacramento during one of the most awkward on-screen exchanges I've ever seen in my lifetime. Not just because the discussion was awkward, because it was.
But it had more to do with the fact that Cox revealed to the millions of viewers that she has no sense of geography whatsoever. Either that, or her definition of "close" is far different than yours and mine. 400+ miles away from Disneyland isn't "close" to Disneyland, Heather.
But the best part of the night, and this has become a common theme, is the time when NBA fans in the Prudential Center and all around the world expressed their collective displeasure for NBA commissioner and moonlighting Sith Lord David Stern. Be honest, no matter whether you were a Lakers fan, a Celtics fan, or any team in between, you were happy to climb aboard the bandwagon of "Booooooooo."
Stern appreciates your disdain and maybe even downright hatred for him. In fact, he revels in it.
The climax of the night came when Stern returned to the podium to announce the pick for the NBA Champion Miami Heat -- the always crafty NBA commish was sure to add extra emphasis behind
NBA Champion
 as well, for all of your viewing displeasure.
Stern feeds on the hate like a parasite. The more he's hated, the more his power and lust for more power grows. D.S. appreciates your honesty, as well as your boundless hatred that will continue to fuel his reign.
But enough about that. Let's break down the top three biggest winners and losers in the draft.
Winners
1. New Orleans Hornets -
It's hard not to "win" the draft when you have the No. 1 overall pick and are handed a potentially game-changing franchise face like Anthony Davis on a silver platter. "You're welcome, Tom [Benson, new Hornets owner]. I'd like my payment in small bills only, please. Pleasure doing business with you." - NBA Commissioner David Stern (You're welcome, conspiracy theorists.)
Austin Rivers is more of a two than a one at this point, but he has a tireless work ethic. Not to mention, even if he proves to be less than a player than he is, they still have Davis. Oh, and the city of New Orleans can then use Doc's son's virtually limitless self-confidence as the energy source to power the French Quarter for man years to come.
Nice touch adding Davis' college teammate in Darius Miller as well.
2. Portland Trail Blazers -
By drafting Weber State point guard Damian Lillard and Illinois big man Meyers Leonard, Portland accomplished what it came in to do -- fill the gaping hole at point guard and find a running mate in the frontcourt to pair with All-Star LaMarcus Aldridge. Leonard has freakish size and athleticism, but he was drafted primarily for his potential, which has become a dangerous word in Portland these days. But hey, as long as he stays healthy, I guess the Trail Blazers can at least hang that feather in their cap.
As for Lillard, I understand that he was facing competition in the Big Sky that arguably amounted to offer only a marginally-better challenge than if he was facing Troy or I one-on-one. Still, the kid can ball, and Portland believes that will translate no matter who is across from him. They're probably right.
3. Oklahoma City Thunder -
To land arguably the athletic equal to Anthony Davis at No. 28 in Perry Jones III is a win in itself. I know Jones was red-flagged for alleged knee ailments, but that's neither here nor there. The important thing, is that not only did OKC find a great backup for Kevin Durant off the bench, but Jones won't be under immense pressure on the Thunder like he would have been if he was a lottery selection. More length, athleticism and potential for an already extremely young and talented roster. Huh. This could prove to be the steal of the draft.
Losers
1. Cleveland Cavaliers -
Every Cavs' fan I've talked too is in consensus on this one. The Cleveland front office struck out in this draft. While Dion Waiters is undoubtedly very talented and worthy of a lottery pick, he is not worth going No. 4 overall. I understand why Cleveland made the pick seeing as how their boy Bradley Beal was scooped up by the Wizards the pick preceding theirs, but that didn't mean they had to make a rash decision and reach (albeit only a little) for Waiters. And if that wasn't bad enough, they mortgage the remainder of their picks in what many people believe was the deepest draft in recent memory for North Carolina's Tyler Zeller. Again, not a bad player by any means, but what of Anderson Varejao and his $11 million salary? How does that fit into all this?
Grab your mops, Cleveland. You have a mess to clean up.
2. Houston Rockets
- Operation Acquire Enough Draft Picks to Convince Orlando to Trade You Dwight Howard failed miserably. They also missed out on trying to move up for UConn's Andre Drummond, whom they were believed to had eyes for. Who do the Rockets get instead with their three first round picks? Jeremy Lamb, Terrence Jones and Royce White. All decent players, but call me crazy, I don't see any of the three being able to come in and help solve Houston's glaring lack of post presence. Maybe White and Jones will tear it up and have me eating my words. But as of right now, all I see is more wing talent and "tweener" forwards -- both of which Houston already had in spades.
3. Indiana Pacers
- I swear, Larry Bird leaves the organization for one minute, and the whole thing goes to hell in a hand basket! What happened?! Miles freaking Plumlee?! Are you kidding me? Granted, he's freakishly athletic for a 6'11" white center, there's no doubt about that after the former "Dukie" posted a 40" vertical at the draft combine. But for all his athleticism, he's just as raw on both sides of the floor. This was the worst pick in the first round (arguably the entire draft) all night and it's unfortunate that it now grossly overshadows the fact that they landed a spectacular scoring talent in Orlando Johnson in the second round who could come in and contribute right away.
What a shame.
But all other things aside, congratulations to all the new draftees; and welcome to the NBA!
Be sure to follow Beard And Stache on Twitter 
@BeardAndStache
, 
and also Adam 
@Adam_Parker43
, Like our Facebook page 
HERE
!