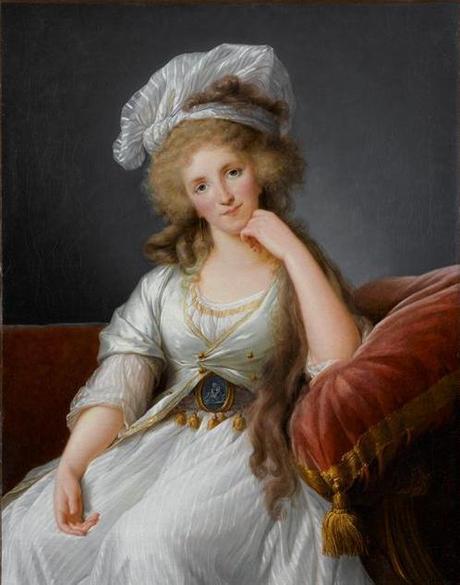 Louise Marie Adélaïde de Bourbon, Vigée-Lebrun, c1788. Photo: Château de Versailles.
Louise Marie Adélaïde de Bourbon (known as Marie-Adélaïde) was born on the 13th March 1753 at the Hôtel de Toulouse in Paris, the daughter of the Duc de Penthièvre and Princess Maria Teresa Felicity of Modena, both of whom were grandchildren of Louis XIV and Athénaïs de Montespan. Her mother died in childbirth a year later in April 1754, leaving Marie-Adélaïde and her three year old brother Louis-Alexandre, the Prince de Lamballe in the care of their doting, kind hearted father, who did his best to assuage his grief over this wife's premature death by devoting himself to his children and throwing himself with renewed fervour into his various philanthropic activities and also his watch collection, about which he was extremely enthusiastic.
As a young girl, Marie-Adélaïde was known from birth as Mademoiselle d'Ivoy before becoming Mademoiselle de Penthièvre at six months of age after the death of her two year oldsister, Marie-Louise, the previous holder of this title. Convent school education had been popular amongst the French aristocracy for several generations at this point and so Marie-Adélaïde was duly sent to be educated among other high born young girls at the Abbaye de Montmartre in Paris, where she remained for twelve years until she was ready to be married. Here she was carefully prepared for the great position that she was expected to one day hold after her marriage and also encouraged to follow in her father's charitable footsteps.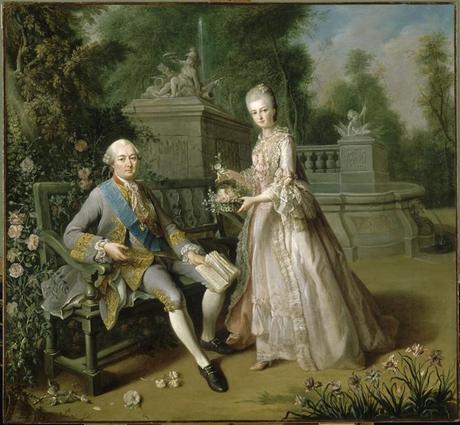 The Duc de Penthièvre and his daughter Marie-Adélaïde de Bourbon, Charpentier, c1769. Photo: Château de Versailles.
Marie-Adélaïde was always considered a good match but the premature death in May 1768 of her twenty year old brother, the Prince de Lamballe, who had been married for just over a year to Marie-Thérèse de Savoie, left her sole heiress to one of the most enormous and fabulous fortunes in France, if not all of Europe. In fact she would bring to her future husband a fabulous dowry of six million livres and an annual income of 240,000 livres (which later doubled) with the expectation of even more when her father eventually died, although he was so beloved that everyone hoped it would be a long time before that happened. Obviously.
You might well think that the marriage of such an immense heiress would be easily accomplished but you would be wrong. It had been mooted for a long time that Marie-Adélaïde should be married to her cousin Philippe, the Duc de Chartres but his father, the Duc d'Orléans, who was ever mindful of the grandeur of his family, was somewhat unwilling to marry his precious son and heir into an illegitimate branch of the royal family, ignoring the fact that he too was descended from Louis XIV and Athénaïs de Montespan. No, he thought he could do even better than Marie-Adélaïde for his boy. However, the death of poor Louis-Alexandre and increase to Mademoiselle's fortune changed all of this and so a betrothal was announced as soon as it was considered decent.
For her part, Marie-Adélaïde was madly in love with her tall, handsome, powerful cousin and was thrilled when the match was given the go ahead. Philippe already had the reputation of being something of a libertine, which moved even Louis XV (and let's face it, he must have been really dreadful if even Louis XV was shocked by his reputation!) to gently try to persuade her father out of the match, advising him that his daughter must surely end up unhappy in such a match and to wait and see what other marital prospects might come sauntering along.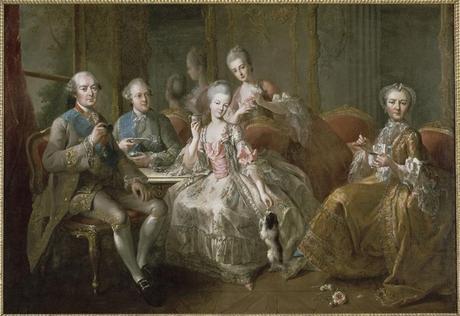 The Family of the Duc de Penthièvre (from left to right: the Duc, the Prince de Lamballe, the Princesse de Lamballe, Mademoiselle de Penthièvre, the Comtesse de Toulouse), Charpentier, 1768. Photo: Château de Versailles.
It was all in vain though as the doting Duc de Penthièvre just couldn't bear to disappoint his only remaining child and so the fifteen year old Marie-Adélaïde, looking tiny and rather lovely in her gown of the finest lace and cloth of gold, was married to the Duc de Chartres, who was just a week away from his twenty second birthday, on the 5th of April 1769 in the beautiful chapel at Versailles. The wedding was every bit as expensive and lavish as might be expected, allying as it did two direct descendants of Louis XIV and Athénaïs de Montespan and joining together two of the greatest fortunes in all of Europe. The whole court was there, glittering and resplendent in their finest clothes and jewels to see the deed done and afterwards there was an opulent banquet hosted by the King himself, who despite his misgivings seems determined to put on a good show for the young couple, who were apparently were so deeply in love.
The couple went on to have six children, of whom four survived into adulthood: Louis-Philippe (who would become King Louis-Philippe of the French), born in October 1773; Louis-Antoine, Duc de Montpensier, born in July 1775; Louise-Marie-Adélaïde, born in August 1777 (she had a twin sister, Françoise, who died in 1782) and finally Louis-Charles, Comte de Beaujolais, born in October 1779.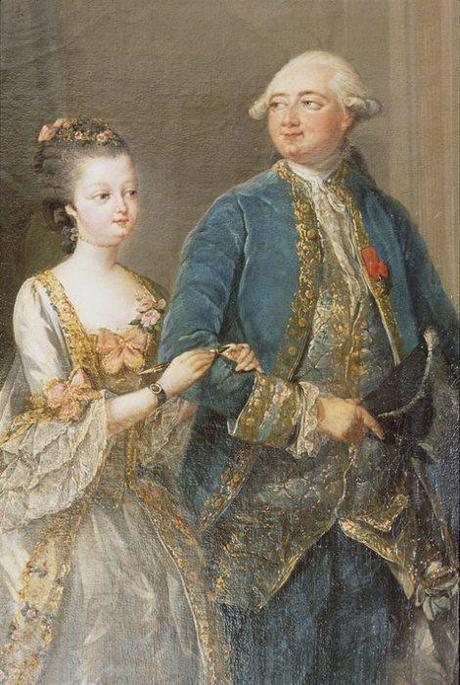 The Duc and Duchesse de Chartres, shortly after their marriage in 1769.
Although Philippe was fond of his adoring young wife, as had been gloomily predicted by Louis XV, it did not take long for him to return to his bachelor lifestyle. There was a ripple of scandal about his relationship in 1772 with his wife's lady in waiting, Stéphanie-Félicité, Comtesse de Genlis (the niece of his father's morganatic wife, Madame de Montesson), especially as to outsiders it appeared as if Marie-Adélaïde must have given her tacit approval so that the three of them lived together in a sort of ménage à trois. When the relationship had burned to its inevitable conclusion a year later, Stéphanie became governess to their twin daughters and a confidante to both the Duc and the Duchesse, a position that must have required enormous amounts of tact and forbearance – both of which the highly intelligent, forceful and liberal minded Madame de Genlis had in spades.
Eventually, Madame de Genlis would take over the education of the couple's sons as well, which on the surface turned out to be an excellent decision as she was a superb, erudite and devoted teacher, who delighted in instilling her young pupils with her own politically radical and liberal principles – which was fine by the Duc, who had long had leanings that way himself but began to sit increasingly uneasily with the more conservative Marie-Adélaïde, who found herself wondering where it would all end. Certainly, as a daughter of the philanthropic Duc de Penthièvre, she could really get behind a strongly charitable ethos but Madame de Genlis didn't stop there.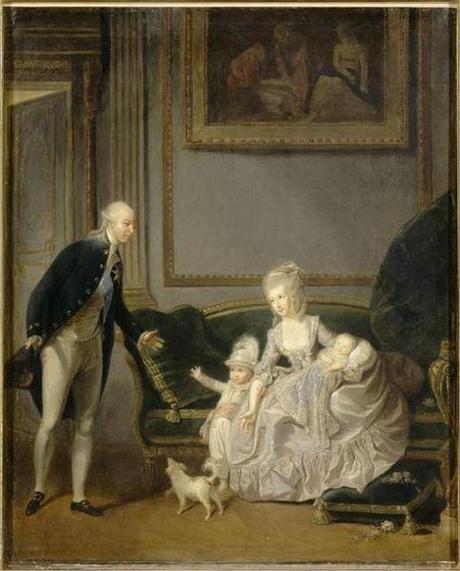 The Duc and Duchesse de Chartres, Cibot, 1776. Photo: Château de Versailles.
At the same time, the Duc's notorious and frequent infidelities continued throughout their marriage and eventually led to relations becoming increasingly strained between the couple throughout the 1780s, during which time the Duc's father died and they became Duc and Duchesse d'Orléans, until they reached a point where Marie-Adélaïde, once so devoted and adoring, would only communicate with her errant spouse by letter and could hardly bear to be in the same room as him. Feeling increasingly melancholy and like she was losing her husband to his various rapacious mistresses and, from 1789 onwards, his clear political ambitions and her children to their charismatic governess, she eventually decided that enough was enough after her seventeen year old son went off and, encouraged by his father and Madame de Genlis, joined the extreme political Jacobin Club and retreated to Normandy to live with her father, the one person she always felt would never let her down, in April 1791.
From a distance, Marie-Adélaïde watched as her husband's political ambitions peaked, with his election to the National Convention in September 1792 with the ridiculous soubriquet Philippe Egalité, then began a slow descent into disaster after their eldest son, the nineteen year old Louis-Philippe, who was fighting with the Army of the North and had seen action at Valmy, was implicated in the downfall of Dumouriez in 1793 and ended up deserting and throwing himself on the mercy of the Austrians shortly afterwards. This would prove disastrous for the rest of his family, who were all promptly taken into custody.
The Duchesse de Chartres, Carmontelle, c1770. Photo: Musée Condé, Chantilly.
Despite his public protests that he had nothing to do with his errant child's actions and would kill him himself for his treachery, the Duc and his youngest son, the thirteen year old Duc de Beaujolais were imprisoned first in Paris and then Marseilles, while the seventeen year old Duc de Montpensier was arrested while with the Army Of Italy and taken to join them. Marie-Adélaïde however was allowed to remain under house arrest in Normandy for the time being – her elderly father had died a month earlier, shattered by the horrible death of his daughter-in-law, the Princesse de Lamballe and by what he saw to be the betrayal of Louis XVI by his cousin, the Duc d'Orléans, who had voted for his death at his trial at the start of the year. Realising too late what dire straits his actions had cast his family into, the young Louis-Philippe, who by this time was living under an assumed name in neutral Switzerland and doing his best to avoid the attention of both the French government and also the aristocratic French émigrés, neither of whom were exactly keen on him, met up with his young sister Adélaïde, who was living with the resourceful Madame de Genlis, and travelled with them to Zurich. Another twenty one years would pass before he returned to the country of his birth.
Meanwhile, his father was returned to Paris and would eventually face trial and be guillotined on the 6th of November 1793. All of his possessions and assets were seized by the state, as was usual, leaving his wife Marie-Adélaïde, formerly the richest and most sought after girl in all of France, utterly destitute. However, she had rather more pressing matters on her mind at this time than the loss her fortune as she was moved to the Palais de Luxembourg, now one of the rather more comfortable prisons, in Paris in the wake of her husband's execution and no doubt fully expected to follow him to the guillotine in due course.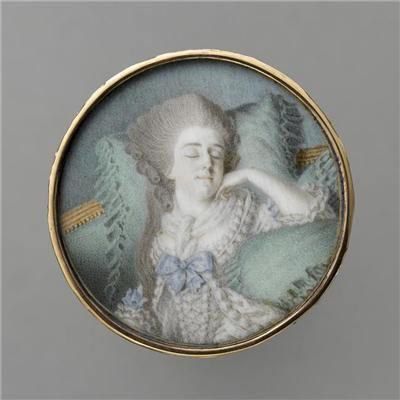 The Duchesse d'Orléans sleeping, c1778. Photo: Musée Condé, Chantilly.
A rather romantic figure with her melancholy manner, long fair hair and wide blue eyes that seemed constantly on the brink of tears, poor Marie-Adélaïde inspired much sympathy amongst her fellow prisoners, who saw her as a sad relic of a now long gone age and one of the last few remaining connections with the Bourbon court. However, she inspired something rather more robust than sympathy in one certain prisoner – Jacques-Marie Rouzet, a Girondin sympathiser and former member of the National Convention, who fell head over heels for her charms and, finding his infatuation returned, eventually became her lover. I find it really quite touching that this woman, who had every material benefit that an enormous fortune and bluest of blue blood can provide yet found herself trapped in a loveless marriage with a philanderer, should eventually find the love of her life at a time when she was not only stripped of her fortune but also facing almost certain death. Go Team Marie-Adélaïde.
Even more amazingly, this romance which might well have been one of convenience, born to give comfort to two people who were despondent and depressed (and who wouldn't be?) by the daily threat of imminent execution, lasted for many years to come, even after Robespierre's fall in July 1794 brought their ordeal to an end. However, although Rouzet was released shortly after Thermidor, Marie-Adélaïde's imprisonment continued for another year albeit under more comfortable and much less stressful conditions at another prison until her lover was able to successfully petition for her release and that of her two sons, who still languished in their captivity in Marseilles.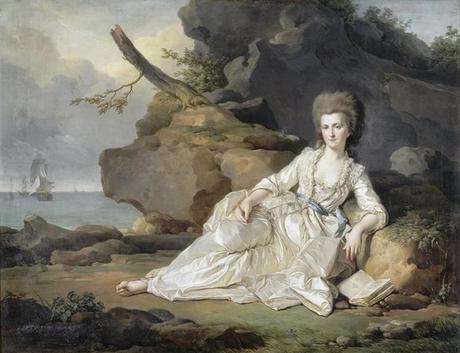 Marie-Adélaïde as Duchesse de Chartres, Duplessis, c1778. Photo: Musée Condé, Chantilly.
Everything went swimmingly after this until 1797 when all remaining members of the House of Bourbon, including Marie-Adélaïde and her children were summarily banished from French soil. Marie-Adélaïde was packed off to Spain, with her beloved Rouzet sneaking off to be at her side, while her two boys were sent to Philadelphia, there to be joined by their elder brother, Louis-Philippe, who had inherited the title but not the estate or fortune of Duc d'Orléans after the execution of their father. The two younger boys were never to see their mother again.
Marie-Adélaïde and Rouzot, still as devoted to each other as ever, remained in exile in Spain until the Bourbon Restoration of 1814, whereupon they hastened back to their beloved France. She would eventually manage to claw back much of her fortune but would never marry again, wisely preferring to live in a state of domestic companionship with her lover. They remained together until Rouzet's death in October 1820, with Marie-Adélaïde following him less than a year later in June 1821 at the age of sixty eight, after which she was buried at his side in the new Penthièvre family mausoleum (now known as the Chapelle Royale de Dreux as it became the traditional resting place for members of the Orléans family) she had constructed at Dreux.
******
'Frothy, light hearted, gorgeous. The perfect summer read.' Minette, my young adult novel of 17th century posh doom and intrigue is now £2.02 from Amazon UK and $2.99 from Amazon US.
Blood Sisters, my novel of posh doom and iniquity during the French Revolution is just a fiver (offer is UK only sorry!) right now! Just use the clicky box on my blog sidebar to order your copy!
Follow me on Instagram.