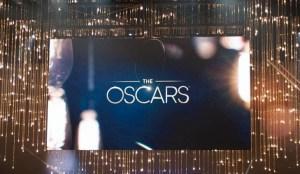 8:30 pm:  The Oscars begin. Ellen DeGeneres is wearing something from the Liberace collection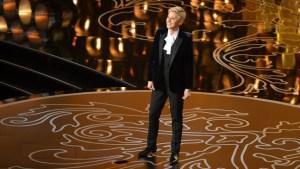 8:31 pm: June Squib from the movie Nebraska is old. Ellen points this out to America.
8:32 pm: The Somalian man nominated for Captain Phillips does not get Ellen's joke about him being a Sommelier.
8:35 pm: Ellen calls out Amy Adams for not going to college. Stay in school kids.
8:36 pm: First reference to Jennifer Lawrence's tripping on the stairs last year.
8:40 pm: Anne Hathaway has to navigate the bizarre transparent life sized Oscar statue maze in order to present Best Supporting Actor.
8:43 pm: Jared Leto who apparently is also filming a movie where he is portraying Jesus Christ accepts the award with a very lovely speech about his mom; he then drops his shitty band's name and works in Russia's invasion of the Ukraine and AIDs. They do not play him off.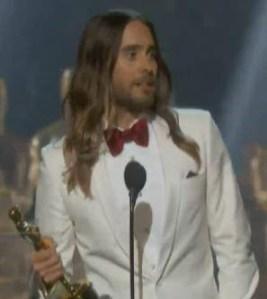 8:47 pm: Jim Carrey appears in a Hugh Hefner blue tuxedo and then does the only known Bruce Dern impersonation ever done. It's actually spot on. He then introduces a clip of animated movies heavy on Disney films since the Oscars are being broadcast on ABC. It makes no sense and there doesn't seem to be any context to it. Jim is off stage when we return to Ellen who is now in the aisle complaining that Finding Nemo wasn't in the montage enough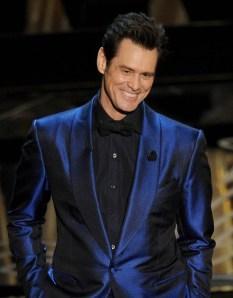 8:51 pm: Pharrell Williams shows up in his Arby's hat and Dorothy Gale's Chuck Taylor's to sing "Happy" from Despicable Me 2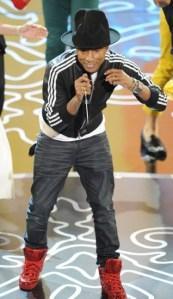 8:57 pm: Nick Fury and the chick form The Ring present the award for Costume Design with all the enthusiasm of watching people sew. Catherine Martin wins her third overall Oscar this time for The Great Gatsby and proceeds to kiss everyone on stage. She tanks her husband Baz Lurman and then turns and awkwardly leaves.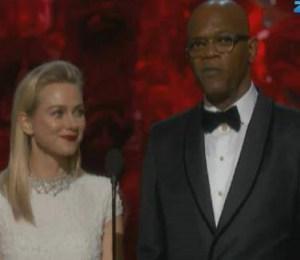 9:00 pm: Holy shit, The Lone Ranger was nominated for something! It doesn't win. Dallas Buyers Club wins the Makeup Oscar instead. The Judd's accept. AIDs is mentioned again.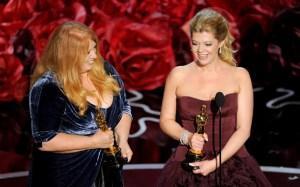 9:03 pm: Indiana Jones and Han Solo walk on stage and introduce the first three movies nominated for best picture.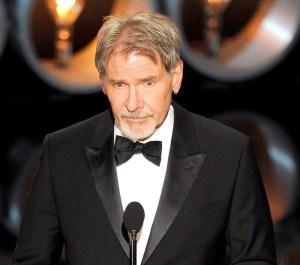 9:05 pm: Channing Tatum is there to introduce Team Oscar, six people from every known nationality. I refuse to call them Team Oscar and instead will refer to them as The United Colors of Benetton. I still don't know why they are there or what they have done even after Tatum explained it.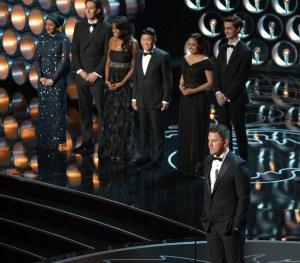 9:10 pm: We are back and Ellen is giving Bradley Cooper some scratch offs since he didn't win an Oscar.
9:11 pm: Matthew McConaughey and confused by the lights Kim Novak introduce Best Animated Short and Best Animated Feature. Mr. Hublot  wins short. Kim Novak is super happy that Frozen wins Feature. She must be winning her Oscar pool.
9:17 pm: Sally Field forgets her lines. We still really like her though. For some reason a montage of biopics follows.
9:20 pm: Sidney Poitier!
9:21 pm: Hermione Granger and Cobra Commander introduce the award for visual effects. Gravity floats away with it.
9:23 pm: Zac Efron and his haircut introduce The Yeah Yeah Yeahs Karen O and whatshisface from Vampire Weekend performing "Moon Song" from the movie "her". Sandra Bullock does not make a cameo.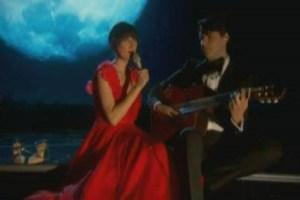 9:30 pm: We are 60 minutes in! Goldie Hawn's  daughter and Jason Sudeikis introduce Best Live Action Short and Documentary Short Subject. Helium wins for Live Action Short which is a good omen for other elemental movie Gravity. They are the first winners to be played off stage. The Lady in Number 6: Music Saved My Life wins Documentary Short. They are the second winners played off stage. HA!
9:36 pm: Ellen is lost and is wandering around. She asks the audience if they are hungry. Ellen has the munchies. Ellen offers to order pizzas.
9:37 pm: Scratch offs recipient Bradley Cooper (Rocket Raccoon) introduces Best Documentary Feature. 20 Feet from Stardom wins. They sing their acceptance speech. It makes me hungry for pizza.
9:40 pm: Kevin Spacey forget that House of Cards is a TV show and comes out in character as Frank Underwood to talk about the Governor's Awards brought to you by The Walking Dead. Side note: Angela Lansbury is not dead!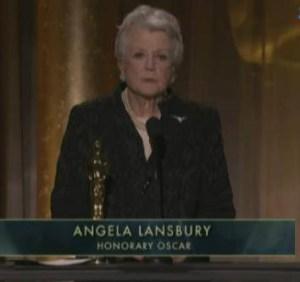 9:48 pm: Obi Wan Kenobi and Viola Davis introduce Best Foreign Language Film, Italy wins their 11th Oscar in this category. Immediately after the acceptance speech they cut to Will Forte. Sure, why not?
9:51 pm: Tyler Perry introduces the next batch of best picture nominees.
9:52 pm: Amy Adams is checking her cell phone?
9:54 pm: Wardrobe change for Ellen. The audience is shocked!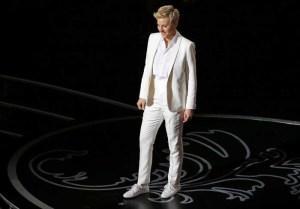 9:55 pm: Brad Pitt introduces U2. This is the pinnacle of celebrity. There is nothing left to accomplish. We can all die now. U2 sings Ordinary Love from Mandela Long Walk to Freedom. Standing Ovation.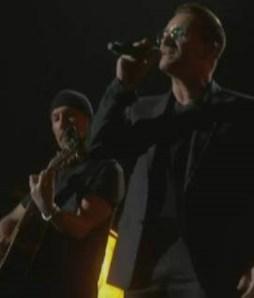 10:02 pm: Ellen is in the audience again. Group photo time because Samsung paid for it. Kevin Spacey photo bombs. Still no word on the pizza. Did Pizza Hut not pony up like Samsung did?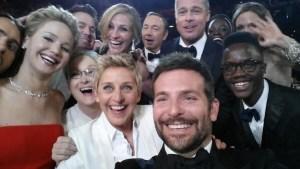 10:04 pm: Michael B Jordan and Kristen Bell from Frozen talk about awards no one cares about.
10:06 pm: THOR!
10:07 pm: Thor and Charlize Theron introduce Best Sound and Best Sound Editing. 2003 Best Actress Oscar winner Theron screws up her lines. Gravity wins both.
10:11 pm: Ellen has put on a scarf.
10:12 pm: Christoph Waltz introduces the nominees for Best Supporting Actress. In her montage clip, June Squib is a dirty old lady. Even still, Lupita Nyong'o wins for 12 Years a Slave and is radiant and gives a truly sincere and overjoyed acceptance speech. Highlight of the night so far.
10:21 pm: Pizza arrives! Ellen ordered three pizzas from Big Mama's & Papa's Pizzeria: http://www.bigmamaspizza.com/
10:24 pm: The Academy sucks its own dick and talks about museums and gift shops or something.
10:26 pm: Bill Murray and Amy Adams arrive on stage to talk about Cinematography. Bill gives tribute to Harold Ramis in a nice way and gets a big round of applause. Gravity wins another award because space is awesome.
10:30 pm: We are at the two hour mark! Gabourey Sidibe and Anna Kendrick present Best Film Editing. Gravity wins its 456th technical award of the night.
10:32 pm: Whoopi Goldberg has stolen Pharrell's shoes. She then talks about life before Netflix when The Wizard of Oz was broadcast only once a year and makes Judy Garland's kids stand up to get applause. Pink then sings Over the Rainbow while we watch clips from The Wizard of Oz which is possible now that it can be shown more than once a year.
10:43 pm: Ellen has put on the Good Witch of the North's outfit. Har – dee – har – har.
10:44 pm: Jennifer Garner and that Cummerbund guy present Best Production Design. The Great Gatsby wins its second of the night putting it tied for second place with Dallas Buyers Club, 287 Oscars behind award leader Gravity
10:46 pm: Not to be outdone by Thor, Chris "Captain America" Evans shows up to introduce a montage of Super Hero movies. The Fantastic Four movie is not in the montage.
10:53 pm: "Multiple Oscar Nominee" Glenn Close introduces the In Memoriam segment. Applause begins and is quickly muted from the director's booth. Bette Midler appears after the montage and sings Wind Beneath My Wings. It's a nice tribute save for the creepy translucent full sized Oscar statues glowing behind her. She and the pictures of those we lost this year receive a standing ovation.
11:04 pm: Ellen tells us that she broke Twitter but it's back up now so all's good and history has been made but no one cares and here's Goldie Hawn.
11:05 pm: HOLY HELL WHAT HAPPENED TO GOLDIE HAWN?! Anyway, The Crypt Keeper introduces the final Best Picture nominees.
11:08 pm: John Travolta introduces Idina Menzel singing Let it Go from Frozen. Vocally it is a very difficult song to perform and Idina looks like she is going to explode but hits a friggin' home run. Bono approves. Standing ovation.
11:12 pm: Ellen shows us that the Oscar Orchestra is phoning it in from the Capitol Records building.
11:13 pm: Jamie Foxx and Jessica Biel show up and call each other by their last names. Jamie dances and hums Chariots of Fire. It makes more sense once they present Best Score and Best Song. Gravity wins Best Score because no one can have any Oscars but them. Let it Go wins Best Song giving Robert Lopez a EGOT!
11:23 pm: Ellen is passing around Pharrell's Arby's hat to collect for the pizza. Oscar nominees all seem to carry $20 bills on them.
11:24 pm: Robert DeNiro and Penelope Cruz make fun of writers. It's a good thing I'm drunk right now Bob so I can forgive you! 12 Years a Slave wins the Oscar for Best Adapted Screenplay thanks to emoticons. Winner John Ridley (an intense man who used to write sitcoms) gives a very impassioned speech which would've been more profound without the creepy type-writer's behind him. (Daddy, what's a type-writer?). Spike Jonze finally wins a damn Oscar, this time for Best Original Screenplay for her.
11:32 pm: Angelina Jolie and Sidney Poitier walk on stage at three hours two minutes into the show so Angelina can tell Sidney how f**king awesome he is. Sidney already knows he is f**king awesome and then proves why he is the coolest person in the room simply by speaking and telling everyone to keep doing excellent work. Then the nominees for Best Director are announced. Alfonso Cuaron wins for Gravity BECAUSE NO ONE ELSE CAN HAVE ANY OSCARS!
11:41 pm: Daniel Day-Lewis introduces the nominees for Best Actress. Meryl Strep seems surprised she was in a movie. Righting the wrong from her failure to even be nominated for Pushing Tin back in 1999, Cate Blanchett wins this time for Blue Jasmine and then tells Julia Roberts to suck it.
11:48 pm: Jennifer Lawrence is upset that someone is laughing at her and almost launches into a Joe Pesci Goodfellas monologue. She introduces the nominees for Best Actor warning someone off camera that she is watching them
11:49 pm: BATMAN!
11:51 pm: Matthew McConaughey (alright, alright, alright) wins Best Actor for Dallas Buyers Club. He gives a great speech and drops an "alright, alright, alright" thus rendering the joke I typed here four minutes prior moot. Thanks Matt. Sorry Leo.
11:56 pm: The Fresh Prince recaps the Best Picture nominees. 12 Years a Slave wins and Brad Pitt gets an Oscar as a Producer. Steve McQueen misses out on Best Director but also wins as a Producer. He thanks his mom who is sitting in the GODDAMN LAST ROW of the theater. WTF?!
12 am: Three hours and thirty minutes and we are done at Midnight on the dot. Stay tuned for your late local news.
—–
MORE PLACES TO FIND LONG AWKWARD PAUSE:
Facebook: Long Awkward Pause Twitter: 
@LongAwkPause
Podcast: iTunes or 
PodOmatic
  Would you like to see a topic discussed on L.A.P?  Follow this link HERE.
0.000000
0.000000