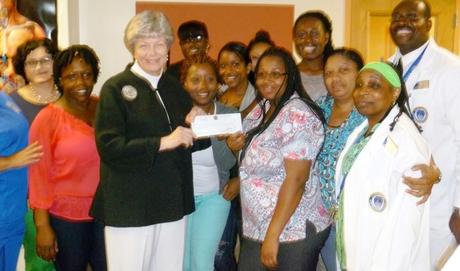 Last week, my former students at Allen School for Health Sciences in Brooklyn, N.Y. gave me a wonderful surprise; they presented me with a check for $1,344, the proceeds from their fundraising activities in the Students Learning for a Cause Program at Allen School.  Allen School matched what they raised, and doubled the size of their gift!

Their generous gift will give a "Pink Time Out", a short getaway from all things breast cancer, to a woman who has recently completed active treatment and her companion.
Pink Time Outs are all about giving a woman, recovering from breast cancer, the normalizing experience of a three-day getaway in an elegant setting. The Program is meant to help with the transition from the long months of active treatment, with their exhausting side effects, to a new beginning in survivorship.
The "Pink Time Out" will be …Christmas in New York City. Scheduled for the 15, 16, and 17 of December, it will include a 3-day stay at an elegant hotel in the heart of Manhattan, breakfasts and dinners, and tickets to the Radio City Music Hall Christmas Spectacular.
Any woman, who has completed active treatment (surgery, chemo and /or radiation) between October 1, 2012 and October 31, 2013, is eligible to participate in the lottery drawing for this "Pink Time Out "getaway. Information about the trip will be posted on this site on October 1, 2013. Women can enter the lottery beginning on that date. The lottery will close on October 31st. The lottery drawing will be done the next day, November 1, 2013; the winner will be announced the same day.
The "Pink Time Outs" Program began earlier this year. To read more about the Pink Time Outs Program, go to http://noboobsaboutit.org/pink-time-outs/.
Along with my heartfelt thanks for their generosity, students received a "Pink Time Outs" shirt.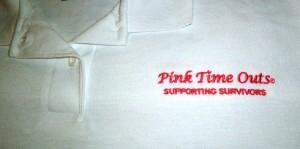 On behalf of No Boobs About It, and the soon to be winner of the Christmas in NYC Pink Time Out, I want to recognize the students who made this all possible: Celeste Barragan, Edlyn Charles, Monica Dumay, Melissa Joseph, Laryssa Shainberg, Nornale Soriano, Ruth Stephens-Headley. Chelsea Vanbrook, Gladys Momoh, Jewel Monroe, Elynddy Toribio, and Nikhole Silva.
A special thank you goes to Allen School: Jason Teich, Allen School President; Sherilyn Towne, Director of Academic Affairs and General Education; Lyndon Thomas, Director of Academic Affairs/Academic Advisor; Deborah Bingham, Assistant Director of Academic Affairs/Academic Advisor.