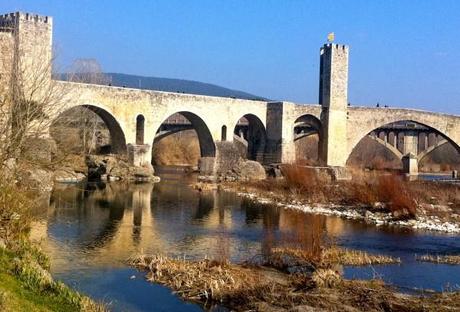 You may not have heard of Besalú.  I hadn't until a few weeks ago.  It's a small town located in the northern region of Catalonia with just over 2300 inhabitants. What it lacks in size it makes up for in history with a town market dating back to the year 1027 and a ritual Jewish bath dating back to the 12th century.  I thoroughly enjoyed my day in Besalú strolling through this small medieval town, along small maze-like passage ways, making several stops for a cappuccino along the way.  They know how to make a good cappuccino here!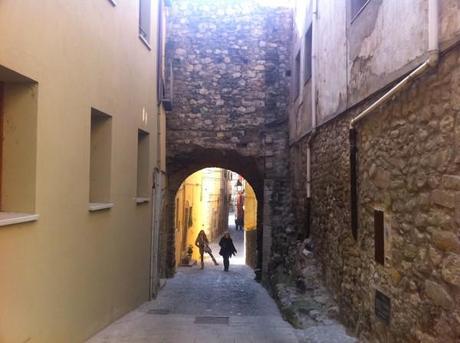 Wandering the streets of Besalu.
My favorite way to experience Besalú was just wandering.  I wandered through the cobblestone streets, I walked along the river, taking in the views of the famous bridge, I wandered through passageways: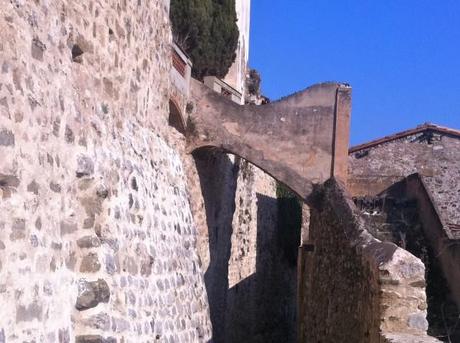 Passage ways dating back to medieval times, made me feel like I was stepping back in time.
It was one of these such passage ways, that led to an AMAZING cafe, 10 del Pont, a stone walled cafe with an assortment of teas and the best caramels I have ever tasted.  I bought three bags the first time, then went back the next day for another bag.  Despite my sugar high from four bags of caramels, I wish I would have bought more.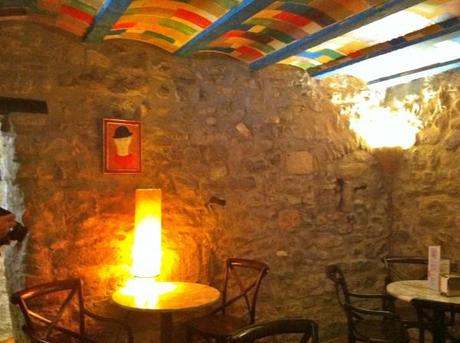 One of the most charming cafes I have ever been in - anywhere!
I preferred to walk the streets of Besalú – wait a minute, that didn't come out right, but you know what I mean.  Besides I had to burn off some of the calories I consumed from eating four bags of caramels, but another more leisurely option was also available for those who hadn't indulged like I had: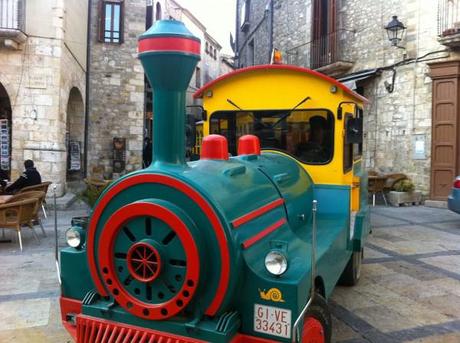 Visitors have the option of exploring Besalu by train, although I preferred to do it on foot.
Along the way we stopped at the cathedral, dominating the town square:
The cathedral in Besalu is in the town square.
Next was a stop at the quirky and almost unbelievable Museum of Miniatures: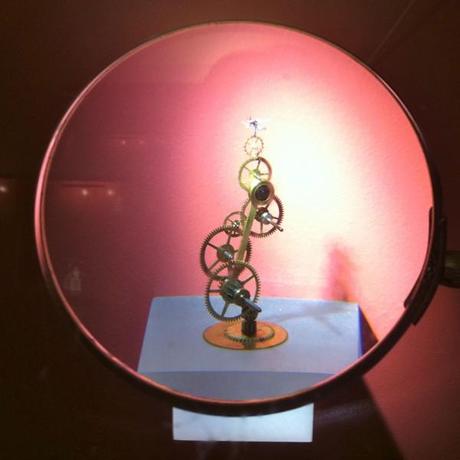 One of the exhibits on display at the Museum of Miniatures in Besalu.
The Museum of Miniatures features over 2000 pieces of varying sizes, with the micro miniatures featuring detailed artworks displayed in the eye of a needle!  Fortunately the micro miniatures are presented with magnifying glasses.   I loved this 0ff-beat museum and I think it would be a hit with children as well.
Besalú is also soon to be famous for its artwork – the humble chair as you've never seen it before.   It's a collaborative art project between inhabitants who donate space and artists who create their version of a chair.  Perhaps one day tourists will flock to Besalú for its world famous chair collection: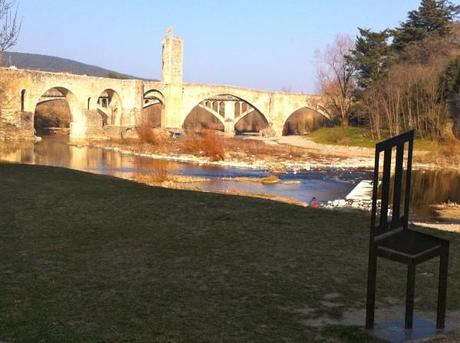 Besalu's choice of artwork: chairs - which can be found throughout the town. This one appears to be 3-dimmensional, but is only 1-dimmensional.
Any guesses what this art work is by local artist Kel Domènech?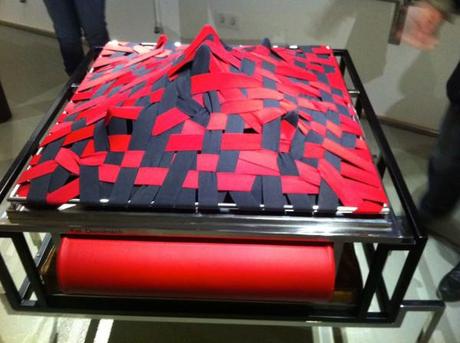 An ingenious solution by artist Kel Domenech to a common problem.
Why it's a chair of course, but one that is under lock and key so that nobody can steal your favorite chair.  Only you can open it up when you're ready to use it – with a key.  Genius!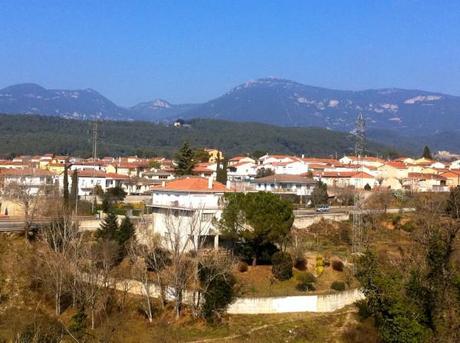 The view from the backyard of our Charming Villa located in the heart of Besalu.
I thoroughly enjoyed my day in Besalú.  Its proximity to other interesting destinations in Catalonia such as the winery hosting Martin Faixó wines, which are made according to centuries of family traditions, and Salvador Dali's house,  make it a great base for a slow travel adventure.  I was a guest of the hard to beat view from the backyard of Mas Tallaferro, our luxury villa located just a few minutes walk from the town square.  It was also the perfect setting for our Catalonian paella – in which I learned the secret to perfecting a Catalonian paella.  I may just tell  you…if you bribe me with caramels!
Thank you to Charming Villas for making my trip to Besalú so enjoyable.
As always, all opinions expressed are my own.  This photo has been submitted as part of Travel Photo Thursday by Nancie at Budget Travelers Sandbox.