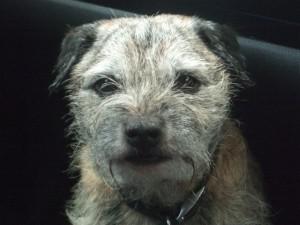 'Can we have a dog, Mum? Can we have a dog?' Ten-year old Hannah's voice was like an old record stuck in a groove. 'Oh please, Mum. Please say we can have a dog.' Her seven-year-old brother piped up the well – rehearsed backing chorus.
'What are we to do?' I asked my husband, when the children were safely in bed. 'Well. I don't mind a dog,' he replied 'but be aware. You will be the one looking after it.' 'I don't think so,' I said, in complete ignorance. He just smiled.
We set Hannah and Will the task of doing some research. Off they went to the local library to investigate which breed would make a suitable family pet. 'A Border Terrier,' they announced on their return. 'That's the best one to get – a Border Terrier.' There was no point in arguing further.
We traveled to a recommended breeder, fifty miles away and, amid squeals of delight, chose our puppy. We completely forgot the advice we'd been given about not being tempted by the cheekiest of the litter. So, Eddie joined the family. Wide-eyed and cute, he spent the journey home wrapped in a little blanket, cradled by loving arms.
I had never had a pet except for a goldfish from the fair that died three days later and a short period of holidays when I was appointed the proud caretaker of our school budgerigar. This was something of a new experience.
I remember that first night when we left him snug in his basket, on a pillow with a ticking clock and hot water bottle to simulate his mother's presence. The hours passed quietly – only a few whimpers, soon calmed.
At this same time, we had arranged to have an extension built so our dog's early life was accompanied by knocking and banging and scenes of destruction. Eddie, basking in the attention of the builders who clearly doted on him, appeared not to notice the mayhem.
This served us well for future firework nights when he had the capacity to sail through the whizzes and bangs without a care. Every pet owner, who dreads such celebrations, will appreciate what a bonus this is.
Luckily for us, too, Eddie showed no interest in chewing furniture, curtains, car upholstery… although his razor-like teeth could shred fabric, in particular husband's suits, with every enthusiastic greeting.
However, I cannot now re-call a time before him or imagine life without him. What I do know is the truth of my husband's prophesy for, no matter how often the children tell you the dog is theirs, you realize very quickly that they are fooling themselves. After all, who checks that there is plenty of dog food? Who remembers to buy it? Who serves it? Who cleans up the mess? Who takes the animal for its daily walk? Of course, it's ME isn't it?
But I enjoy it. I am amazed at how speedily I fell in love and how faithfully besotted I have remained.
Lynne Rees lives in South Wales and co-founded Barafundle CDs, a company producing personalised story CDs. She has two children.