FRAGRANCE
❤ ❤ ❤ ❤ ❤ ❤ ❤ ❤ ❤ ❤ ❤ ❤ ❤ ❤ ❤ ❤ ❤ ❤ ❤ ❤ ❤ ❤ ❤ ❤ ❤ ❤ ❤ ❤ ❤ ❤ ❤ ❤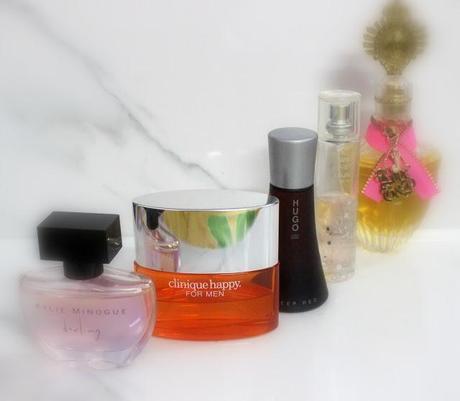 Couture Couture by Juicy Couture - Last Bottle From The Back
This Friday, you are going to read the review of Couture Couture by Juicy Couture. This perfume is the most expensive perfumes I own, price approx. Rs. 4500. I bought this perfume at Yebhi.com along with other few products and it was the only thing I was most excited about. Let's see if it stood up to my likings!
Couture Couture Notes
Top Notes:Middle Notes:Base Notes:
Couture Couture Longevity and Sillage
This perfume lasts the entire day until you decide to take a shower or wash your clothes if it is on your clothes. The sillage of Couture Couture is moderate according to me as this is something that doesn't stay in a room even after you have left. But if you are wearing this perfume and you are present, then somebody would know that someone is wearing a strong perfume.
My Experience with Couture Couture
First couple of hours
One word - strong floral smell that you can whiff right after you spray and that stays for a couple of hours on me. When I first used this perfume, I wanted to wash it off because I am not a fan of strong floral smell. A hint of fruity smell that can be Manadarin Orange and Grapefruit but the floral smell is strongest.
After first couple of hours
Honey suckle with plum take over on my skin, smelling fresh and delicious. This is what you want to smell like during spring. A little sweet scent for me after first couple of hours and still stronger on the floral side.
After settling down
Couture Couture settles down to become a floral smell with a quick hint of sandalwood but for a very short duration. I meant, you will still be able to identify the floral smell and you might think that you also smelled sandalwood but not for very long because the aroma of African Orange Flower still over powers the fragrance.
BUY Couture Couture by Juicy Couture
+Perfume Crush
SHOP
Tradus
SHOP
Stay updated with more Fragrance Reviews by Shopping, Style and Us.
FOLLOW BY EMAIL
FACEBOOK
     TWITTER     
GOOGLE+