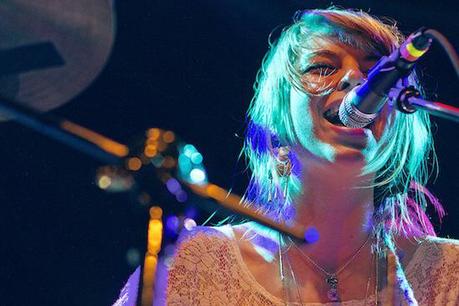 Written by: Billy Mack
Taking to the stage for the first time in 2012, Lousiana quintet GIVERS lit up the Music Hall of Williamsburg with NY based openers, Yellow Ostrich. Audience members trickled onto the floor for the sold out performance, as Yellow Ostrich's frontman Alex Schaaf summoned enthusiasm from the crowd with his trademark a cappella loops & hypnotizing harmonies. The band unleashed an emphatic performance with tracks from the soon-to-be-recorded Marathon Runner. "WHALE", "Mary", and another tune fresh off the rack, "The Shakedown", capped off a powerful intro to a memorable night.
When GIVERS took the stage, following a very short break after Yellow Ostrich's set, they seemed just as antsy and excited as the crowd. From the first strum of that good ol' guitar, though, the found a rhythm, making the floor shake and the sweat pour. Channeling an unmistakable Elvis swagger, Taylor Guarisco was up on his toes and wiggling his legs as he danced across the stage, enticing his bandmates to match his enthusiasm — and boy were they up to the task. In fact, as the crowd swelled, one fan just couldn't contain herself. During "Saw You First", a fresh-faced, pony tail wearing youngster hopped on stage (the floor was clearly too small for dancing), and, embracing the moment, Tif Lamson handed her a set of sleigh bells and let her go to town.  Bassist Josh Leblanc had a chance to shake a leg with the fan while Guarisco kept the tune going, soaking up the moment.
Leaving the stage for only a minute to catch their breath, the band was back for more. Yelps peppered the venue, turning into screams of joy when "Up, Up, Up" hit the crowd. The brief encore left us all wanting more, but we know all good things come to an end. Guarisco did, however, leave us with a piece of advice. Referring to the their newly acquired back up dancer, he encouraged us all to, "go do something crazy this year, take it from this girl and go do something crazy tonight!"
Anything for you GIVERS, anything for you.