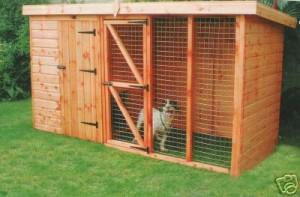 It's a great feeling to have your dog keep you company inside the house. But where does your canine friend stay when you're at work or out and about?
So often dogs wind up cooped up inside a room or in the garage, but they need outdoor time too! Our dogs absolutely thrive on being able to breathe fresh air, on the stimulation of seeing the sights around them and of course sniffing all those new and interesting scents.
All caring and conscientious dog owners try to walk their dogs as much as possible. But when you've got a busy schedule it can be hard enough to get out the door in the morning much less fit in a good 45-minute walk. If you're one of those masters who wakes up at 4am to help your pet get her exercise, then kudos to you! If life and family constraints don't allow you to do this, however, it might be a good idea to really think about your dog's quality of life during the day.
Whenever possible, it's really best to keep your dog outside (for all of the above-mentioned reasons) as long as the weather permits. This is where a dog house with attached run, or pen, can really make the difference.
Instead of being just a simple shelter (i.e., a dark little box) a dog kennel with run is more like a spacious wood cabin with attached fenced-in space. Among other benefits, this allows your furry friend to indulge her natural denning instincts. Remember, just because they've been domesticated doesn't mean they don't have the desire for a warm, private space to retreat to for safety and comfort! She'll also have room to come out and move around, with fresh air circulating through and a full view of what's going on outside.
Being enclosed will keep your dog safe from the dangers of escaping and wandering onto someone else's property or worse, getting hit by a car. Plus, you can be sure she's not chewing or digging where she's not supposed to.
You can think of a kennel with run as the perfect mix between an indoor dog cage and an outdoor kennel or dog house. They basically offer you a friendly, safe, comfortable and confined space to keep your pet while you're away, with the added benefit of being outside. This also lets you keep up with your crate training.
If this sounds like a good option for improving your dog's quality of life (and helping you stay sane!), there are a few things you'll want to keep in mind when shopping. Think of your dog's size–it's always better to get a too-big dog kennel than one that's a tight fit. You'll also want to take your dog's personality into account; if she's still a puppy or an avid chewer, you can look for features like anti-chew strips around the entrance. Because this is somewhat of an investment you may even want to list out the items you're looking for before making a decision.
Sonia Moran is the proud owner of Sadie, a 2-year-old German shepherd and Drexel, an 8-year-old Australian Shepherd mix. When not doggie-proofing the house and taking the dogs out to nearby parks for exercise, she is a consultant and freelance writer for Only4Pets in Bingham, England.  
Tags: Dog Care, Dog crate, dog kennel, dog safety, outside dog run