I recently told you all about our first all vegetarian meal at Bistro 1847 in Birmingham. Well lucky for us we were invited back not long after to try out their new style of menu, moving from the traditional A La Carte to something a bit more modern and innovative.
The new menus a a compilation of grazing or sharing dishes, that come out from the kitchen whenever they are ready, a bit like tapas. Alternatively you can have their new tasting menu.
The sound of the dishes was fantastic, some different and exotic ingredients, with a big focus on wild foods and foraging. We decided to go for several of the small plates from the grazing menu (with the idea of trying as much as possible of course!)
I had one of their new mocktails from their drinks menu – I think it was called a Bramley Sour – and it was absolutely delicious. Lee went for a beer from their small but well thought out selection.
Here's a run down of what we ate;
Tarragon polenta crisp, pickled wild mushroom, goats' curd, baby aubergine, tahini & petals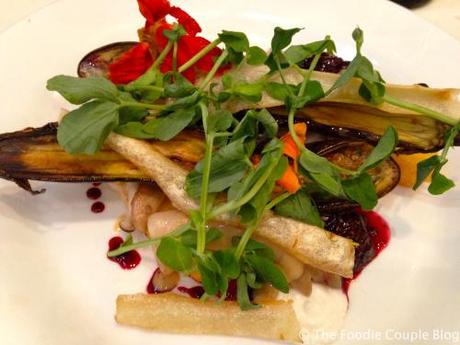 Peanut, caramelised parsnip, plantain fritter, chickweed, pickled shallot ring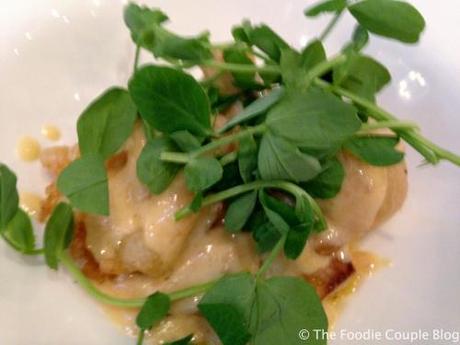 Crispy potato & Old Winchester dumpling, herbed sauce, toffee apple, mead, reduction, caramelised celery & foraged herbs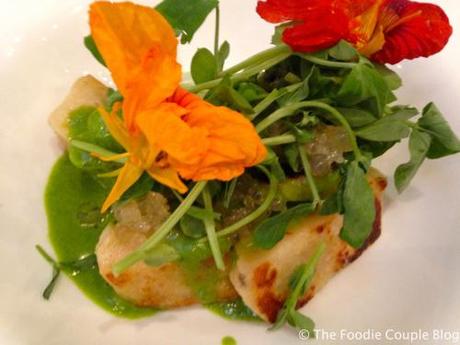 Garden Pea Mousse, Black Sesame Crisps, Broad Bean, Yorkshire Fettle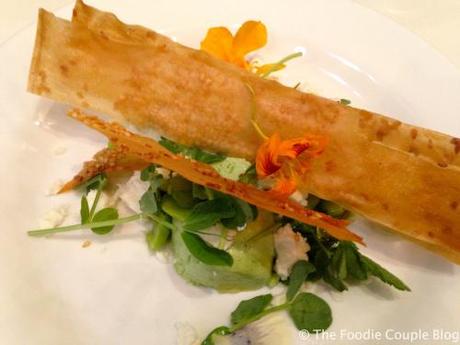 Spiced Laksa Sauce, Baby Heritage Potato, potato crackling, carrot seedlings, breakfast radish, aliums.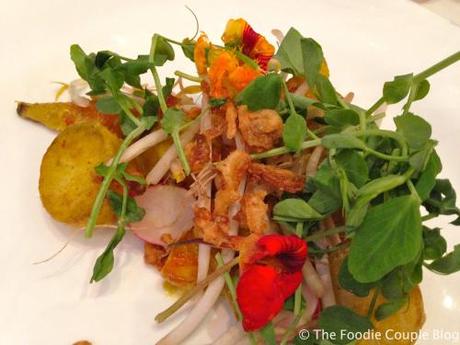 Cream of Celeriac, Pearl Barley, Pickled Kohl Rabi, Bramley, Blue Cheese Beignet, Charred Onion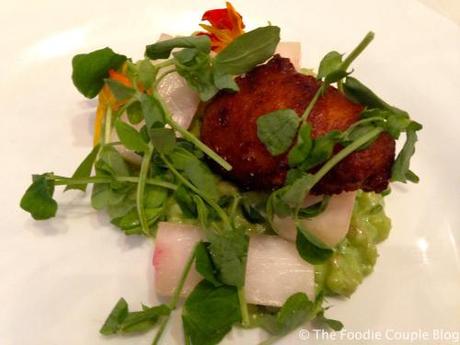 I couldn't get over how much I enjoyed the flavours of all the dishes. There were some fantastic elements such as the pickled kohl rabi, the laksa spiced potatoes, potato crackling & tarragon polenta, I could go on and on! The textures on each dish were so varied and balanced and they really showed off vegetarian ingredients to their absolute best.
Desserts were also very scrummy, although in my opinion not quite as good as the mains.
Peanut brittle, slow-roast pineapple, white chocolate crème fraiche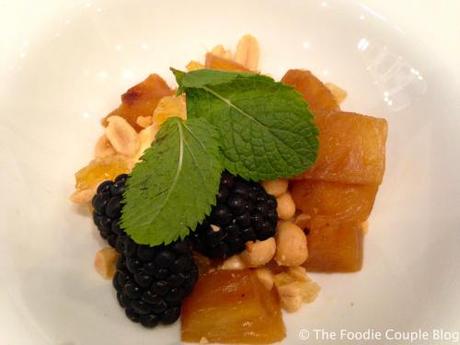 'Allotment Aero'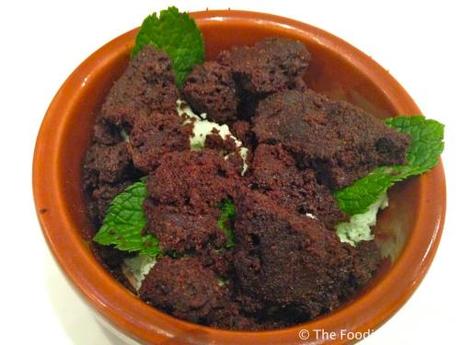 The only tiny comment I have on the flip side, was that the dishes were all served on large full size plates, and as the dishes came out of the kitchen as they were ready (no issue with this), we did struggle at some points when there were 3 on the table at once, rushing to try and finish a plate so it could be cleared before the next one appeared. Smaller plates would make it a bit more manageable.
I'd thoroughly recommend Bistro 1847 to vegetarians and non-vegetarians alike, their ethos and execution are excellent.