Well, hello there!  I'm back with a little sneak peek of another amazing collection from LOTV.  This collection has a few Bococo girls and some adorable new animal characters! The new release will be coming out April 16th, so mark your calendars.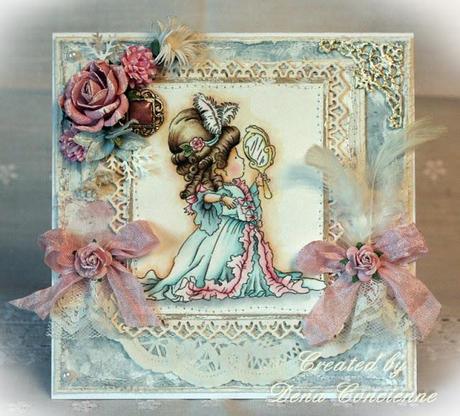 This sweetie is called "Looking Glass".  Just look at her cool dress and the feathers in her hair haha!
I decided to do a shabby chic look for this one.  I started out with a sketch from Crafting Life's Pieces, but then I didn't like how I used certain elements, so I took it apart and changed it up.  I like how she had little bows on each side of her sketch.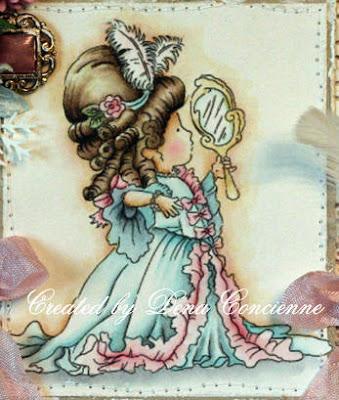 I colored her with distress inks as usual.
My Frantage embossing enamel came in!!!!!!! This one is called Shabby White.  For those of us in US, I got mine from Frantic Stamper.  I know others carry it, but I love shopping her store, she has A-Z in supplies!!!  I just used some embossing ink on a gold metal corner and then heat set from the bottom.  GORGEOUS!!!!! Thank you so much Tracey for showing me this product!!! Super pretty look.  Tracey has a gorgeous blog, you may need to check it out!!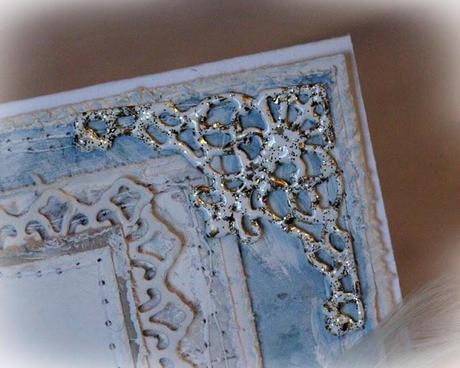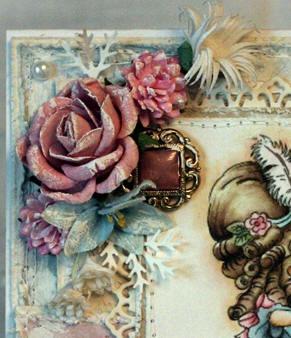 Here's my flower spray given a bit of dusting with some acrylic white paint to tone it down.  The metal piece is from a CTMH package of buttons from ions ago.  Glad I am finally able to use it haha!
Oh, and in case anyone was wondering the frame around the image is a Crealies die.  I just wrapped it around.
Thank you for stopping by!  I guess I too will have to go to Bloglovin, I really wish they would just leave it as is, oh well........
Have a wonderful day crafty friends!
Dena