NeoStrata is one of those recognizable brands you can see in most major cities around the world, New York, London, Hong Kong and Sydney are just a few to mention where I have passed the isles of the beauty world and always seen the brand. The latest editions to the NeoStrata collection are NeoStrata Enlighten Ultra Brightening Cleanser, NeoStrata Enlighten Illuminating Serum and NeoStrata Enlighten Pigment Controller, and I decided it was time to try this time tested brand after some time in the Australian sun.
NeoStrata Enlighten Ultra Brightening Cleanser, is the first step and it is surprising to me how many skin care clients I meet who always try and disregard the cleanse, it is with this step that you begin an effective anti-aging regime for the promotion of bright, even skin tone. This cleanser is a key to helping prepare skin for maximum effect of subsequent treatment products in this series Neostrata Enlighten range. The cleanser does not strip in the skin in anyway, a refreshing start to morning, apply a moderate amount to wet skin and massage gently to cover the entire face rinse with water and repeat again in the evening and as with all good cleansing routine two step cleanse is the best.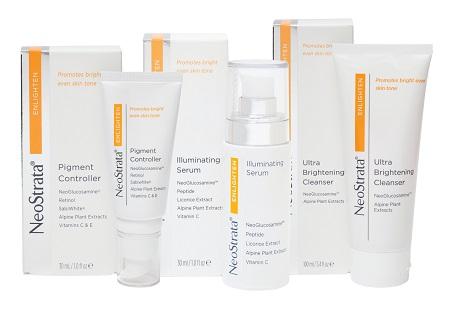 A new generation of skin brightening products – NeoStrata Enlighten
A new generation of skin brightening products – NeoStrata Enlighten
The point of any serum is to quickly deliver a power boost to the lower level of the in the skin, the formulation of a serum has such small molecules, to pass into the cells and deliver great ingredients, this serum is very fine, with no less than 12 active brightening ingredients that also work to inhibit melanin production 6 pigment control systems to help break up and reduce the appearance of existing pigmentation and discourage new dark spots from forming. I used one or two pumps depending on how my skin felt, and I would gently tap the serum over my skin, not rub or massage into the skin. Using this twice a day after each cleanse maximizes your routine.
The final step is the NeoStrata Enlighten Pigment Controller a combination of highly effective and beneficial substances causes increased cell renewal and reduces hyperpigmentation. This unique product contains the clinically proven technologies for the control of pigmentation and protection against the emergence of new spots. A few familiar ingredients are in this effective product such as retinol and stabilized Vitamin C increase for cell turnover and to aid in diminishing discoloration. Another star ingredient is SabiWhite, a proven alternative to prescription strength hydroquinone which helps lighten existing pigment and prevent new dark spots from forming. The texture is light and in no way heavy so that application over the serum just works really well.
A new generation of skin brightening products – NeoStrata Enlighten
Each layer of NeoStrata Enlighten works to a different goal but all three products interlink to produce the results of a clinically proven brighter and more even skin from 4 weeks. The price point is outstandingly affordable considering the technology and research that the brand has gone into; I really saw a difference in my skin, far clearer, brighter and improved texture.
This is a powerful line, Enlighten is the advanced skincare range with next generation brightening and anti-aging ingredients to combat the signs of pigmentation, sun damage, aging and sallowness, from NeoStrata – the dermatologists who created and introduced AHA's to anti-aging. NeoStrata is available in Priceline, Chemist Warehouse and other leading pharmacies. Visit www.neostrata.com.au to find your closest stockist. RRP: Ultra Brightening Cleanser – $40.75 (100ml) Illuminating Serum – $60.95 (30ml) Pigment Controller – $50.95 (30ml)