The story of How To Be A Likeable Bigot: A Handbook For The Savvy Survivor is a very unique kind of irresistible creativity coming from Naomi Datta. Once started reading, I couldn't drop it until I reached its last page and finished reading it. I could very easily correlate it with my years spent in the corporate world and the bigots who used to have a tough time in smooth sailing. I think every such a person in the corporate who craves for a respectful survival without contributing much to his job must immediately grab this book. The story has all kinds of motivation, encouragement, tips, and tricks to achieve heights in the field. For others, it would be a good time to understand the bigots and their philosophy of cunning survival in their respective corporate world.
The writing style of the author is fabulous. It's a rare combination of wittiness in the writing style and wisdom presented in such a creation with a lot of juice consisting of humor and the harsh reality of the dirty side of the corporate world. In fact, it's an indirect blunt satire on the people in the corporate world who in reality do nothing yet achieve a good amount of praise from their bosses and betterment in their careers.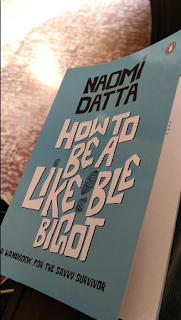 What I liked most is the crispness and clarity in the author's writing in presenting reality in a very different way. There's a lot in the book as a takeaway for its readers. Firstly, it's a good combination of humor, wits, and realities of the corporate world. A one of its own kind of book that I can read again and have the same amount of fun. That is the beauty of this book. This book, in fact, comes out with making bigotry an art to win games in a corporate and gain recognition despite keeping yourself away from delving into any kind of seriousness towards your job and job requirements.