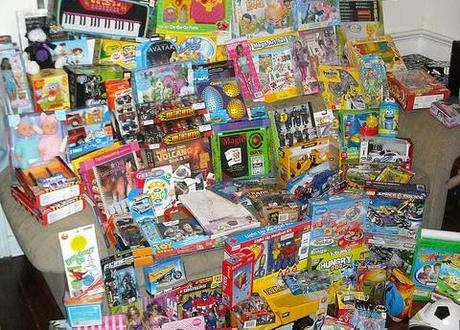 Toys, toys, toys. Photocredit: dingler1109 http://www.flickr.com/photos/nolarisingproject/5259138499/sizes/z/in/photostream/
Do you remember Verucca Salt, the girl in Roald Dahl's Charlie and the Chocolate Factory? She wanted everything, got everything, and came a cropper. Well it looks like Britain's children are fast turning into Salt clones, as a Unicef (the United Nations Children's Fund) report written by Dr Agnes Nairn comes after another which claimed that British children are the unhappiest amongst their peers in industrialised nations. That report, in 2007, caused David Cameron to create the phrase "Broken Britain".
Nairn's, which interviewed 250 children across Britain, Sweden and Spain, says that Brit kids are also spoiled rotten by parents who make up for lack of actual interaction with sacks of commercial goods. According to Paul Bingham in The Daily Telegraph, Unicef also said that this obsession with buying was "one of the underlying causes of the riots and widespread looting" which happened in England in August. Unicef has also called for the banning of advertising aimed at children under 12.
The report blames "brand bullying", and also says that such "compulsive consumption" was not present in Spain or Sweden. Most children, it seems, would rather spend time with their friends and family and run around outside. Bingham reported that in Sweden family time is "embedded into the 'natural rhythm' of daily life", whilst in Spain "children enjoyed more attention from their mothers and wider family circle." British parents, however, seem to have "given up".
"It is vital that those in power listen to what children and their families are saying about life in the UK. The government needs to make sure parents earn enough to spend fewer hours in work and more time with their children, protect children's play facilities from spending cuts and consider reforming the laws controlling advertising to children," said David Bull, Unicef's UK director.
So many products, so little time. In her blog on the Unicef website, Dr Agnes Nairn said that consumerism was entrenched in our society, and had an effect on children with far-reaching consequences. It's not that children are by nature acquisitive: they know they don't need an iPod to be happy, but time with family and friends. What happens is that they become "enmeshed in an all pervasive arms race" to gain the latest gadget. What children and parents need is time. There are too many products that become obsolete, and there is too little time spent with family.
"Parents in the UK almost seemed to be locked into a system of consumption which they knew was pointless but they found hard to resist," said Agnes Nairn, the report's author.
Vested interests? "My word," said Tim Worstall on his blog. "So, who wrote this report?" Agnes Nairn is a consultant who works with companies that want ethical marketing strategies to children. This hardly makes her impartial. Of course she has a financial interest in this. "Oh, rightie ho then."
Putting up a front. "No matter how much money they have, people still manage to put up a front of like they have money. You could live in a dustbin, and as long as you have an iPod, a BlackBerry, then you're accepted," a British 14-year old told the report, and was quoted on The Financial Post
Right vs left. dawnfromlondon on The Daily Telegraph asked how many of the rioters had parents who worked long hours: "From the reports I've seen the majority come from homes where parents are on benefits." Q46 on the same site said "Materialism has been a feature since Man wanted a better cave, a better loin cloth, a gold buckle." Characters on The Guardian said "We should return to a four day week"; MediumSam on the same site went even further and suggested that "If everybody just bought what they needed (some clothes, food etc) then everybody in this country would only have to work 2-3 days a week."