We were visiting my in-laws last week and the Mr. and I took a much needed day trip to spend some time alone. Besides, Little M adores his grandparents, I don't even think he knew we were gone!
On Sunday we drove to Richmond, the capital of Virginia. I know that it was named after our dear Richmond in England but I wasn't prepared to see such similarities in the scenery. The likeness is just uncanny. I hadn't been there in years, and to be honest I didn't remember it much.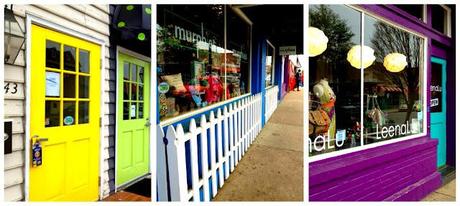 Colorful shops in Carytown
The small Southern city-town central area is full of character, and I loved the seeing the old houses and flats, the brick sidewalks and buildings along the "high street" that is Carytown.
It's not called a "Mile of Style" for nothing. There are a variety of shops, boutiques and restaurants along Cary Street and they were all willing me to visit them.I hit a few boutiques including one called EuroTrash.
Despite the unfortunate name, they carried some of my fave brands that I shopped in London such as Desigual, Ted Baker and Yumi and wouldn't you now it, they were playing Girls Aloud on full blast. Tee hee.
I am not a fan of all new developments and houses, I like things with a bit of history and character and Richmond didn't disappoint. What really made it fun was all the color up and down the main street.
The Mr. and I took lots of photos (but he didn't want to be featured) and my green jeans looked great against the orange, yellow and pink walls!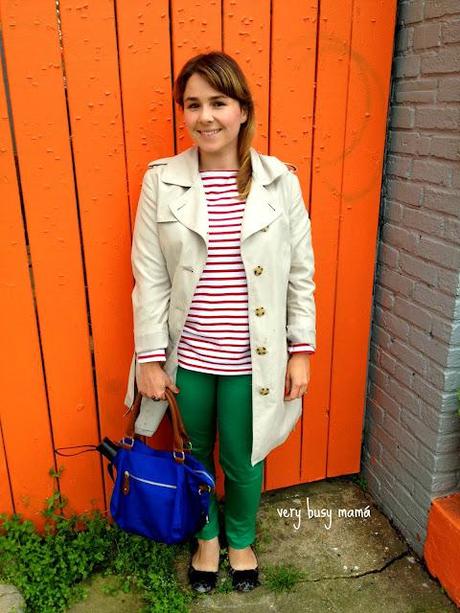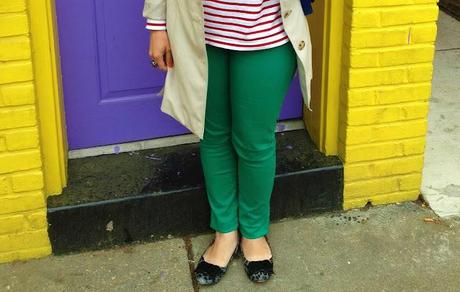 Can you see my tan line on my feet?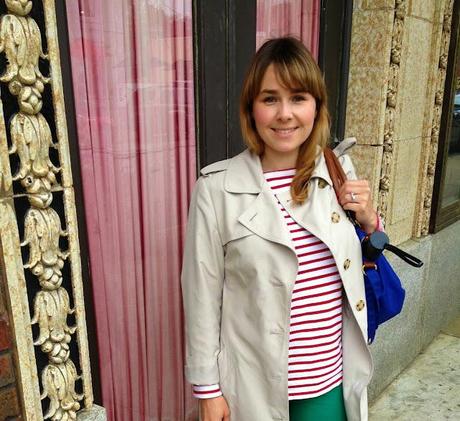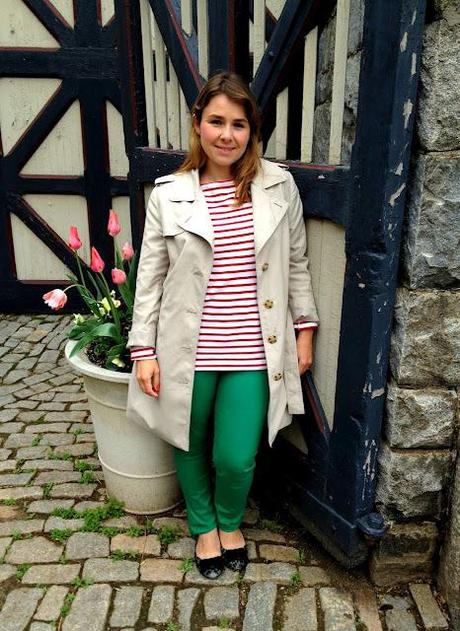 The day was damp and chilly and it wasn't doing my hair any favors, but I managed. We had brunch at a French café, visited Maymont Mansion (the grounds of the mansion looked EXACTLY like Richmond, England) then went to afternoon mass at the Cathedral.
Thankfully I dressed relatively warm (except for the flats) and had my umbrella in my bag. The day had a very London feel to it and the Mr. got a little bit homesick. It reminded us of our rainy day walks at Chiswick House grounds and we suddenly felt really sad. 
Funny how that works.
Another lovely day out, just mi amor and I!
Shoes: Clarks as seen here Jeans: Old Navy Top: Uniqlo (love this store!!) Mac: Marks & Spencer as seen here Bag: Old Navy as seen here