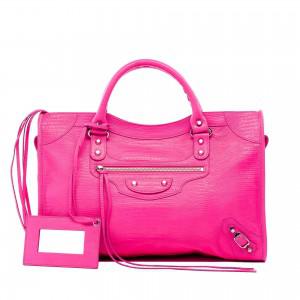 Luxury Label-The Balenciaga Neon City Bag
Image source Balenciaga
Ahhhhhhhh the IT bag. There is a certain satisfaction in splashing out and spending your hard earned cash on a shiny new designer handbag. For someone who likes the finer things in life, there is a certain delight in embarking on any journey with your favorite piece of arm candy nestled in your lap. Owning an IT bag is the ultimate luxury for many but with so many beautiful bags on the shelf, choosing a designer is not a decision to be made lightly.

Here are the top ten IT Bags that tick all the boxes:
• Balenciaga City Bag
• Chloe Paddington Bag
• Dior Saddle Bag
• Fendi Bagguette Bag
• Hermes Birkin Bag
• Luella Giselle Bag
• Louis Vuitton Murakami Bag
• Marc Jacobs Stam Bag
• Mulberry Bayswater Bag
• YSL Muse Bag
These coveted creations have been spotted on the shoulder of famous fashion icons and supermodels alike but for mere mortals like us, some of these bags have a waiting list of up to six years!
Whatever luxury label you decide on this season, remember to treat your most precious possessions with the care they deserve. IT bags are delicate creatures and it is advisable to treat your bags with a product that will protect it from the elements. Avoid overfilling your bag and be wary of laying your bag on any old surface. Unfortunately while you may be extra careful with your designer handbag, over time it will start to show signs of age. Before you rush into restoring, rejuvenating or repairing your bag, seek professional advice that applies to your specific brand.