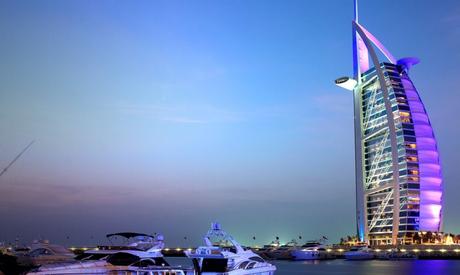 One of the best ways to be enthralled by tall, gleaming skyscrapers of Dubai is from the air. Fly on a seaplane along the coast or take a helicopter ride around the city for a more dramatic experience.
You'll be able to view sail-shaped Burj Al-Arab, man-made islands like The World and The Palms, Burj Khalifa with its tip in the cloud and spectacular buildings along Sheikh Zayed Road. Find out more on Dubai's famous attractions by reading further!
The Dubai Museum
Travel back in time and know about Dubai's history only at the Dubai Museum. It's a fully air-conditioned sanctuary so you can beat the heat as well. It lay beneath the marvellous ­Al-Fahidi Fort; one of Dubai's oldest building originally constructed in 1787, however, has been renovated for modern times. The city itself was established in the Bronze Age so you'll find here a lot of alabaster relics from 3,000 BC. Do check the first written reference to trading port and sleepy fishing village by Gasparo Balbi in 1580 who was a Venetian jeweller.
The Bastakiya
Some of the oldest buildings are housed in Persian quarter known as Bastakiya; it's hardly at a five minutes distance from Dubai Museum. There are only a few historic buildings as original settlers were mostly nomads who lived in tents made from animal skin. Whereas fishermen and pearl divers dwell in barasti (palm-frond huts) by Dubai Creek!
Persian merchants from Bastak, southern Iran, were the first to construct solid buildings you'll find here. The home boasts barjeel (wind towers that were early means of air-conditioning) made from coral, sand and gypsum. It was during the last decade when government restructured these buildings into art galleries, boutique hotels and cafes, thus saved them from crumbling.
The Sheikh Mohammad Centre for Cultural Understanding
If one wish to seek knowledge about Islam and Emirati culture, then this particular place is a must visit! Located inside a neat, double-storey courtyard residence, the Centre for Cultural Understanding offers a lot to its visitors such as walking tours of Bastakiya, Jumeirah Masjid trip, Emirati cultural feasts, Arabic classes and much more. For those who wish to utilise their vacations well and actually learn something, this is the perfect spot.
The Shindagha & Bur Dubai Textile Souk
Take a five-minute walk down the Dubai Museum and you'll find yourself in an amazingly new world! Yes, it's the breezy Bur Dubai textile souk while another 10 minutes' walk would take you to the oldest part of Dubai, the waterfront of Shindagha; an early fishing site.
The place seems to gather quite a cheerful crowd in the evening whereas the holy month of Ramadan is absolutely amazing with many different fun activities.
The Al-Ahmadiya School & Heritage House
The first ever school in Dubai was built in the 1890s named as Al-Ahmadiya that's today a museum of education. Adjacent to its courtyard is another building known as the Heritage House that was also constructed in 1890 with impressive patio and a vast number of neatly adorned rooms.
Beaches
Last but certainly not the least with fun activities to do in Dubai is a visit to many different beaches surrounding the city. Visitors from around the world love to soak themselves in azure waters along golden sands. The beach strip mostly houses five and seven-star hotels plus many street vendors so you'll enjoy a lot here!
The list goes on but for now, that's most of what you'll enjoy in Dubai. Till next time!