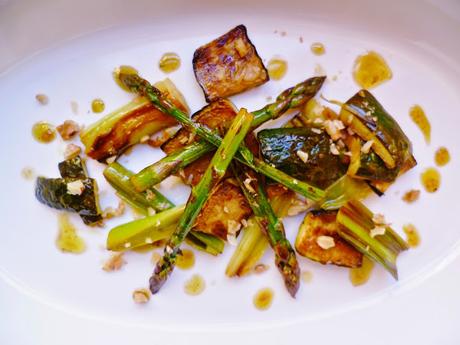 chargrilled courgettes, leeks and asparagus with lemon and walnuts
You know you've had a good night out when you wake up the next morning having lost your voice with a few hazy memories of floating home fueled by far too much ale . . . or perhaps that's just me. (I don't get out much these days!)

What was more perplexing was rummaging around in my bag looking for my phone to discover several leeks and a rather large courgette. Er . . . what on earth happened last night?
Of course it then came flooding back.
Last Friday we hung out at The Grafton in Kentish Town, a fantastic local pub, a proper London
boozer, with good beer and a lovely atmosphere.
Several of my friends had been traveling around the world, on their very own "awfully big adventure" from South America to Australia including the Galapagos Islands. We had lots of catching up to do; I was expecting to look at lots of pictures of animals in their natural habitat . . . 
I was also planning on working my way through The Grafton's real ale menu, but ended up just sticking to the rather fabulous Purity's Mad Goose, zesty pale ale - a hint of orange and hoppiness, which was perfect on a humid late spring evening, particularly when there was so much talking going on.
What actually happened was I spent considerable time admiring Colin's buzz cut and clean-shaven good looks, comparing it to his i-Phone snaps of his backpacker chic long hairdo and his wispy beard, looking a bit like some Oriental mystic - neither image at odds with The Grafton's usual clientele of locals, workers and craft beer indie-hipsters.
We spent considerable time bemoaning the election result (suffice it to say we are all gutted . . . although I still remember 1992, so I would say I'm used to a bit of disappointment. Although after 1997 I'd advise "be careful what you wish for". But all-in-all we were all a little melancholy. This called for more beers. And yet more beers as we drowned our sorrows (and I tried to stop feeling so old and sorry for myself!)
But in the hubbub of a good night out at The Grafton, we'd spotted a somewhat raffish young chap wearing what looked like a greengrocer's cardboard box slung around his neck, so that he looked like a rather disreputable cigarette girl . . . So of course, we had to ask. Why?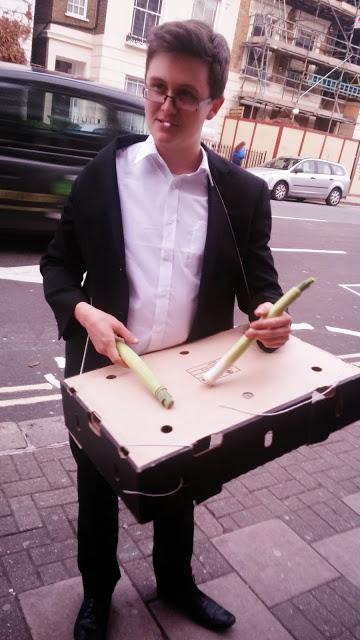 hello Tom! (and his amazing leek percussion!)
So this is a shout-out and a thank-you to Tom Lee, percussionist and founder member of The London Vegetable Orchestra. Hello Tom!
We learned that there is hidden potential in vegetables; that they are not just for eating. (Who knew? Did you know? I didn't!)
There is a pandemonium of sound just waiting to be discovered: a cacophony of carrots, a rhapsody of rhubarb, a tympany of turnips, a rumpus of radishes and a babble of broccoli . . . well you get the picture. Truly, it is an entertaining case of home-grown silliness. An absolute hoot!
Some of you might be aware that last year I wrote a series of columns for The Guardian newspaper, as The Dinner Doctor, on what to do with leftovers. This was never just a whim on my part. Preventing food waste is a big part of my life and how I think. So needless to say, I had to ask "what do you do with the veg when you've finished playing with them?" This is how I ended up with the leeks and courgette. I think there may have been more, but by then we were all a bit tipsy and giddy with the eccentricity of it all that some of the veg may have made a bid for musical freedom or perhaps just on to their next gig.
But never mind, I had the perfect recipe for my newly acquired vegetable swag. 
Thank-you Tom and The London Vegetable Orchestra. Recovered vegetables have never tasted so good.
Serves 4
Skill level: Easy
ingredients: 
2 tbsp walnuts, toasted and roughly chopped (I prefer hazelnuts, but walnuts were what I had in my pantry!)
5 tbsp olive oil
juice of 1 lemon
1 garlic clove, very finely chopped
salt and freshly ground black pepper
2 leeks, white and pale green parts only, halved lengthways and cut into chunks
2 courgettes, halved lengthways and cut into chunks (I deseed mine too)
1 small bunch of asparagus, trimmed
a small handful of fresh herbs, roughly chopped, such as flat leaf parsley, thyme or basil, (optional)
directions:
Preheat a griddle pan or large frying pan over a medium heat.

Toast the walnuts by dry-frying them in a small frying pan over a medium heat, shaking the pan until the nuts have lightly browned,. Set aside to cool before roughly chopping.

Prepare the vegetables, separated out. Add 1 tablespoons of the olive oil to a mixing bowl and toss the courgettes, ensuring they are well-coated. Season with a little salt and pepper.

Tip into the griddle pan and fry for about 8 to 10 minutes, until lightly charred and beginning to soften.

While the courgettes are cooking toss the leeks and asparagus in the remaining tablespoon of oil and lightly season. Add these to the pan to cook for about 5 to 6 minutes. Add the garlic a few minutes before the end of cooking.

Make sure that you turn the vegetables often to prevent them burning. You can cook them for longer over a lower heat if you prefer softer vegetables, but I like mine with a bit of bite.

Combine the rest of the olive oil (3 tablespoons) with the lemon juice, salt and freshly ground black pepper.

Tip the cooked vegetables onto a platter. Drizzle with the dressing and sprinkle with the toasted chopped nuts and herbs, if using.