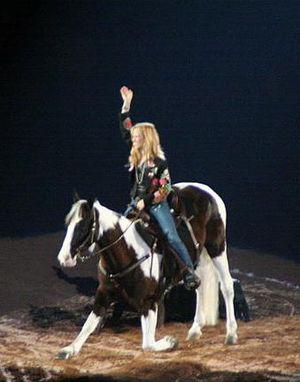 Sheryl Crow at the Houston Livestock Show and Rodeo in 2007
If you have lived in Houston, TX for any length of time, you will know that every year in the spring the Houston Livestock Show and Rodeo comes every single year. Also, every year they have the top acts within country, pop, r&b, and tejano. It also includes such things as a trail ride, where people ride in from various outskirts of Houston and camp out in memorial park, a calf scramble, a carnival, honkey tonk with live music and of course, the main stage where all the headliners go.
Some of these past perfomers have included Trace Adkins, Reba McEntire, Beyonce, Bon Jovi, Cheap Trick, Ray Charles, Dixie Chicks, Vince Gill, Amy Grant, Jackson 5, Janet Jackson, Los Kumbia Kings, KISS (yes you just heard me say KISS was at the rodeo!), Petra, REO Speedwagon, Willie Nelson, Darius Rucker (former lead vocalist for Hootie and the Blowfish), the late tejano legend Selena, Blake Shelton, Miranda Lambert, Randy Travis, Trisha Yearwood, Taylor Swift, Gretchen Wilson, and the Zach Brown Band.
Quite a lineup has come over time don't you think?
This year's lineup includes the following:
Alabama

Kid Rock (don't miss)

Lady Antebellum
John Legend
Luke Bryan
Big Time Rush with China Ann Maclean
Enrique Iglesias
Blake Shelton

ZZ Top (don't miss)

Reba McEntire

(don't miss)
Chris Young
Duelo
Zach Brown Band

Miranda Lambert (don't miss)

The Band Perry
Jason Aldean
Train
Brad Paisley
Alan Jackson
However, if I were in charge of the lineup I would add a few more people:
Trisha Yearwood
Gretchen Wilson
Casting Crowns (for a special KSBJ day or go Christian day)
Jeff Foxworthy, Bill Engvall, and Jerry Seinfeld for a special entitled "North meets south and all in between" comedy special)