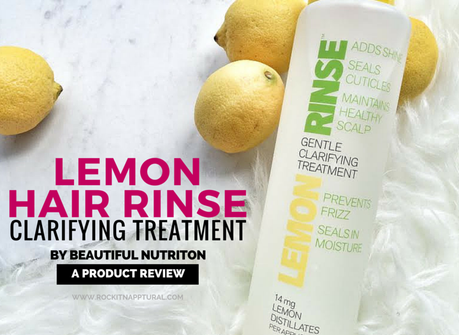 Beautiful Nutrition Gentle Clarifying Lemon Hair Rinse Review
Anyone who knows me will tell you that my favorite summer drink is strawberry lemonade. I muddle my own strawberries and juice my own lemons because I can't deal with all the artificial colors, flavors and chemicals found in many store-bought lemonade drinks. That's pretty much how I feel about my hair products, what I put
in
my body is just as important as what I put
on
my body.
When I first discovered the Beautiful Nutrition Gentle Clarifying Lemon Rinse Hair Treatment, I immediately glanced over the ingredients. The hair rinse formula is free from parabens, BPA, DEA, synthetic colors, or phthalates.
Beautiful Nutrition is also a cruelty-free company, so there's no testing done on bunny rabbits or helpless little kittens.
I immediately fell in love with the fragrance of the hair rinse. It has a refreshing lemon citrus aroma, but because it's made completely with plant derived ingredients it doesn't have a strong, artificial odor to it. It isn't overpowering at all, and it left my hair smelling very clean and fresh.
Read: 7 Herbal Hair & Scalp Rinses for Fabulous Natural Hair
The lemon rinse is formulated with lemon extract to help clarify the hair from dirt and product buildup. It is also formulated to restore the natural luster of the hair and balance its natural pH-levels. This helps to seal the cuticle layer of the hair, promoting shinier, weightless hair with less frizz.
It also contains vegetable glycerin, silk amino acids, Vitamin B9, lemon peel oil, lemon oil, fruit powder, and lime peel oil.
Beautiful Nutrition affirms that their clarifying treatment will return your hair back to its "natural glory" by gently cleansing, toning and restoring shine to the hair. The Lemon Rinse Clarifying Treatment:
Gently removes product buildup that causes dulls hair
Flattens the cuticle layer of the hair
Balances the scalp for healthier hair growth
Boosts hair volume
Safe to use for all hair types
Also safe to use on color-treated hair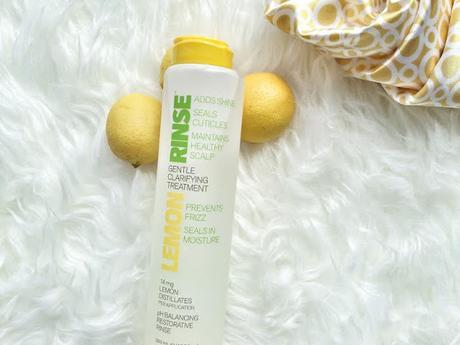 The hair rinse has a light, gelatinous consistency. It almost feels like a watered-down shampoo when applying it to the hair.
The clarifying rinse doesn't lather, but when rubbing it in your hair, the sound it makes may trick you into thinking that it is lathering. It even felt like it was lathering, but it never actually produced any bubbles.
It was a really weird feeling and you would probably have to experience it to understand it for yourself. The product was then rinse from my hair with cool water and I used my SKO Hair towel to dry the excess water.
My hair felt nice and soft, but I was more in love with the fragrance.
Lemon is definitely the star player in this concoction and it smells so divine. It's great for using in the morning because the citrus fragrance is very bright, uplifting and stimulating to the senses.
5 Reasons Why Lemon Peel Oil is Great for the Hair
Lemons are one f the richest source of Vitamin C which is excellent for nourishing the hair
Lemons strengthen the hair follicles and promote stronger hair growth
Lemons gently clean accumulated dirt, grime and dead cells from the scalp and hair
Lemons have anti-fungal properties which help combat dandruff and fungus of the scalp
Lemons provide relief for an itchy, irritated scalp
Read: 10 Ways that Lemons Can Boost Your Beauty Routine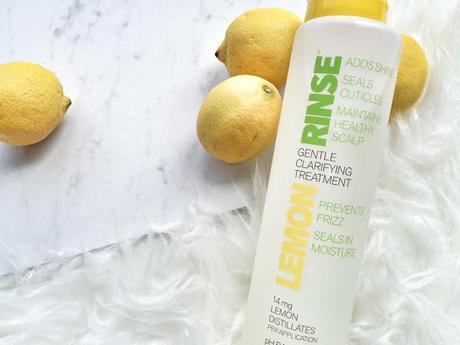 Beautiful Nutrition's Clarifying  Lemon Rinse Ingredients: 
Water (Aqua) (Purified), Glycerine (Vegetable derived), PEG-45 Palm Kernel Glycerides, Propoxytetramethyl Piperidinyl Dimethicone (and) C11-15 Pareth-7 (and) Trideceth-6, Silk Amino Acids, Citrus Medica Limonium (Lemon) Peel Oil, Folic Acid (Vitamin B9), Lysine (Amino Acid), Cysteine (Amino Acid), Citrus Limon (Lemon) Oil, Citrus Aurantium Amara (Orange) Peel Oil, Citrus Aurantifolia (Lime) Peel Oil, (Organic) Citrus Limon (Lemon) Fruit Powder, Hydroxyethyl Cellulose (Plant derived), Phenoxyethanol (and) Caprylyl Glycol, Polyquaternium-7.
Directions for Using the Lemon Hair Rinse:
After shampooing and conditioning as usual, thoroughly saturate your hair from root to tip with the Lemon Rinse. Allow the treatment to remain for a few seconds before rinsing. Style as desired. Use once or twice a week to maintain optimal hair health.
To grab a bottle of the lemon hair rinse or to check out more of Beautiful Nutrition's hair and beauty products, be sure to stop by their website: www.beautifulnutrition.com.
Read Also: Marshmallow Root: The Ultimate Natural Hair Detangler
Sponsored by Beautiful Nutrition. All opinions stated are my own. 
All photos belong to Rockin It Napptural.