As a lifelong collector and longtime genealogy lover, one of my favorite hobbies since the advent of eBay has been to find trinkets up for auction that might have some relevance to my family history, then actually be able to make a connection.  This hasn't happened too often (Johnny Lanning's autograph was one of the first), but when it does it's well worth the time and whatever the small cost of the item.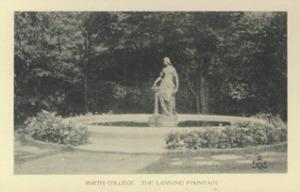 The old postcard that started the search…
Years ago I came across an old postcard on eBay of the Mary Lanning Fountain at Smith College in Northampton, Massachusetts, a town I used to hang out in a bit when I was in grad school in nearby Amherst, oblivious to the existence of the fountain at the time. It turns out various generations of this postcard are readily available on the site on an ongoing basis. However, I knew nothing about the origins of the fountain or who Mary Lanning was, so I bought the card and filed it away as one of my "future projects."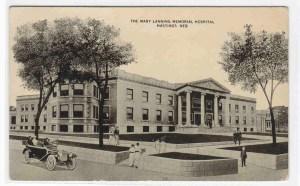 One of the many different Mary Lanning Memorial Hospital postcards I've come across over the years.
Not long afterward I acquired another postcard, this one of Mary Lanning Memorial Hospital in Hastings, Nebraska. I was sure these had to have some connection, but I didn't know what it was. Another addition to the future projects folder.
When I found a 1932 Wedgwood transferware plate depicting the Mary Lanning Fountain at Smith College, a plate that was already 80 years old when I won it last year in another eBay auction, I decided it was time to find out the backstory, and then to see if I could make a connection to my own Lanning tree.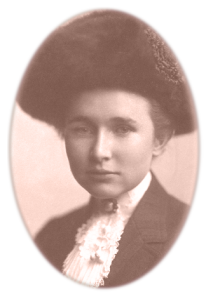 Mary Lanning, 1888-1910
The Mary Lanning story was pretty easy to uncover. The connection to my tree wasn't nearly as easy.
It turns out Mary Lanning was a student at Smith College in 1909, planning a career in social work, when she fell ill while home for the holidays. She never recovered, passing away in January, 1910.
Her father, William Holmes Lanning, a successful partner in a mortgage company and a former mayor of Hastings, almost immediately set about to preserve her memory.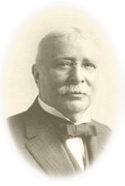 William Holmes Lanning
Just weeks after his daughter's death, he wrote to Smith College President L. Clark Seelye in March, 1910 proposing the donation of a fountain to the college in her memory, one that would be a replica of the one he had commissioned for the Hastings cemetery where his daughter was laid to rest. In the ensuing months Lanning exchanged several letters with Seelye, eventually resulting in what is now the Mary Lanning Fountain at Smith College.
The Lannings' largesse did not stop there, however. In addition to the fountain, the Lannings created the Mary Lanning Scholarship Fund at Smith to benefit a sophomore from west of the Mississippi each year, preferably from Nebraska. The first recipient of this award was Margaret Koehler, Class of 1912, who was Mary's roommate.
In their hometown of Hastings, where Mary had died in large part due to the lack of adequate healthcare facilities and practitioners, the grieving parents set about rectifying that situation. For the next several years, they visited hospitals throughout the United States and Europe, and in January 1915, five years after their daughter passed, Mary Lanning Memorial Hospital was dedicated. The new facility included 50 beds, and a training school for nurses opened at the hospital shortly thereafter.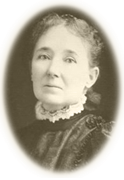 Alice Tomlinson Lanning
According to the Mary Lanning Healthcare website, Alice Tomlinson Lanning passed away in 1918, never fully recovering from the loss of her daughter, and William Holmes  Lanning died due to complications following surgery in January 1919 at the very hospital he had built, nearly nine years to the day after his daughter passed.
As a part of his estate plans, William left behind an endowment fund that provided for the construction and furnishing of a new maternity wing at the hospital. In 1926, the Alice T. Lanning Obstetrical Wing opened. That endowment also provided for the construction of a hotel (later a dormitory) for young women, known as Maryland.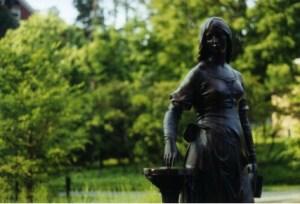 The Mary Lanning Fountain at Smith College includes a replica of the sculpture "Marguerite," by the French sculptor Jean Gautherin.
After much digging and trying to connect the dots, last week I finally stumbled across the genealogical connection I'd been searching for. It turns out William Holmes Lanning, Mary's father, was a descendant of the same New Jersey/Ohio Lannings from which I descend. His great grandfather, Richard Lanning, is my 4x great grandfather. It appears Richard and his wife, Julia Ann Miller, had a whopping 11 children between 1752 and 1773, when Julia died (perhaps delivering #11, for all I know so far). Among those 11 kids were Richard (b. 1763) and Isaac (b. 1766), brothers who both were born in New Jersey and later moved (presumably with the whole family) to Ohio, where a long line of Lannings mark the history of Guernsey County. Richard was William Holmes Lanning's grandfather, while Richard's younger brother Isaac was my 3x great grandfather, making William my second cousin, thrice removed.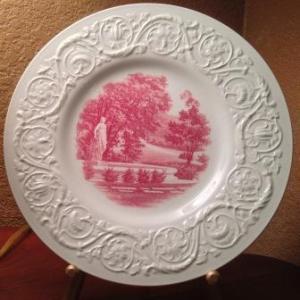 This 1932 Smith College Mary Lanning Memorial Fountain plate by Wedgwood now resides in my home.
It's a little ironic that I found this story of one couple's amazing philanthropic legacy up my tree, after spending so much of my career working in higher education and with nonprofit organizations to raise funds for capital projects and endowed funds much like the ones William and Alice funded a century ago.
Nearly 100 years after it opened, Mary Lanning Memorial Hospital today operates with 183 beds and is the largest employer in Adams County, in central Nebraska. The hospital complex now includes schools of nursing, radiologic technology, and respiratory therapy. More than 1,000 employees are part of a $35 million per year operation providing healthcare and medical training in the very town where Mary Lanning died due to lack of same.
Mary is well remembered indeed, both at Smith College and in Hastings, Nebraska; and her parents left quite a legacy in the Midwest. And now I have a new story to add to my family tree and to my professional pursuits…one that all started with a couple old postcards and a plate I found on eBay.