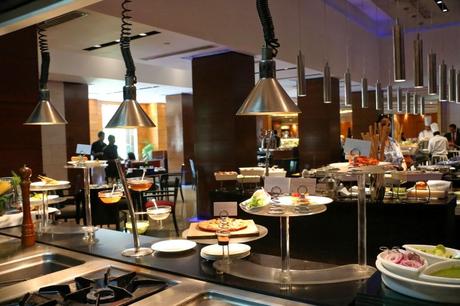 Sunday Brunches always bring in the pleasure of waking up late on a lazy day and enjoying the vast variety of scrumptious food in an cheerful ambience. New York Café Sunday Brunch is one such inviting place to dig into some delicious food and savour on cuisines from all over world. We reached by around 1 pm, and apart from the 3 bloggers tables, almost 80 % tables were full. People were already chit-chatting over beer and mocktails and had made themselves comfortable in the lively atmosphere.
The live music playing Phil Collins and Bryan Adams added to the whole mood and it just seemed like a place to be on a Beautiful Sunday Noon. The open chic restaurant has a theme based cuisine every day along with Indian cuisine which is a hit amongst Delhiites.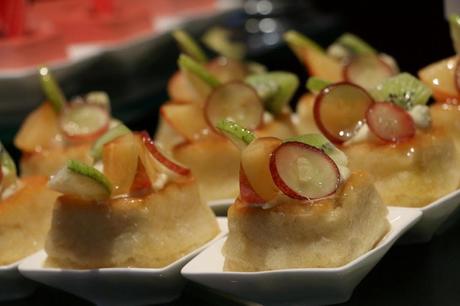 Sunday Brunches are a mix cuisine with soup, a huge variety of salads/starters, Mezze station, Main course ( Asian/ Indian ), The Live counter ( Pizza, Pasta, Shawarma ) and of course, the wide array of western and Indian desserts! The menu seemed huge, so we decided to start right away with the salads.
First on our table was served a chilled sparkling wine and white wine ! The staff courteousness and the efficient service is must mention. Our dirty plates were always replaced with the new ones every time we came to the table. The drink/ mocktail/ cocktail recommendations kept flowing and the staff seemed to enjoy their work throwing a cheerful smile throughout. And I would give a lot of the credit to the Chef Sreenivasan G who was on toes and seen everywhere around – At the live station, addressing the sous-chefs and chitchatting with guests. Humble enough to take suggestions, and thoroughly having a passion for food, he enjoys going out and trying different cuisines too!
Considerate enough to make sure we tried everything on the menu, he said he makes sure his guest should never go hungry! And catering to that customer satisfaction, they have introduced a on-the-go-breakfast counter in the lobby where they keep food items like croissant, puffs, tea, coffee just outside the lift early in the morning around 5 am. We thought this idea to be brilliant, and never heard before and give a 5/5 for this thought!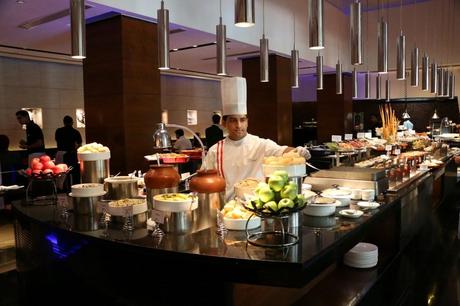 The salad section really looked appetizing ! There were individual portions of Cherry Tomato Gazpacho with Roasted Almonds, Asparagus and Mozarella Salad with Chilli Citrus Salsa and the "we-loved-it" Raw Mango Salad with Chilli and Honey brought in the perfect summer flavours. There were also On the Platter salads like Watermelon and feta with balsamic Caviar,  Fried Eggplant with spicy Peanut and Palm Sugar Dressing but the combination of Pomelo Salad with coconut and tamarind dressing was worth a try! It was a little too tangy for our taste, yet tasted refreshing!
In Non Vegetarian Salad, Maneesh loved the Prawn cocktail with Cilantro and Young onions and also the Chicken Liver Gateaux with Red Wine glaze. It was soft, flavourful and perfectly dressed ! The individual portions presentations were a treat to the eyes.
From the elaborate Chaat section offering Chole kulche, Aloo tikki, Papdi Chaat, Dahi bhalla, Dhokla and even Khandvi, we tasted the Gol Gappa. The water was a little extra salty to our taste. But the ladies seem to gather around the corner and enjoying aloo tikki and Dhokla. The Mezze Section had an eclectic menu of Babganoush, Hummus Beiruty ( mixed with tomato, onions and parsley ), Mastvakhyar ( Cream Yogurt, cucumber, raisin, sesame seed and olive oil )and Lubia Bi Zayt ( Tender beans in onion, garlic, tomato and olive oil ). All of it tasted divine with the fresh and soft whole wheat pita bread.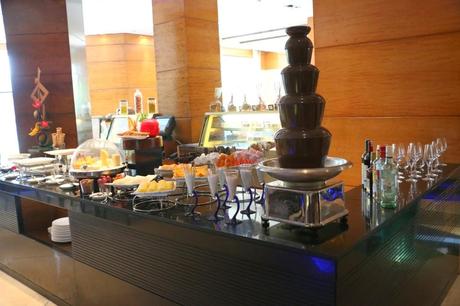 Then came on the table were crispy noodle and tofu vegetable rolls and paneer pakoras with green chutney. It was delight to see the pakoras had no sign of oil, and yet tasted great. And the pizza from the live station served all sorts of thin crust pizzas topped with chicken, pepperoni, tomato, capsicum, onion, mozzarella, Olives, Jalapenos…. There was also a wide range of choice in Pasta with sauces, but we didn't try that. A fresh watermelon and sweet lime juice gave a good break to our eating before we went to the Main course section.  
The main course variety is less as compared to the salads and others, but guess you are so full eating rest of the things that you don't have an empty stomach to try the main course. Nevertheless, Maneesh tried the Dum Gosht Biryani and Manglorean Fish Curry and he had his fingers ( fork and spoons!!! ) licking. I tried the Tomato Pudhiney ka Pulao which I found average but the Hyderabadi Mirch ka Salan is must try! The rest of the main course menu was good too.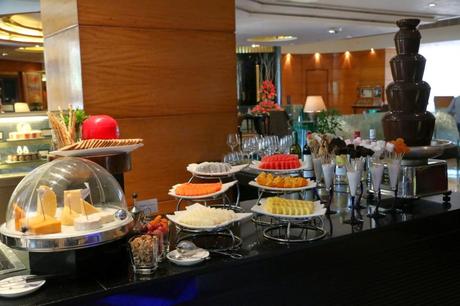 Worth a Mention from the Live Kitchen is also The Grilled Prawn with Mango Chilli Sauce and the Chettinad Spiced Chicken Satay with tomato chutney. And then we turned to the much awaited section and we were not disappointed ! There was abundance of it. I tried all the western desserts and Maneesh tried the Indian ones and we both were drooling ! The Tiramisu, the Newyork style based cheesecake, the Mango Passion Fruit Pyramid, The Orange Crème Brulee, Walnut Tart, Pumpkin Pie everything was tasted and every single bite tasted heavenly. But recommended is the White Chocolate Strawberry Bavaroise. Not only did it look terrific, it tasted out of the world. Maneesh loved the soft gulab jamun which had a dry fruit filling inside, and also the kalakand which was fresh and sugarfree !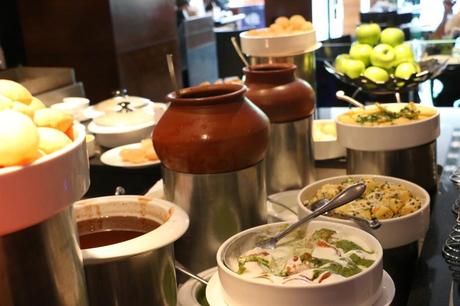 And yes, The Chocolate fountain with condiments and the marshmallows fondue made me a kid again. And for those calorie-watchers, there was even a wide variety of fresh fruits. We were so full that we had to skip the ice cream and the gelatos !  
We definitely recommend this Buffet for the variety of cuisine, the presentation , the food preparations and the staff service. We give it a 4/5.
Meal for two – INR 3500 ( Plus taxes )
Address : Radisson Blu Plaza, National Highway 8, Near IGI Airport, Mahipalpur, Delhi
Phone number : 011-33036298  
Picture Courtsey Radission Blu Plaza