On my birthday last August 25, social media representatives, including yours truly, were called on to meet with the outgoing Department of Tourism Secretary Alberto Lim. Discussed were the increased foreign arrivals for the first half of the year, the new "Pilipinas, Tara Na!" campaign, and the DOT Infoboard, and among other matters. Read more…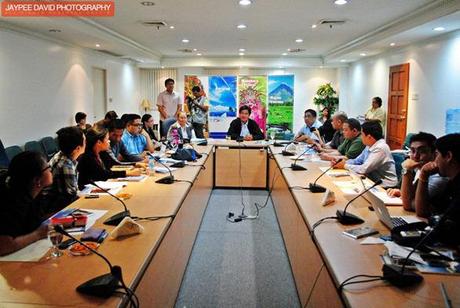 First, Sec. Lim eagerly reported a 12% increase in foreign arrivals for January to June this year compared to the same period last year. In all, there were 1.91 million visitors for the first half of the year. This figure is promising that the DOT is aiming to outperform 2010's arrivals of 3.52 million and even exceed the 3.74 million arrivals target for this year. 
The East Asian regional market had an increase in visitors by a total of 17.52%, with Korea, China, and Taiwan reporting the strongest gains. Further, the top five country markets with the most arrivals were reported to be South Korea, United States, Japan, China, and Taiwan.
The tourism department expects even larger gains with low cost carriers, such as recently launched AirAsia Philippines and Tiger Airways introducing new international flights from Clark, Cebu, and Davao later this year.
Second, we were briefed by Sec. Lim and Director Ma. Cynthia Lazo of Tourism Planning and Promotions about the "Pilipinas, Tara Na!" campaign, which is an initiative by Smart Communications and Perceptions Media. This campaign involves the release of three refreshed and expanded versions of the previous "Tara Na, Biyahe Tayo!" song and music video.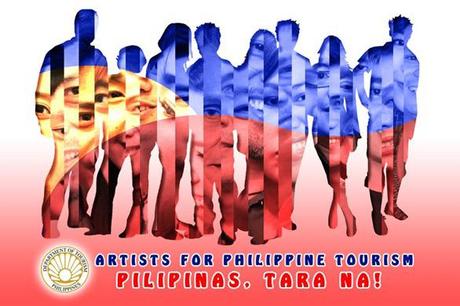 The three new "Pilipinas, Tara Na!" songs were composed by Rene Nieva to the the musical arrangement of Mike Villegas, Angelo Villegas, and Rico Blanco, while the music videos were directed and edited by Noel Nieva. A impressive total of 57 Filipino artists partook in this initiative by performing in the said songs.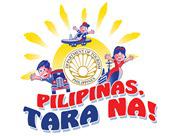 Meanwhile it could be remembered that the logo for this campaign was negatively received by individuals who called on for a better design of the logo. Team Manila Studios even had a compilation of suggestions for logo designs. Hence, I clarified with Director Lazo if the DOT is indeed pushing through with the controversial logo. She said that they were, given that this is just an initiative from Smart Communications and Perceptions Media. She cited another initiative with a different logo that they accepted, Bonamine's "Basta Pinas" campaign.
Lastly, we were introduced by Director Lazo to the new DOT Infoboard, a collaboration with Smart Communications that was launched during this month's Davao Kadayawan Festival. It is basically a customized menu with access to tourism information, announcements, and advisories that are delivered directly by SMS.
Smart, Talk n' Text, and Red Mobile subscribers may access this menu by sending DOT to 4755. The download of the menu is free, while each information on demand is 1php per message. In addition, Smart and DOT will be rolling out the DOT customized SIM cards with the said menu preloaded. The DOT customized SIM cards currently feature the Banawe Rice Terraces.
For the final part of the meeting, we were given the chance to ask questions and air our suggestions for the tourism department. I suggested that the DOT would come up with a DOT-endorsed website that would index existing Philippine travel blog articles for various destinations. This "crowdsourcing" measure would save the department the cost of researching and writing about different spots in the country.
On a personal note, while I am not fully amenable  to some of his policy initiatives, particularly regarding the "open skies policy," I'd like to applaud the efforts of the outgoing DOT Secretary Alberto Lim. The tourism department is not just about marketing the country, as it also involves fixing the logistics of tourism. Sec. Lim has satisfactorily paved the way to his successors by calling on the relevant agencies that will build roads and fix airports, among others. Thank you and good luck, Sec. Lim.
(Note: The resignation of Sec. Lim from his cabinet post will take effect  on September 1, 2011.)