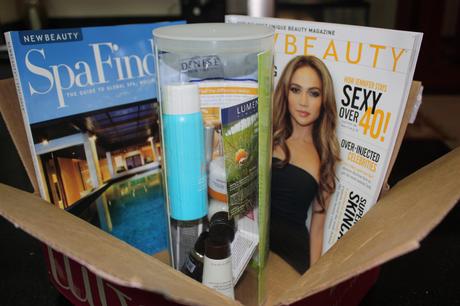 In April, I received my first shipment of the Test Tube promotion from new beauty.  And just two weeks ago, I received my second shipment.  Test Tube is a beauty product sampling program from New Beauty, a relatively new magazine on the market.  I thought I would give this a try as I love product but hate spending money on products just to "try" them. In my mind trying products can be a waste of money and  has led to tubs and tubs of unused product for me.
The test tube offer is $29.95(USD) per month plus $8.95 for shipping and handling.  I also had to pay an additional $48 to have the box shipped via Aramex form New York.  Yikes until now, I didn't realize how expensive this was if you live abroad.  Fortunately, my last shipment was delivered to me while I was in the USA.
When the box arrived I was pleased to find two free magazines included in the shipment: the most recent issue of New Beauty as well as New Beauty's Spa Finder magazine.  Both retail at 10 USD. The 11 products were all encased in a see through "test tube". Have a look at the photo.  I couldn't wait to try out the products.
Here is a list of what was in April's Test Tube with the prices for the full size product in parenthesis:  ahava essential day moisturizer for normal to dry skin($38.50 USD), Moroccanoil luminous hairspray($21), dr.brandt microdermabrasion body($45), dr. brandt crease release($150), boost-it! by luminess air an instant complexion enhancer($14.95), kerstin florian correcting oil-free daily defense SPF 50 ($55), lashfood natural eyebrow conditioner($120), philosophy purity made simple facial cleanser ($32), lumene Vitamin C+ radiant day cream ($20), lumene Vitamin C+ Radiant Beauty drops ($20), dr. denese glow younger self tanning glove ($42), and clean anti-bacterial moisturizing hand cream($10).
If you sampled the full sized products on your own, you would have to spend $568.45.  If you add in the two magazines for $20 and the $20 spa look online gift card, you would spend 608.45.  At $38.90 or $86.90 in my case, the sample program is a bargain.
Here is better look of what was inside: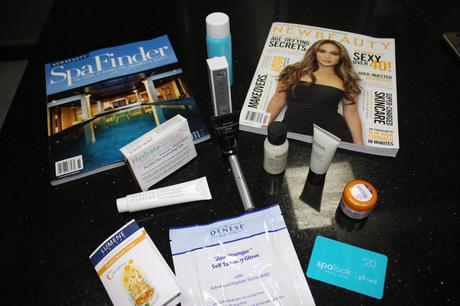 I gave two products away to friends:  the ahava moisturizer for normal to dry skin (my skin is more on the oily side) and the self tanning gloves (not a big fan of self tanners).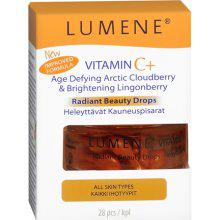 My favorite product was the Vitamin C+ radiant beauty drops. Unfortunately there was only 1 capsule.  A day later, I was putting my make up on and thought: "Wow, I am having a good skin day!'  Even my hair dresser noticed my skin that day.  It resembled the natural glow I have only ever seen when I was pregnant!  My sister and I call this "Miracle Skin".  I used all the products all at once and wasn't certain it was the vitamin C but, I never had this effect again and only used the drops once.  I will definitely try this out further as for $20, it can't be beat!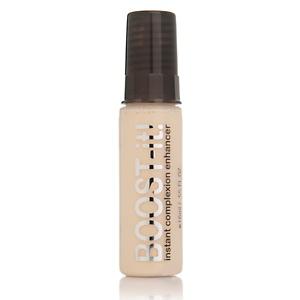 The second product that made a notable difference was the boost-it!.  You have to shake the product well before you use it.  After 15 minutes, it is supposed to eliminate wrinkles.  This is like liquid Botox!  It was really amazing. Unfortunately the product is short lived.  I was out and about most of the day and 2-3 hours later, the effect had worn off. Not certain how long the product actually lasts as I didn't time it. There are iridescent particles in the potion which adds to the effect of having radiant skin.
The moroccanoil hairspray was just ok, I prefer the Kenra brand hairsprays.  Moroccanoil hair oil's are fabulous however.   I never received the dr. brandt crease release so cannot review.  And with Aramex's $10 minimum shipping abroad, it just wasn't worth inquiring to have this sample re-shipped.
The "eyebrowconditiner" is supposed to help increase the growth of your eyebrows.  I do have one spot on my right eyebrow that is slightly thinner.  I am convinced this was due to a bad wax job where too much was taken off right before my wedding. Remember what I said about waxing too much after 30.  You can end up with permanent brow loss. My take on this product is; not enough time in the day.  So, I probably did not use it as long as you should to get thicker fuller brows as it claims.
Summary
I love product and would like to continue with this program as it is a great way to try new product without spending a fortune.  Unfortunately with the added shipping abroad, I will likely hold off until we are located stateside.   Am in the midst of using my second shipment at the moment and will keep you posted.
Discussion
Have you tried the test tube program from New Beauty? What are your favorite beauty products that you can't live without?